20 Feb

The last visit

Hi everyone,

How are you? Hopefully you're either enjoying a lovely midterm-break, with some skiing or whatever you do on your holidays or a good working week. I am currently free for the next three days, which is aaawesome. I have some exciting things planned for that time and want to enjoy it with all of my friends.

But last Thursday two of my longest and bestest (that's just Lena language) friends, Kathi and Sara, came to visit me. They went to London for five days before that to visit Clara and then flew over to Dublin to see me. It was such a special feeling having them here and showing them all my favourite spots and I thought I'd share some of that with you. By the way the title sounds a little dramatic I know, but it actually isn't dramatic at all, they were just my last two visitors to visit me in my current home. And one last disclaimer: The photos in this blog post are mixed from the three of us, so mainly my camera, but some pictures of their mobile-phones as well.

Kathi and Sara arrived on Thursday around lunch-time and I was super excited to pick them up at the Dart station. Kathi immediately told me how in love Sara was with all those little houses and shops and cafes and that she kept saying " Wie cuuuuute! Wie süüüüß!" for the whole bus ride. Kathi already knew Greystones as much as I did when I arrived on my first day as an AuPair, because she was in my class as well, when we came here to visit for one day.

In the afternoon my two girlies and I showed Kathi and Sara Greystones a little bit.
It was the best thing ever seeing them all walk to the beach holding hand, it felt like two worlds were combined. And Connie and Lottie definitly loved the extra attention. At the beach we played a little, built a sand castle which was more like a sand tower than a whole castle, but still impressive of course and enjoyed the sun and the sea.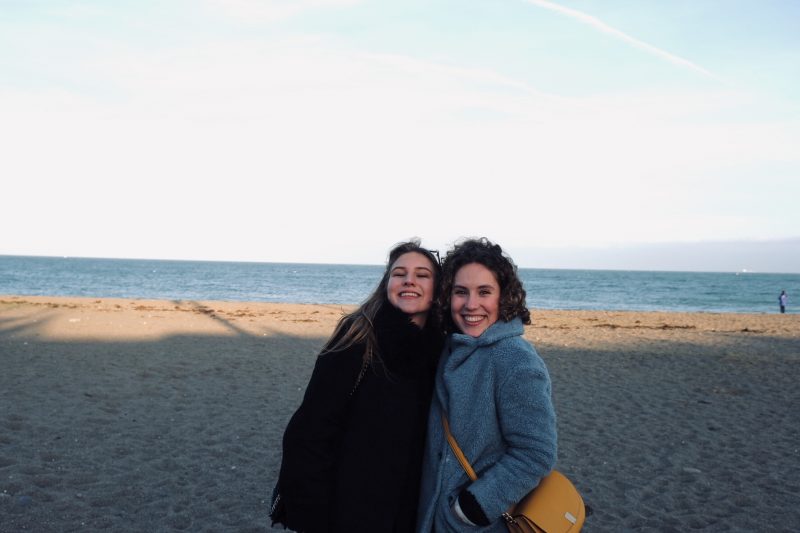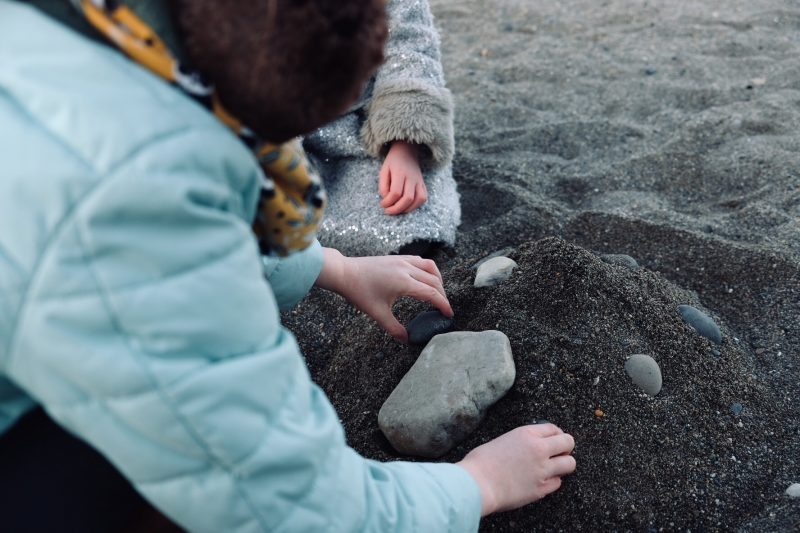 After our walk at the beach we stopped at the Creperie at the seafront, which me and the girls love dearly.
In the evening I had to babysitt, so Kathi and Sara relaxed a little in my room until I put the girls and Henry to bed. Then we started cooking and it was so satisfying cooking with someone else again. We had a yummie meal and the best talks ever. (This is a Moroccan spinach salad by the way, which is one of the best salads in the world, you have to try it if you haven't already)
The next day we had a little bit of a lazy lie in and then decided to start off the day in the Happy Pear with a delicious breakfast. The girls where very impressed with all the goodies we got.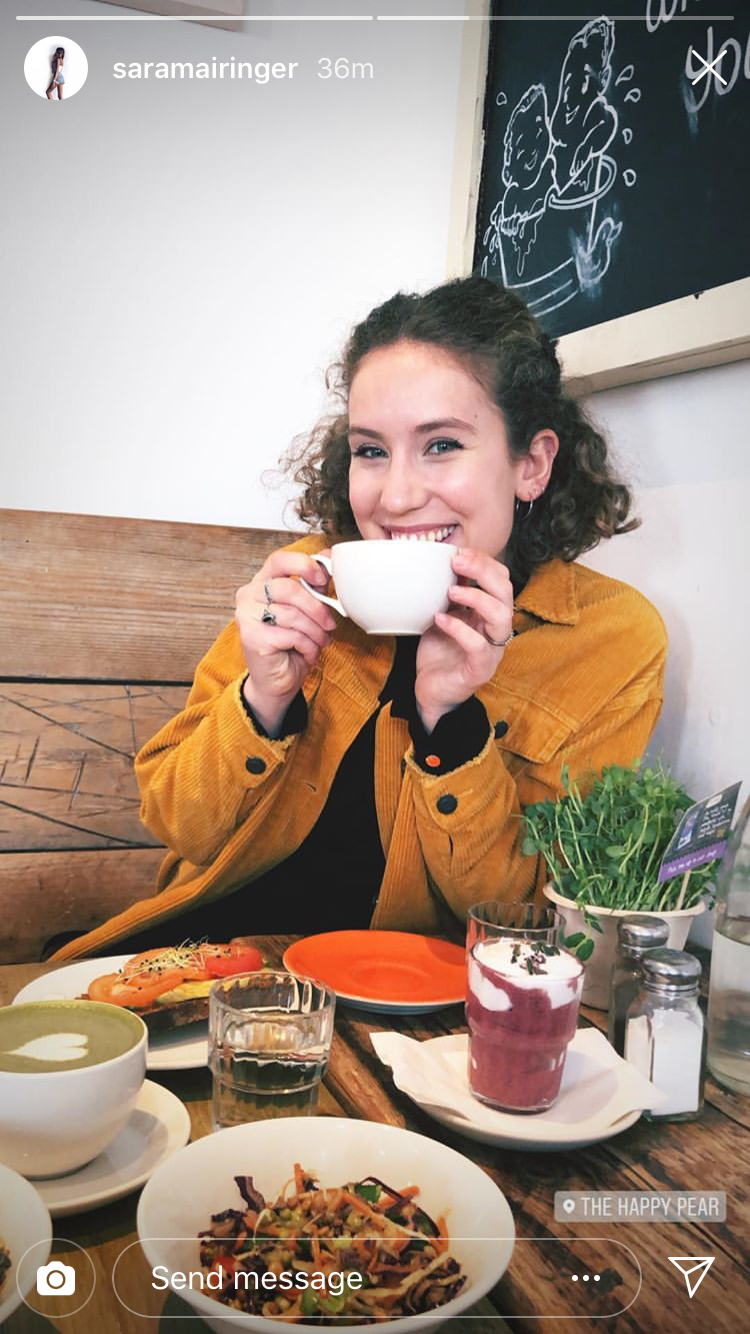 Then I decided to show them some of my favourite little towns. First we got off in Killiney where we went down to the beach for an amazing morning walk. The beach there is just indiscribably beautiful and I think the girls fell in love with it as well. We walked until we arrived in Shankill where we stopped and lay down in the grass. The sky was cloudless and wonderfully blue and the three of us just enjoyed all the nature around us, until a huge digger drove along the beach and we realized we probably shouldn't be lying there, because there might have been a sign that told us "constructions in progress", but it was very nice and quiet until then, so we didn't do anything wrong, right?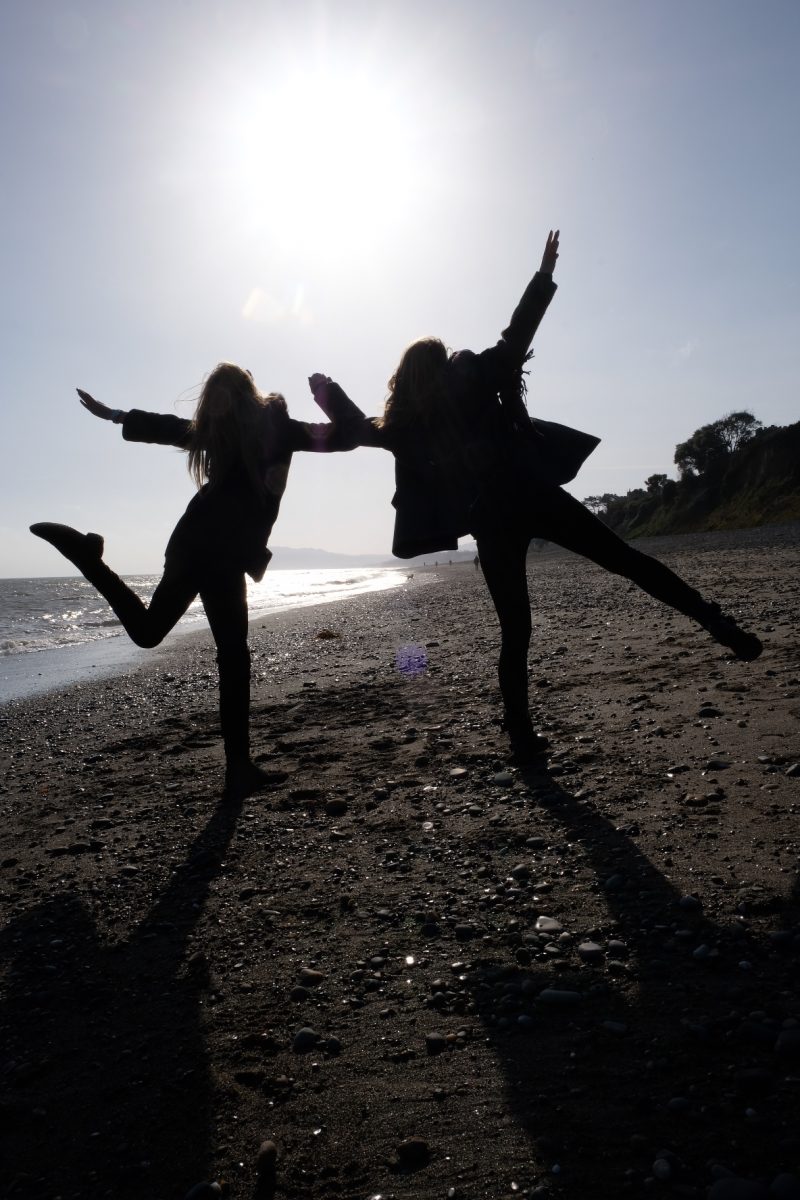 After that we took the Dart back to Bray, where we enjoyed a coffe in the sun on the promenade. Since I still had to work that day, I said good bye to them and went back to Greystones, while in the meanwhile the two of them did the cliffwalk, which they obviously loved. In the evening they came back to my house, where they also stayed by the way, thanks to my lovely host parents who kindly let them stay in my room.
After I finished work we got ready and then went out to go to Bray again. Of course I had to show them Harbour bar, which is basically the go to pub, for me and my friends. Before that we had some amazing Indian food in an amazing Indian restaurant, which we only found because it smelled so nice, when we were passing it. Then we met up with some friends in Harbour bar and the feeling I had for the rest of the evening was unreal. My friends from my Austrian-life and my friends from my Ireland-life partying together and connecting, was just the absolute best.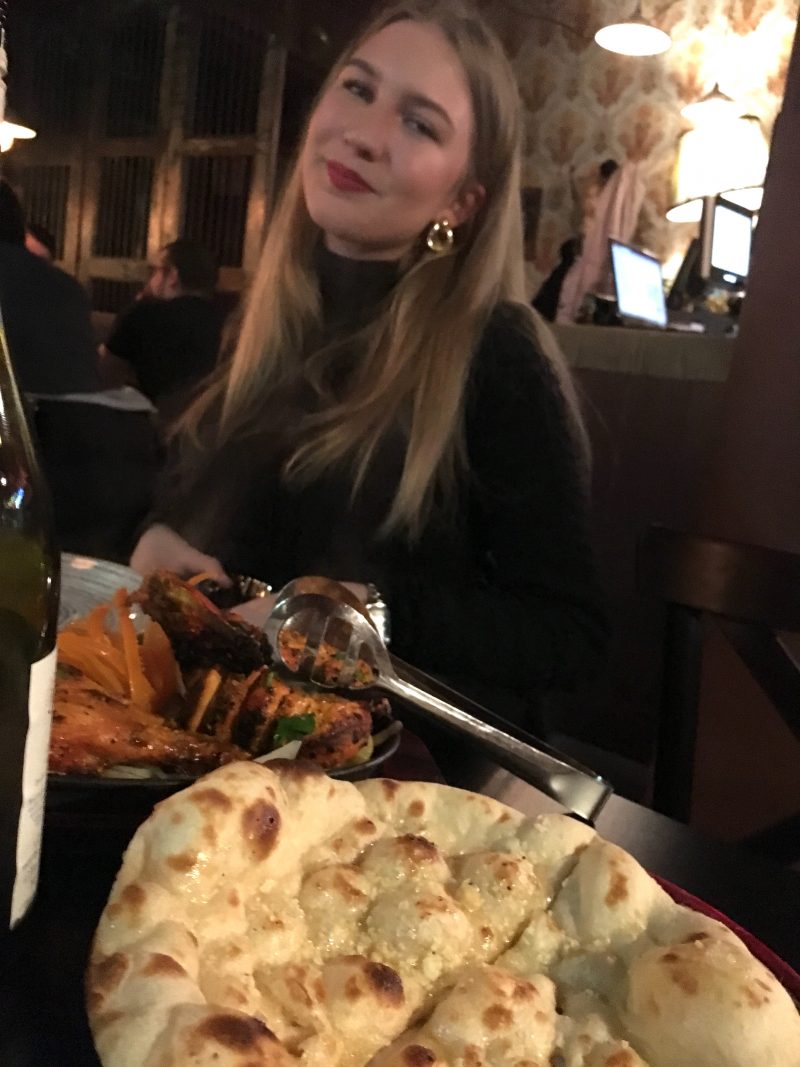 The next day we went out after a chilled morning to grab a cup of coffe and jump on the Dart to Dublin. That day was our city day and since Sara hadn't been to Dublin before (or Ireland city as she called it) she was super excited. First up we went to Temple bar district. I know if you are reading this blog regularly you might already be bored by this part of Dublin, but I still love it and discover something new every time I come here. So I showed them cute art-shops and the street arts I enjoy the most and obviously took them for a cup of coffee and tea in one of those super cute cafes.
Next up we went to Saint Patricks church. We didn't go inside, but enjoyed the park and its beautiful facade. Taking photos didn't come too short either and we had a little photoshooting in the park and infront of a beautiful library.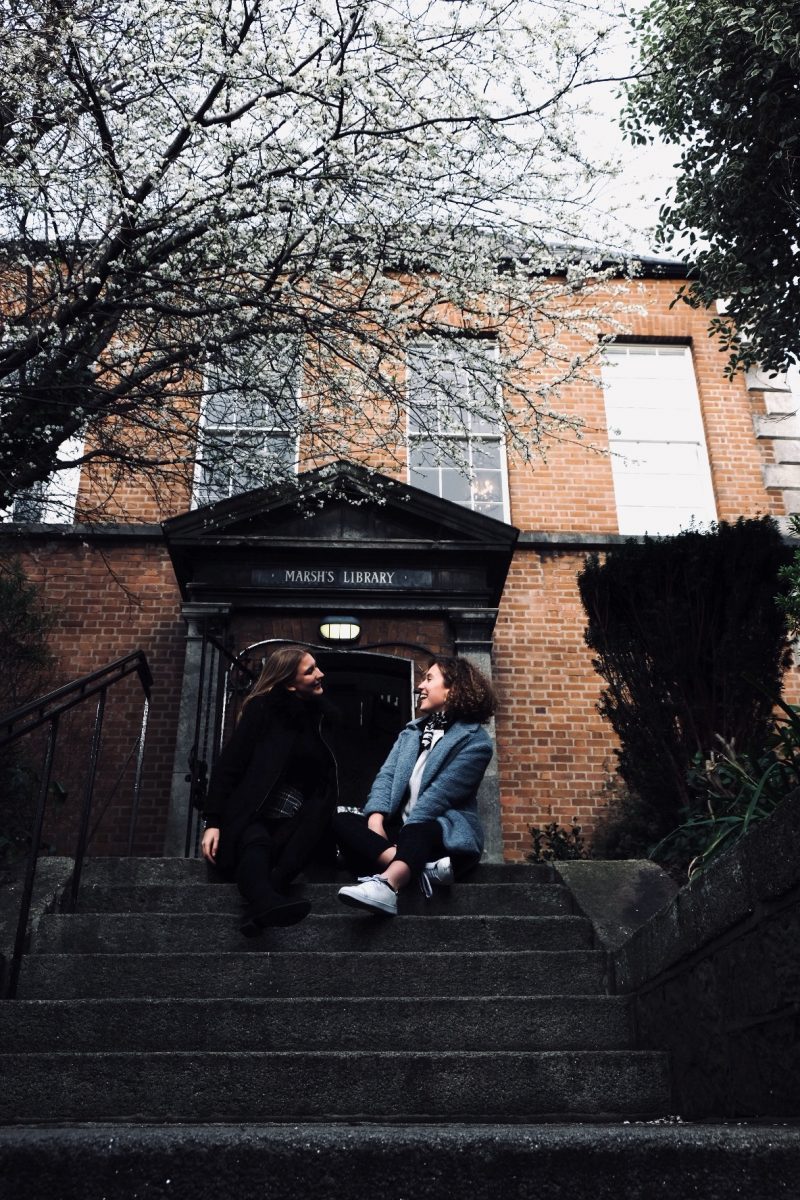 You can probably see, that we had a lot of fun shooting there and some would say we enjoyed ourselves a tiny bit too much, as you can see from the last picture.
Afterwards we went to Saint Stephens Green, which they loved. So many flowers already started to grow and bloom there and we were put into a spring-mood.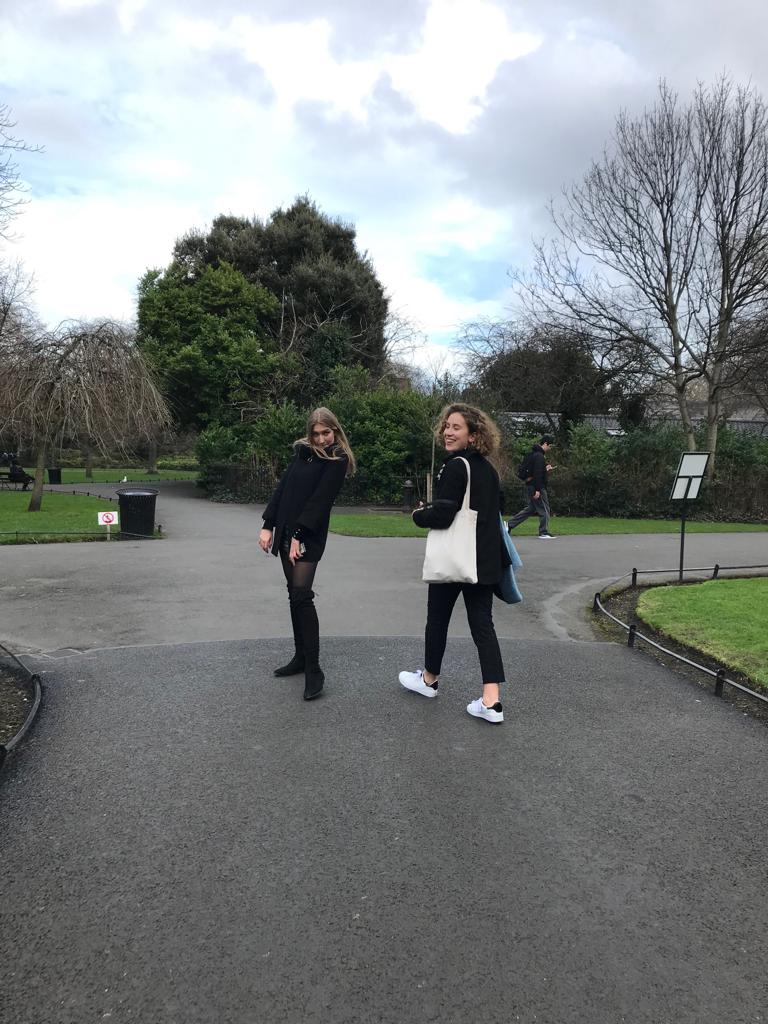 Moving on we went to Grafton street, where the girls were pretty impressed by all those very talented street artists. We did a little bit of window shopping here and there and then went to the umbrella street of course.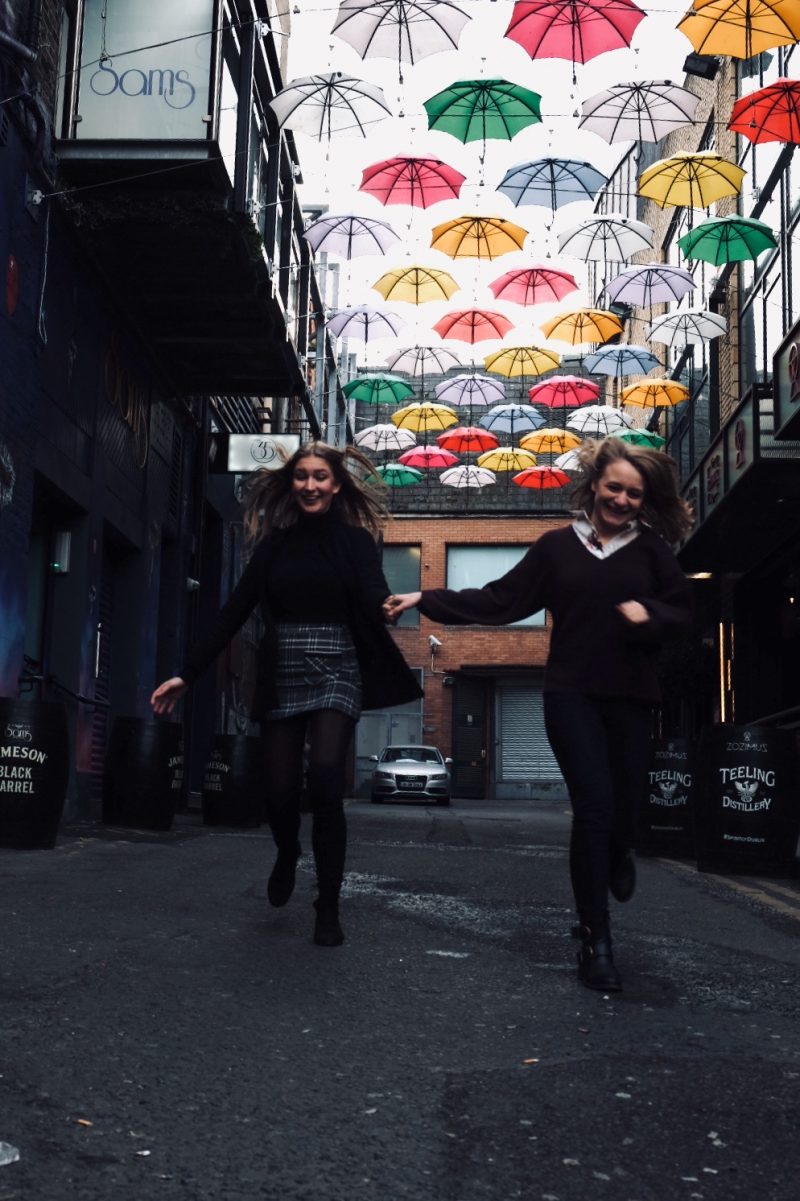 I really wanted to show them my new discovery from last week, which is beautiful Drury street with its market and all those cute cafes. We strolled through the market and all the vintage shops it had to offer and then stopped at a small restaurante to have lunch.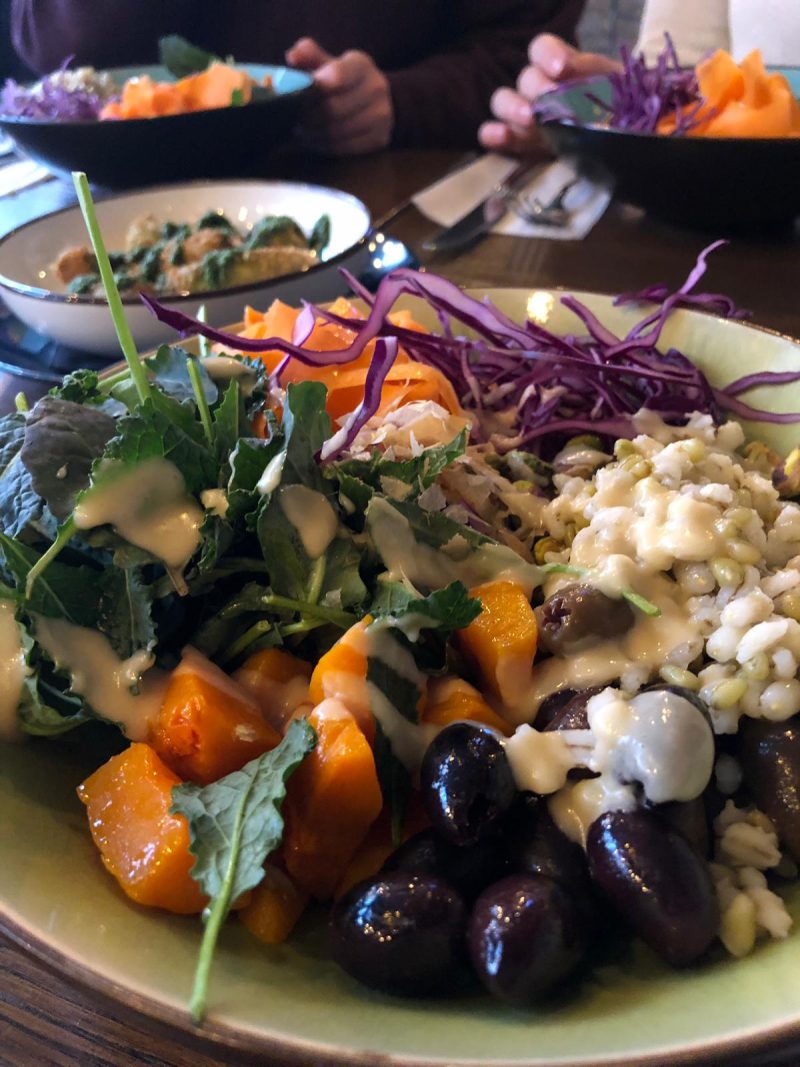 After that we went to Powerscourt shopping center, where we just took in the beautiful atmosphere of a woman playing piano and happy people sipping coffe and munching on scones.
In the evening we went to a bar first, to have a gin and tonic, because that was Sara's and Kathi's tradition of their whole trip, to have one a day. Afterwards we went to one of my favourite pubs to have food and a couple of drinks. In the end we had to run to catch the last Dart, because we had so much fun dancing and singing to the live bands music, that we lost track of time.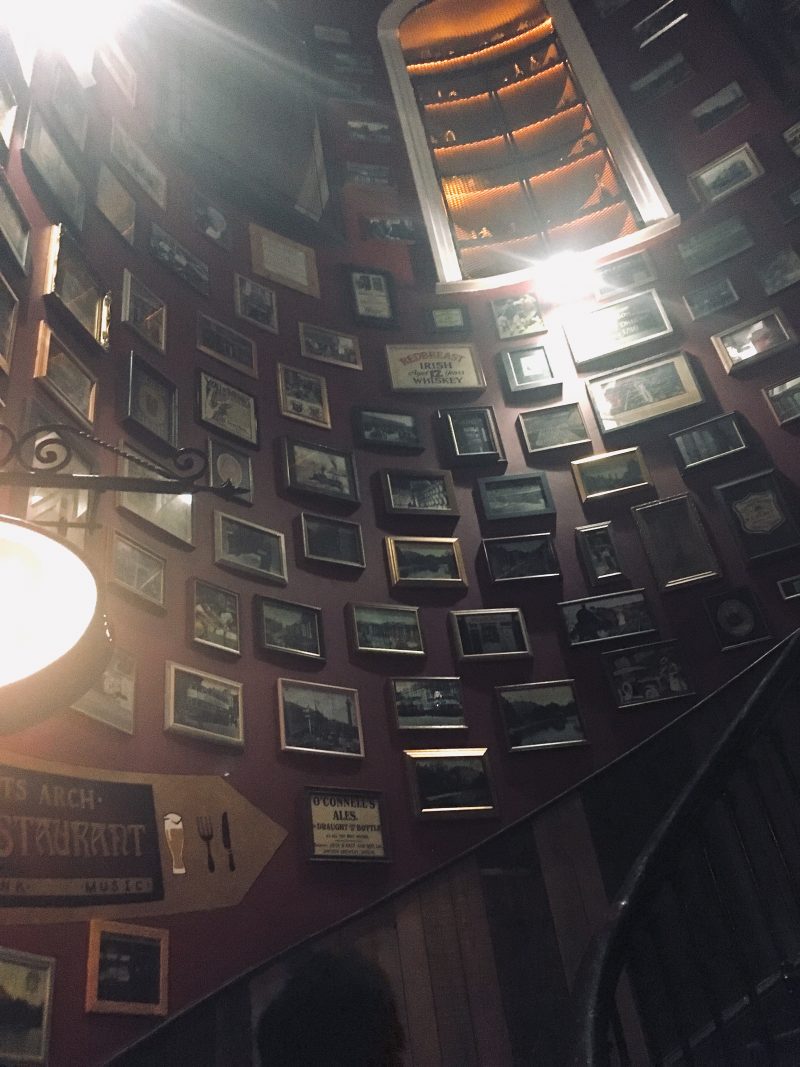 When we arrived home, we packed up all the suitcases and went to bed for one hour, because the girls had to catch the aircoach for 3am, because their flight was early in the morning.
Thank you so much for coming girls, it was such a wonderful time having you two here and introducing you to my current world. It was really nice for me as well to see how much I was able to show them now in comparisson to my two earlier visits.
And that's it from me again. Thanks a million for taking your time reading this post.
See you soon,
Lena xxx