04 Jan

New Years Eve in Bologna

Hi everyone,

I hope all of you had a fantastic start into the new year 2019.

As I already mentioned in my last blog post, I had another excting adventure planned for my New Years Eve. Since I am in Ireland I made quite a few new friends from all over the world (even if 80% of the AuPairs in Ireland seem to come from Spain), but I never thought I would visit one of them and her family so soon. One day Lidia called me and asked "Lena you don't have any plans for NYE do you? Why don't you come to Italy?" and since I really didn't have any plans I just went ahead and booked a flight to Milan. (it turned out to be a reaaaally good decision) Well that was how it all began, but now let me tell you about the actual adventure.

On Saturday the 29th I woke up at 2:00am and headed out to catch the aircoach to Dublin airport. After a good nap on the plane I found myself again in Milan, or actually in Milano (read it with an Italian voice in your head – funny what our brains can do, huh?). Still in a little daze I stumbled outside to see Lidia standing next to her dad, waving at me in excitement. It was so nice seeing her again after the Christmas time and we surly had enough to talk about while her dad drove us to their home.

And let me tell you, the typical Italian family does not only exist in movies, at least when it comes to openness, hospitality and kindness. I immediately felt at home, when everyone welcomed me with hugs and kisses.

After a little chat with her dad, sister and brother, Lidia showed me around a bit. She introduced me to her grandparents, who really where the kindest and kept saying "che bella". It was so cute, that not only Lidia was excited about my visit, but all of her family as well.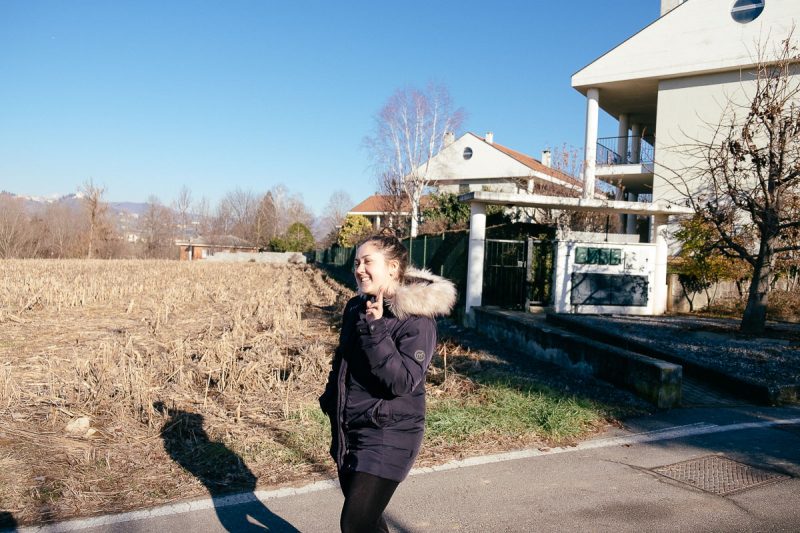 Yep, that was just outside her door, pretty amazing.
After a typical Italian lunch Lidia took me to Lecco, the closest town to her home. And wow it was beautiful. Not only did it look like an Italian town from a story book, but it had the most amazing mountain view ever. It was an indescribable feeling, being kind of in the middle of mountains, next to Lago di Como and enjoying the afternoon sun going down.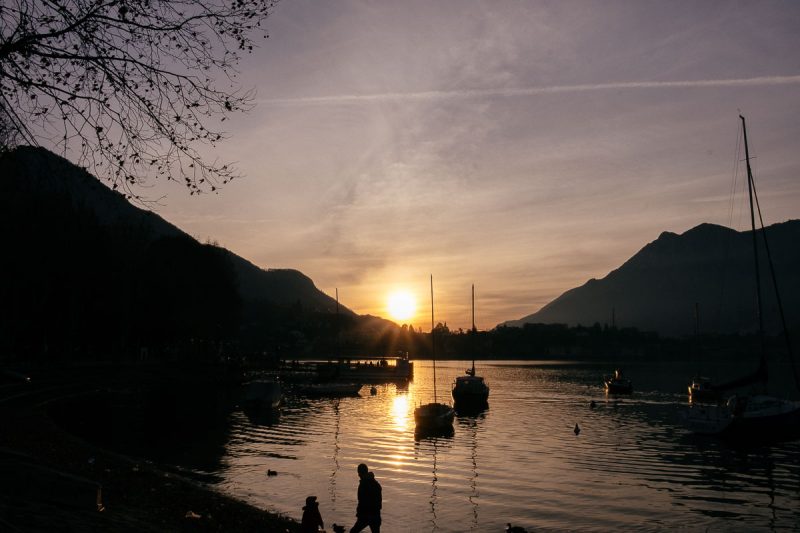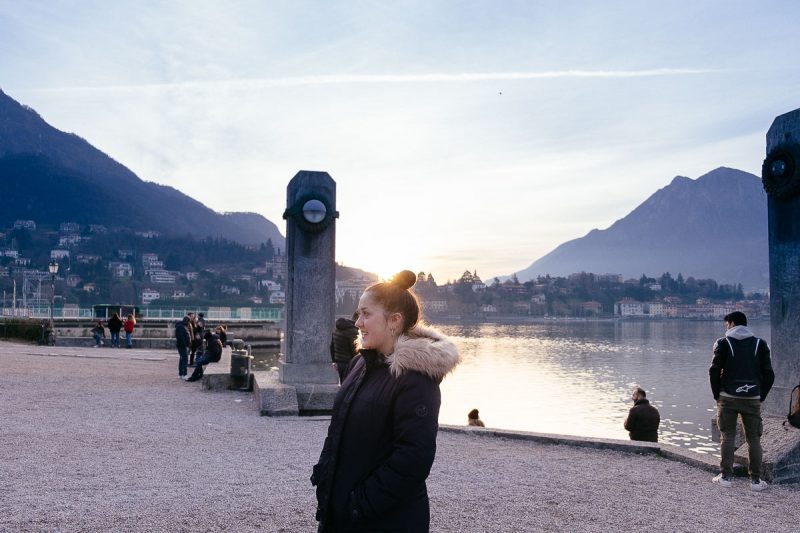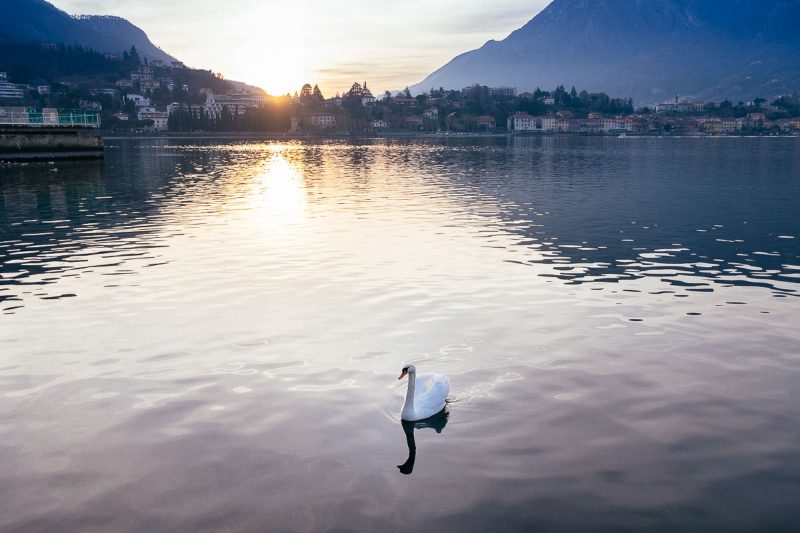 Next up we had a lovely hot chocolate and let me tell you, Italians definitly make the very best and viscous hot chocolate in the world.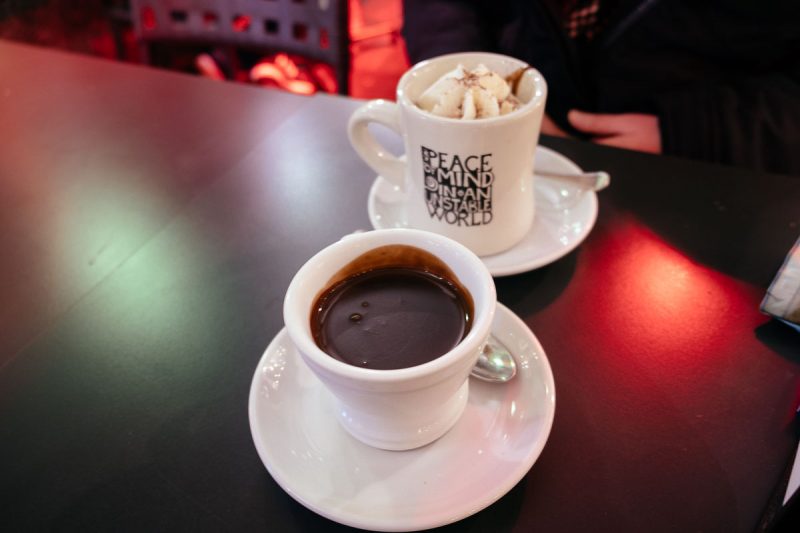 As we returned back home, dinner was already prepared and it was super delicious again, but what else would you expect from Italian food? The best thing definitly were the stories behind all of these dishes, which Lidias mum told me while handing over steaming pasta dishes. In  those few days we had pasta cacio e pepe, which is a typical recipe from Rome, with pecorino romano; pizzocheri, which is traditional pasta from Valtellina and torta salata with ricotta and spinach. I learnt that for the Pizoccheri, the women who cooked it used huge amounts of butter, because they lived in the mountains and everyone who ate had to get their strength for the day through their meal, but Lidias mum assured me, that she didn't use that much.
In the evening we went out with Lidias sister and friends for some drinks and just enjoyed ourselves. It was the first time of my Italy trip, that I was awake for over 24 hours.
The next day we slept reeeally long and first things first had lunch, because it was way to late to have breakfast. Afterwards we had a great jamsession, to which we were looking forward to since we played and sang together in Dublin. In the afternoon Lidias parents took us around with the car. They showed us a very picturesque town next to a river, where we just had a lovely walk.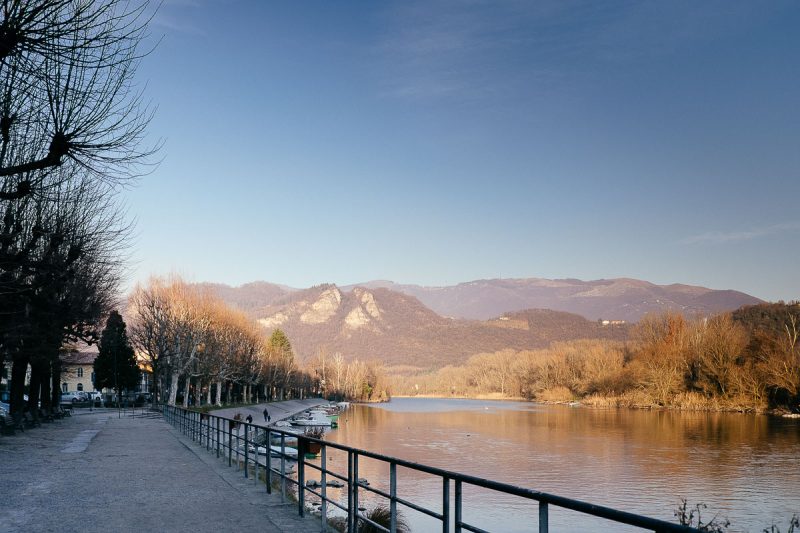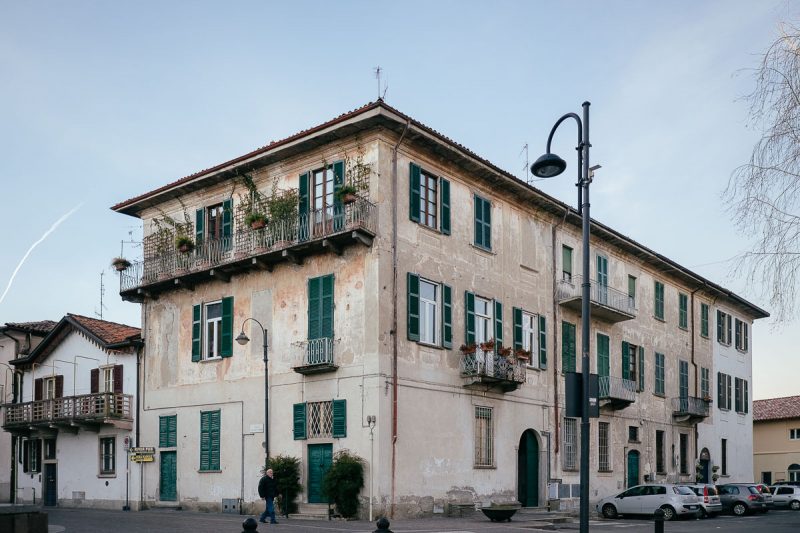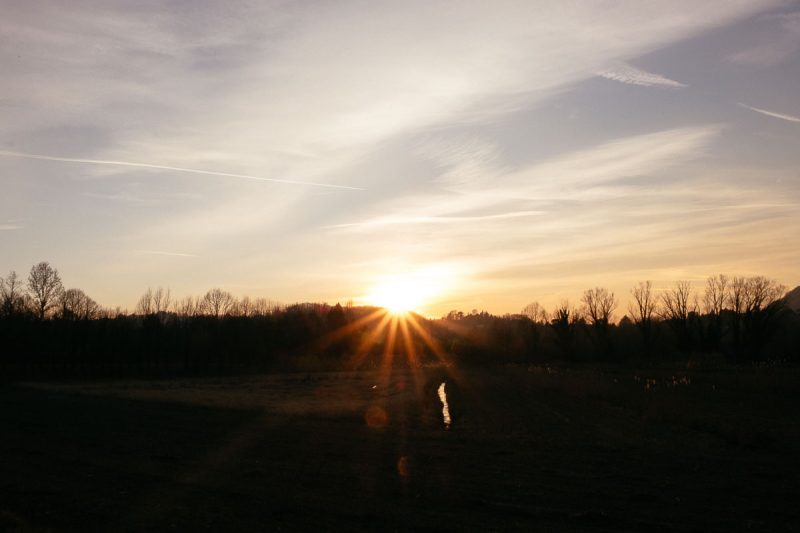 After this we had a race with the sun, because we wanted to get to a very special place to see the sunset and I didn't get dissapointed. Quite the opposite was the case. From monte vecchia, we had the most amazing view over Milano and the sunset was breathtaking. But see for yourself: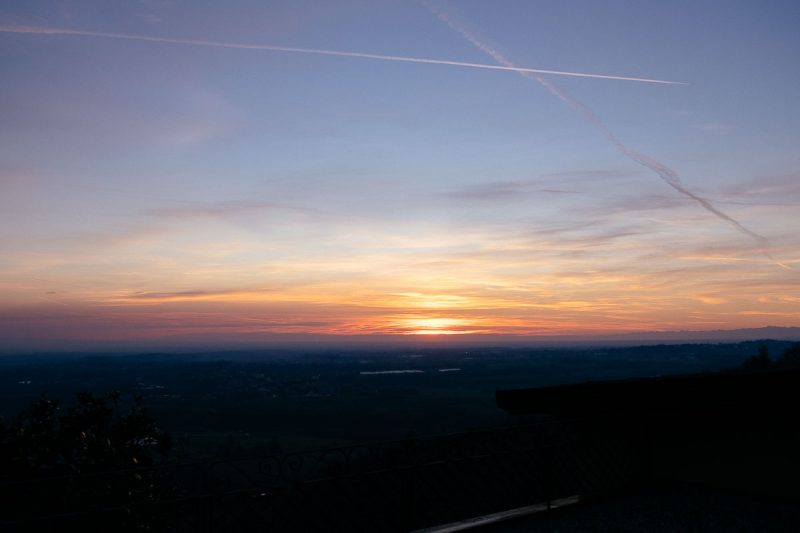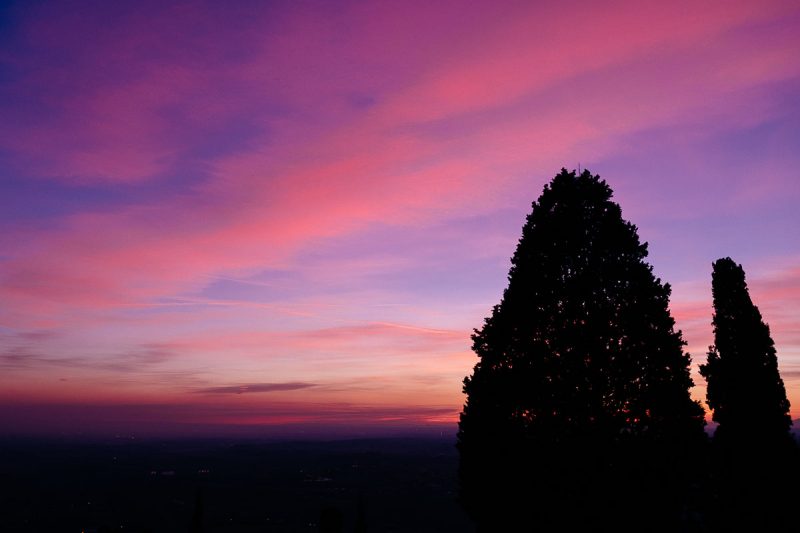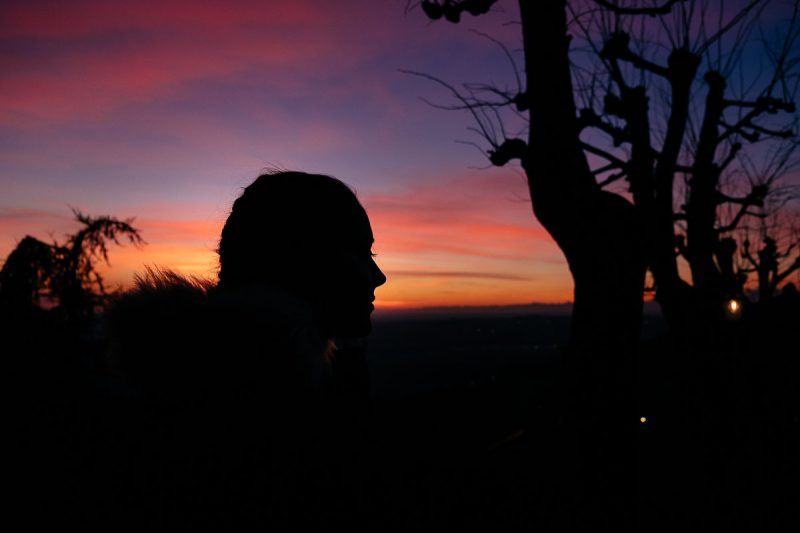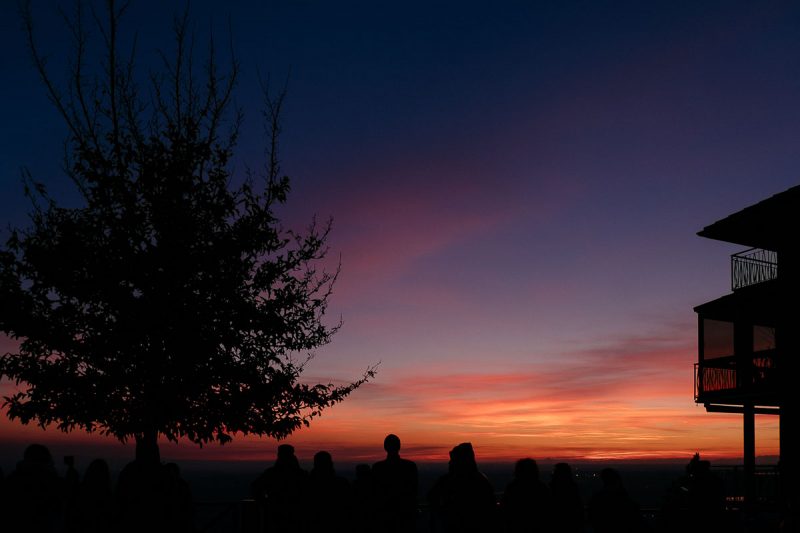 I am still in awe of those amazing colours, that only the earth itself can really produce I guess. But there wasn't only a fastastic view, but also a lovely church at the very top and a handfull of really cute houses. We enjoyed a hot chocolate again and then headed back home.
We just chilled that evening, watched TV, laughed and talked loads, had yummie food again and went to bed not too late, for a change.
The next day we had to get up quite early again, since we had a train to catch, because it was already the 31st and we (Lidia, Lidias sister Maria and me) had a trip to Bologna planned for our New Years Eve. I stated that I wouldn't be able to close one eye for the whole train ride, but guess who slept for the whole journey, well yes I still can't believe I am now able to sleep sitting as well, but  I am certainly not mad about it.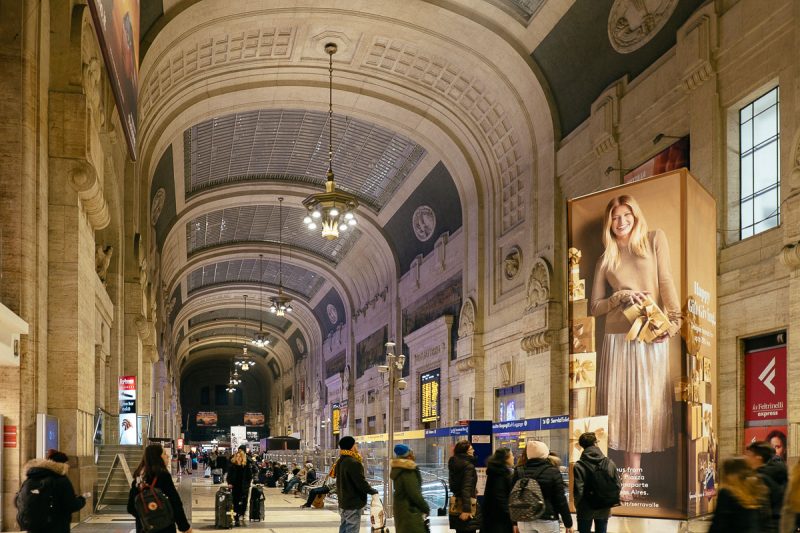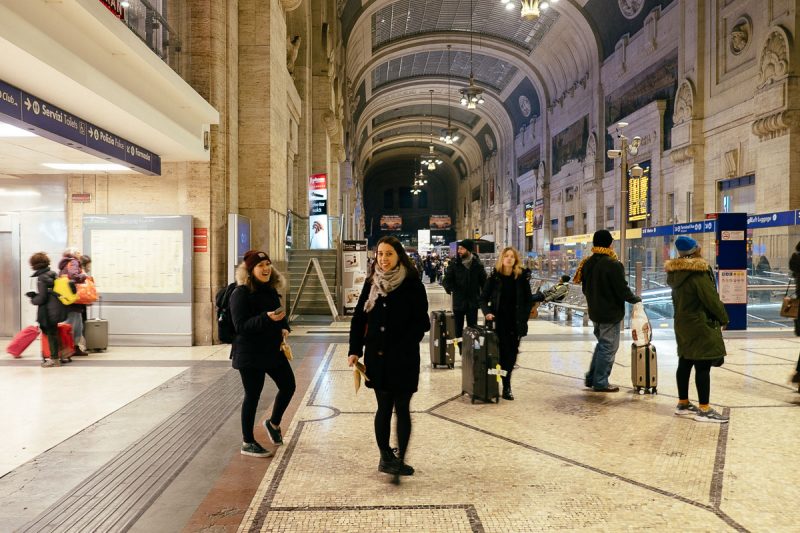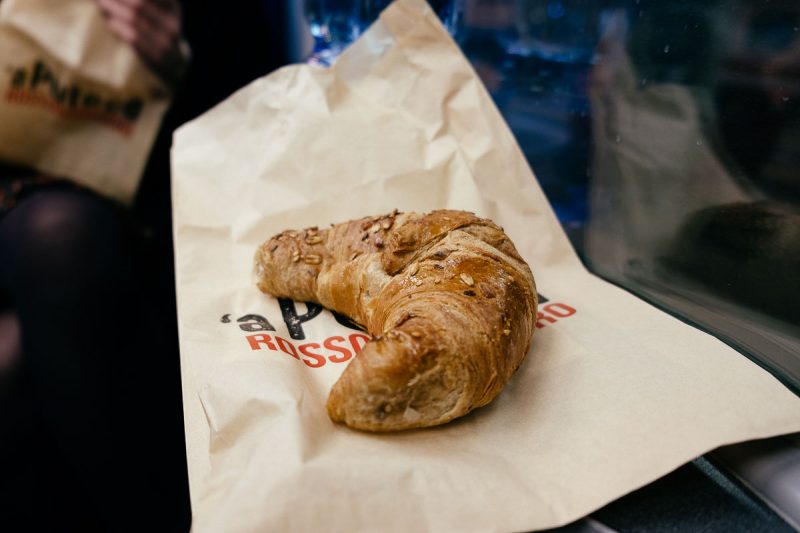 When we arrived in Bologna, the three of us were longing for a cup of coffee, which you get wherever you look in Italy, and it is litterarely always good.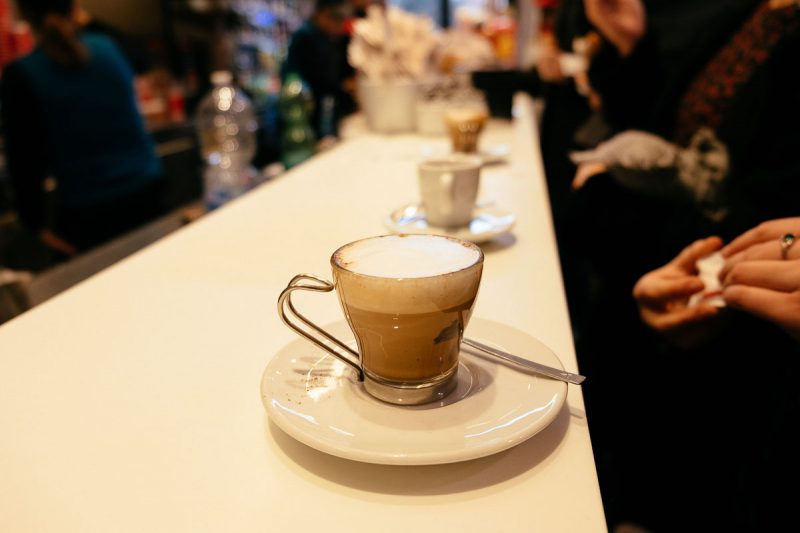 After a short walk, which we didn't mind at all, after three hours of sitting still in a train, we arrived at our accomodation for the night, the dorm room of a young man (someone called Francesco, who is very interested in Egon Schiele and from all the books he owns we guessed he probably is art and philosophy student – not that it actually matters). It was a really nice small room, with only two beds (oups), which cost us next to nothing. We left all our stuff there and went out to explore Bologna during the day. And again not only did I really enjoy the city itself, but also learnt so much about Italian history, architecture and Bologna. For example do I now know how to distinguish cities that belonged to the Italian king in former times, from those who belonged to the pope. ( You can tell by looking at the v-shape – or the exact opposite of a v – of the very top of a building)
It really was one of the most enriching trips in my life, not only because we shared our historical knowledge with each other, but also because we talked in a mixture of three different languages. I know a tiny bit of Italian, which I according to Lidia improved during this trip, Lidia and Maria know a bit of German and we all are quiet fluent in English. Languages are really something amazing, and improving Italian skills through talking English, is pretty cool I have to say. Now I know a few new swear words in Italian and the phrase "che fico/che fica", which is a very important one of course.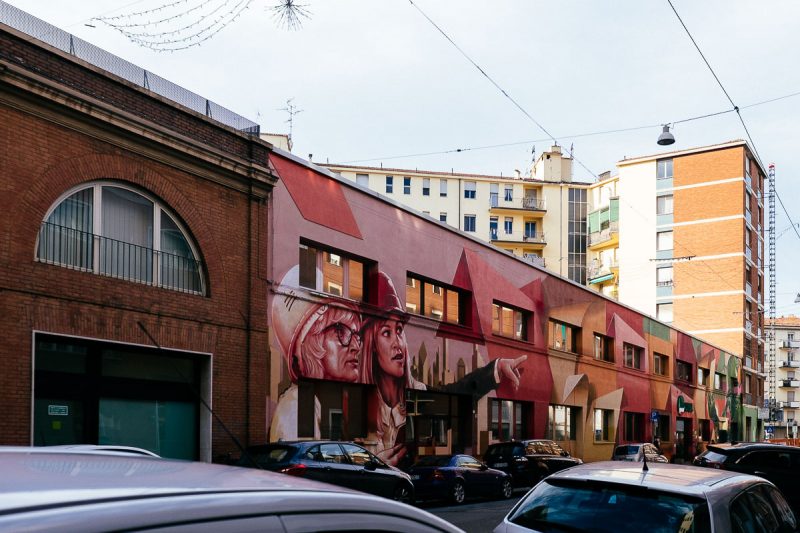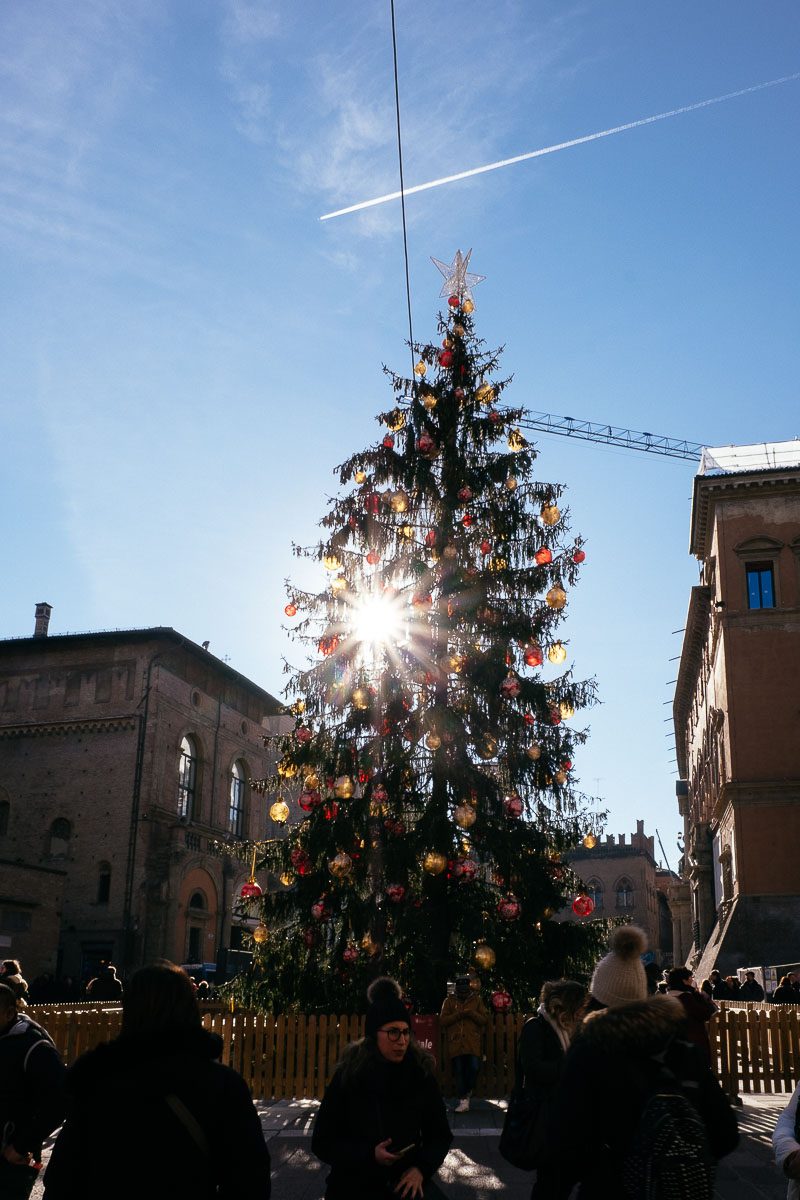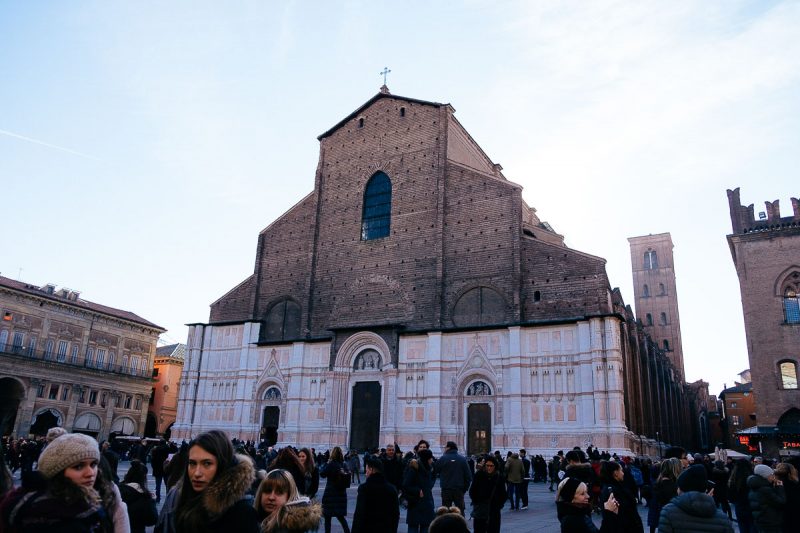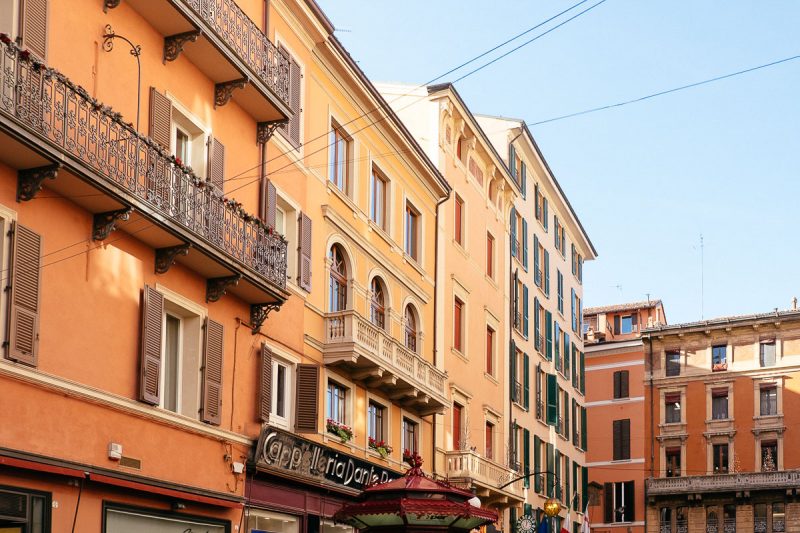 We enjoyed a lovely lunch with typical foods of Bologna in a small restaurant, which even had two musicians playing live at all the time.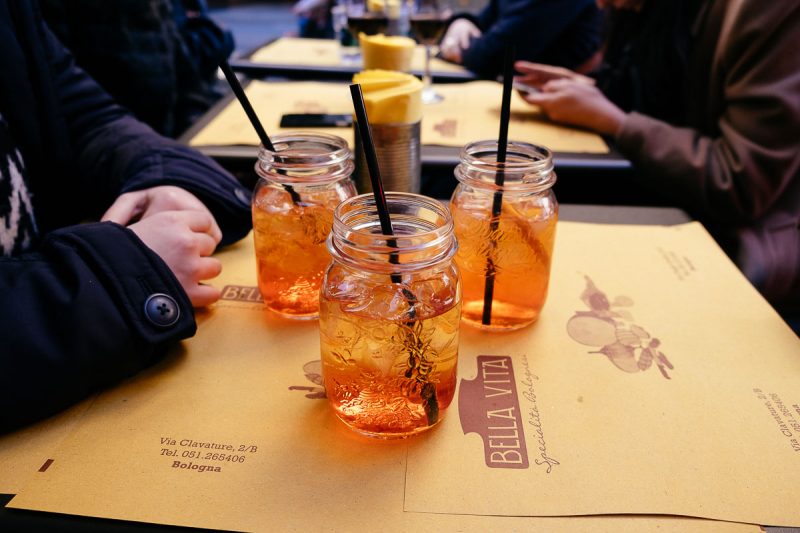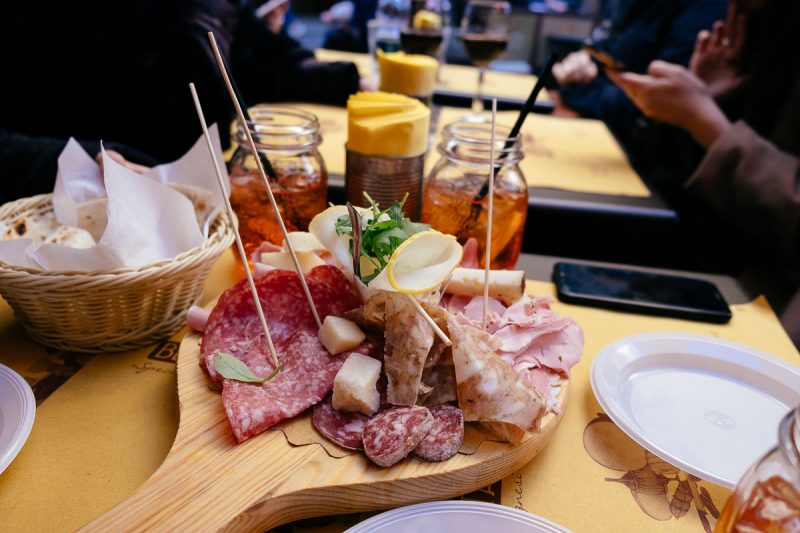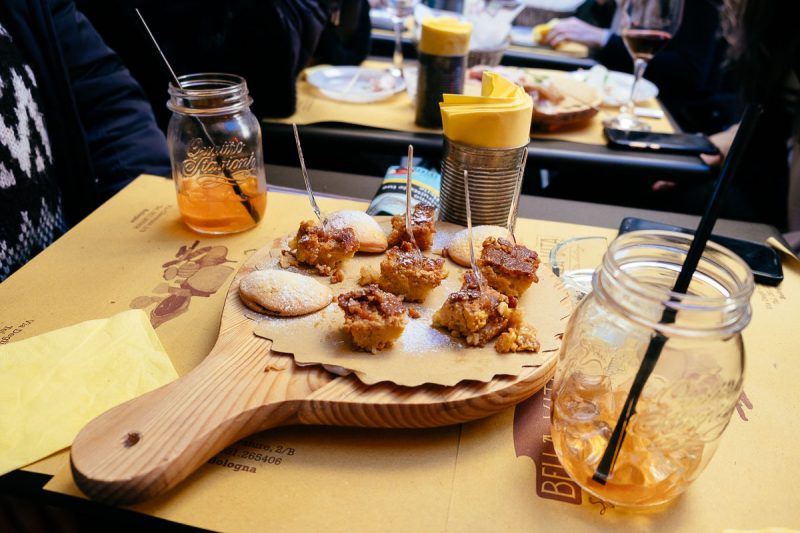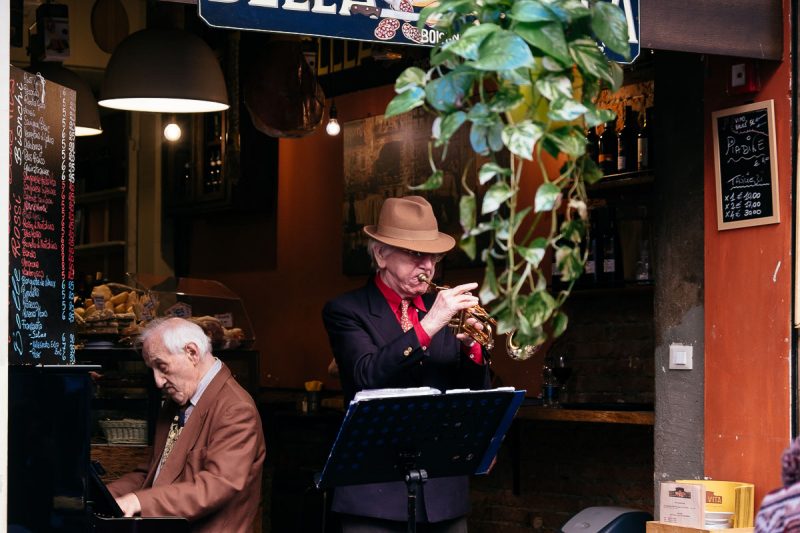 We just strolled around after that, enjoying the sun ( it wasn't too cold- but still unusal for me to be in Italy in the winter time), the good coffee and really nice vin brule, and then even visited the oldest university of all Western-Europe.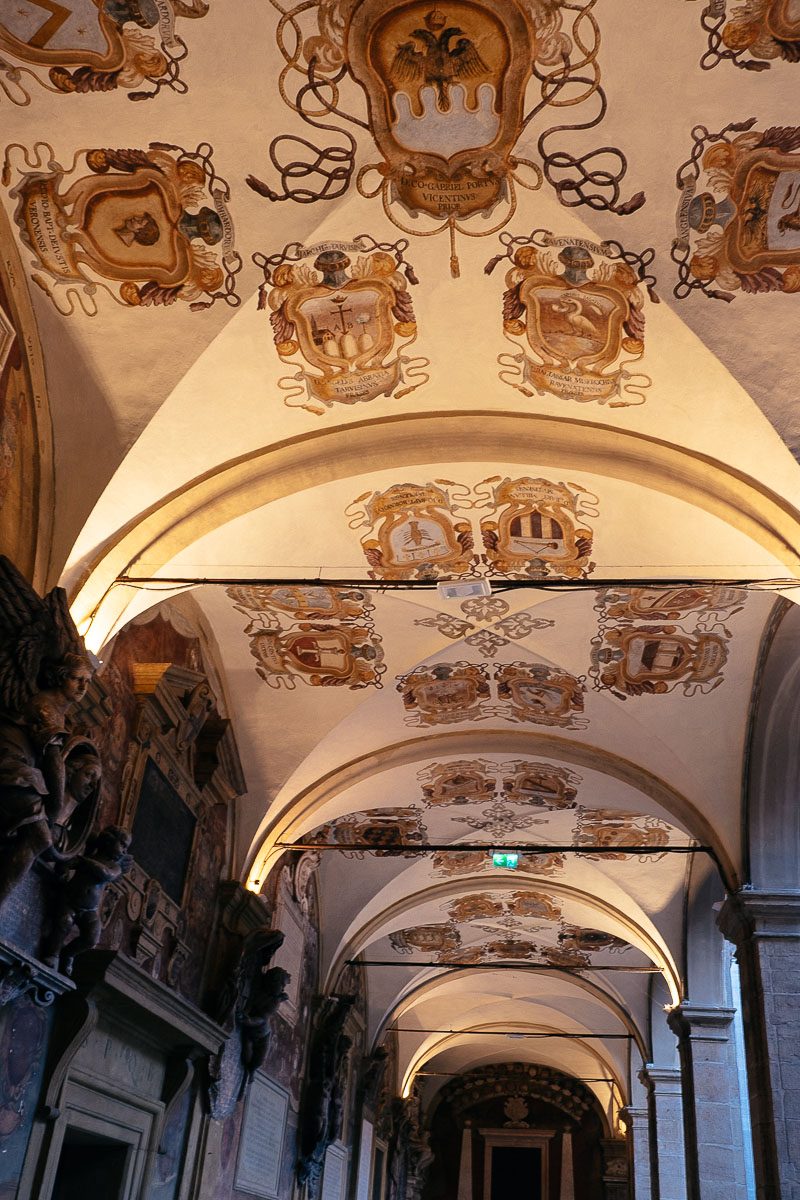 Then we headed back to the dorm room, went out to have the biggest pizza ever and then got ready for the night.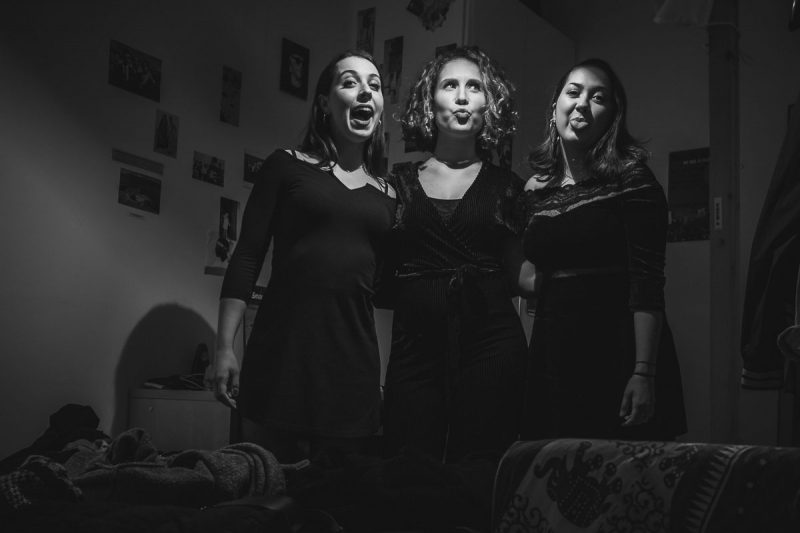 We could have just put on a cosy jumper, instead of dressing up so nicely, because in the end we wore the jumper on top of it, but we agreed, we just felt really pretty, even if no one saw it.
For the actualy New Years Eve we went back to the big "piazza", which had been totally transformed since the afternoon. Now we had to queue to get into the square, because of security controll, which gave us all a much safer feeling. There was also a DJ playing music for the huge crowd, that was dancing to all the tunes and the wooden man they built during the day, was burnt at midnight, which was kind of strange, nice and a little sad at the same time.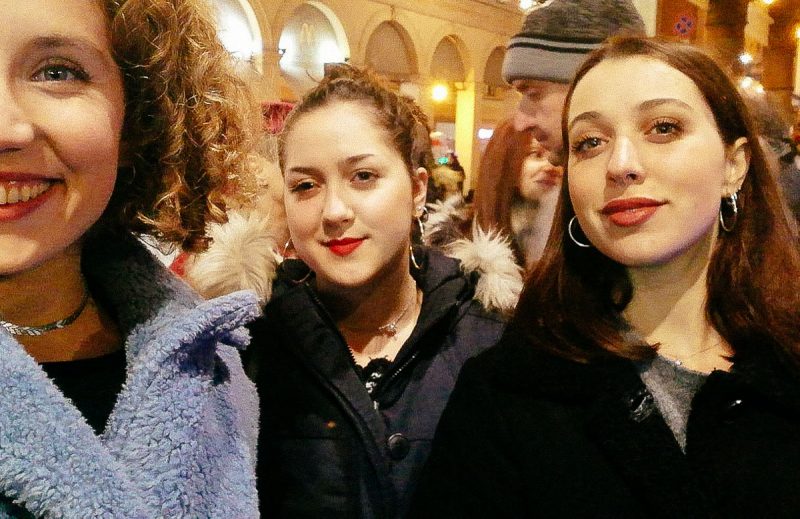 We really enjoyed the party at the "piazza", because everyone was in such a good mood and we could dance and laugh. At around one we went to a small bar, where we had some lovely red wine ( even learnt how to drink red wine properly) and then ended up eating the second halves of our enormous pizzas in bed, at 4:00 am. (second time we stayed up for 24 hours)
Well and the new year started in a big hurry, since we overslept the alarm, woke up at 9:20, with our train leaving at 9:50, a 25 minutes walk to the train station and us still in Pyjamas and having to pack. But after a stressful mixture of running, walking, shouting and sweating we made it to the train on time and went back to Milano.
For the rest of the day we just ate, refreshed ourselves and had a very long jamsession and then it was suddenly time to leave for me again and this time it hit me hard. It was really really sad for me, because I met such lovely, warm and big-hearted people who also really liked me back. I saw so many beautiful new places in such short time and then I wasn't flying back home to my family and boyfriend, to tell them all about it, but to Dublin instead. And then I hadn't slept properly in a few days and also travelled a lot in the last month (six flights in 33 days, how crazy is that), which I am so thankful for of course, but nevertheless it was very exhausting and weighed on me and my body as well.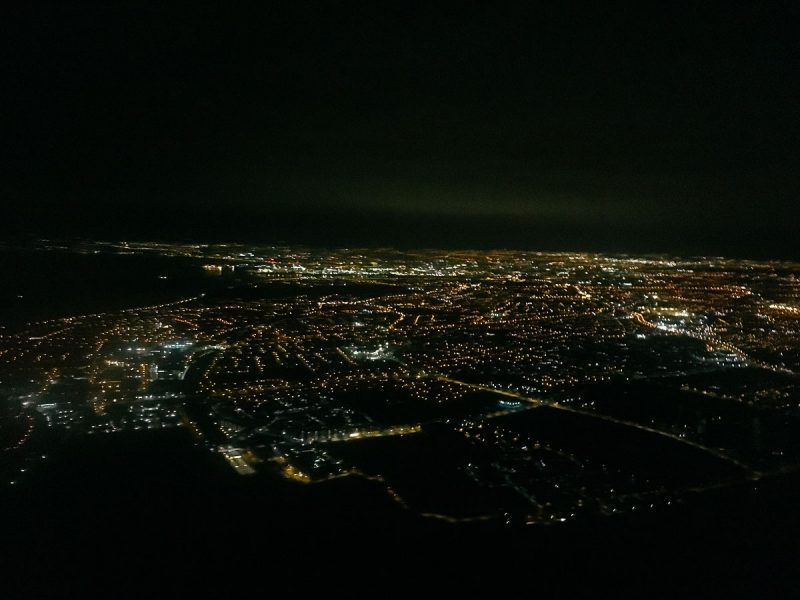 Now that I am back in my bed in Greystones, writing this blog post, I am very happy again. I am looking back at a wonderful time. I did not only visite a wonderful friend, but found a new one. I am also just very glad and somewhat proud of myself, that I chose to do it. Now everything is back to normal, I have a full time job at the moment, for three days, because my girls still have school holidays, so I am kept busy at all times, which doesn't leave much time to be sad. Lidia and some other friends are coming back in two days and I am already planning on what to do next.
That's it again for now,
I hope you enjoyed reading about this very special adventure.
See you soon,
Lena xx