18 Sep

Hamburg

Hi everyone,

Back faster than you thought ey? How are you all doing? Hopefully good.

I won't ramble on much, since I did that last time and soon I will again and since you are probably all here to just read about what I've been up to in Hamburg or simply for the pics, I thought I'd cut to the really interesting bits right away. So here we go:

As mentioned in the post before we took the train to Hamburg from Berlin in the afternoon and it wasn't the best journey, to be completly honest, but oh well, not everything can go a 100% smooth, right? Nevertheless we landed in Hamburg in the evening and it was already getting dark, so we decided to head straight to the youth hostel that we stayed at and after some struggels finding the right way up to it, we finally arrived and could move into our room. We shared one with two other people that varied from night to night, but always were very nice and the room itself was pretty clean too, so we were happy with how it was.

Hungry from our journey we decided to find a place that serves dinner a little later as well and found a pub, where they showed the current soccer game, so the boys were up for it and I didn't mind either. Since our hostel was so close to the Reeperbahn we decided to go there just to have a look and we were shocked and in awe at the same time. On the one hand, there were soo many girls just standing on the streets, posing and waiting for guys to pay for a night with them, which I didn't think would be that extreme, and the main audience on that whole lane was predominantely male and on the other hand there was a lot of police around, wich didn't surprise us that much, since the popular David Wache had their head-quarters there. We found a really cool Irish pub, where the audience was very mixed in age and gender which was cool and a really nice life band was performing great songs, so we enjoyed ourselves until we were too tired to stay, went home and fell into our beds.
The next day I realized how autumnal it already was up in the North of Germany and I honestly wasn't mad about it at all. It was a little chilly, but not too cold, so perfect for a day of exploring.
We went alongside the harbour, then across some bridges until we arrived at the Elbphilharmonie, a stunning looking concert building, with a viewing platform, where you could get up for free, which I think is just amazing. So that's exactly what we did, to enjoy the view from above once more.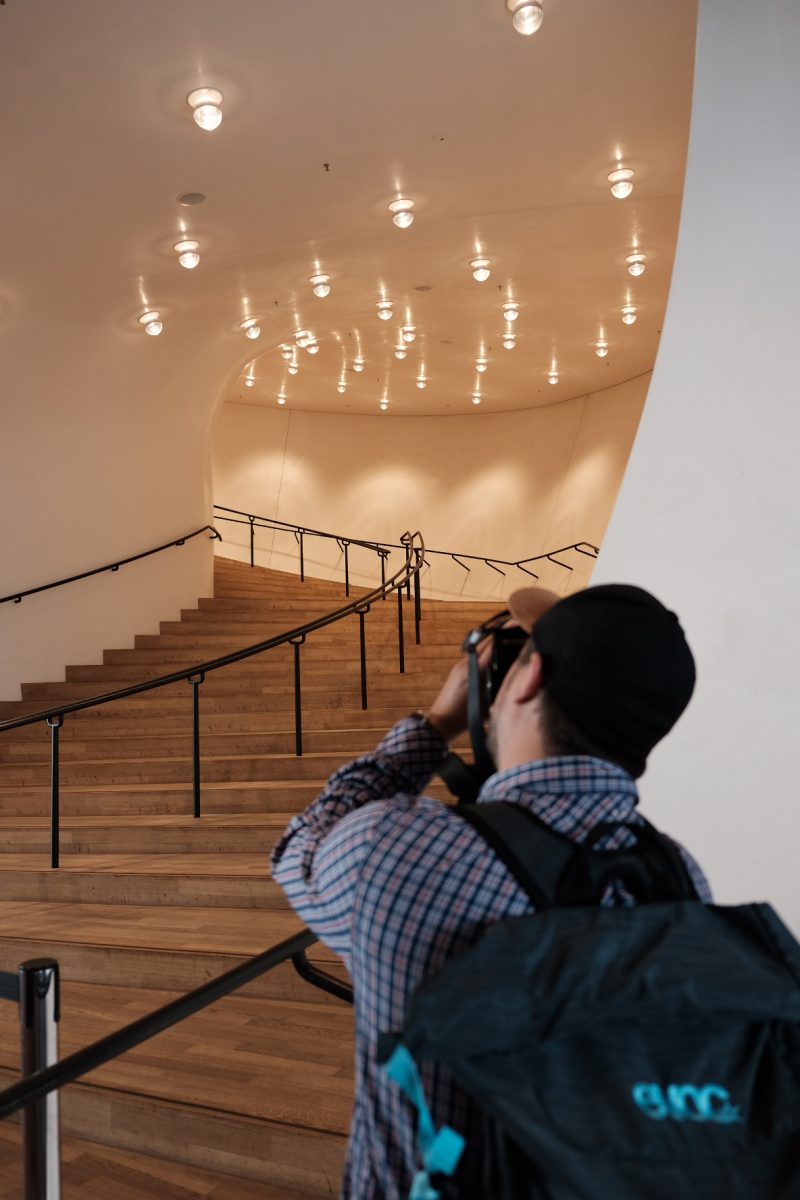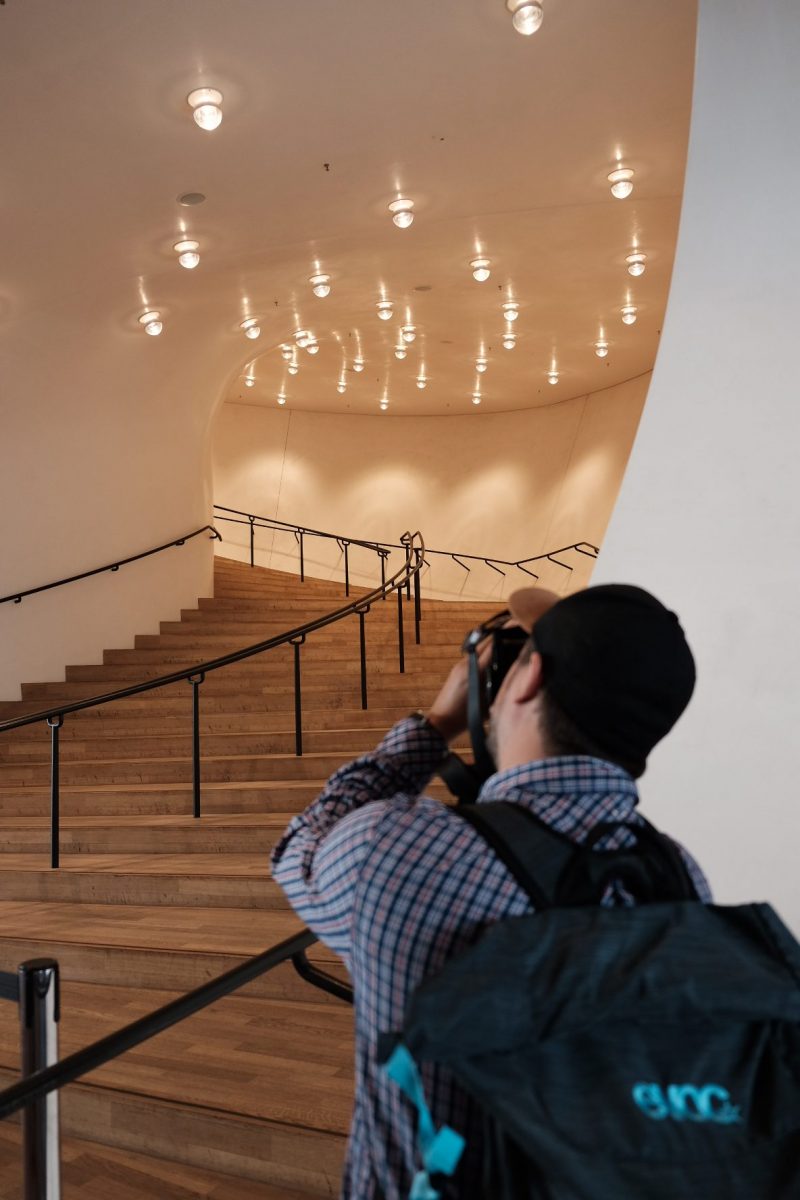 After that we strolled around Speicherstadt for a while, since it is such a lovely place, just to walk around a little and enjoy the sea-flair you kinda get in Hamburg I feel. We decided to sit down at a cafe for coffees and drinks and some Apfelstrudel.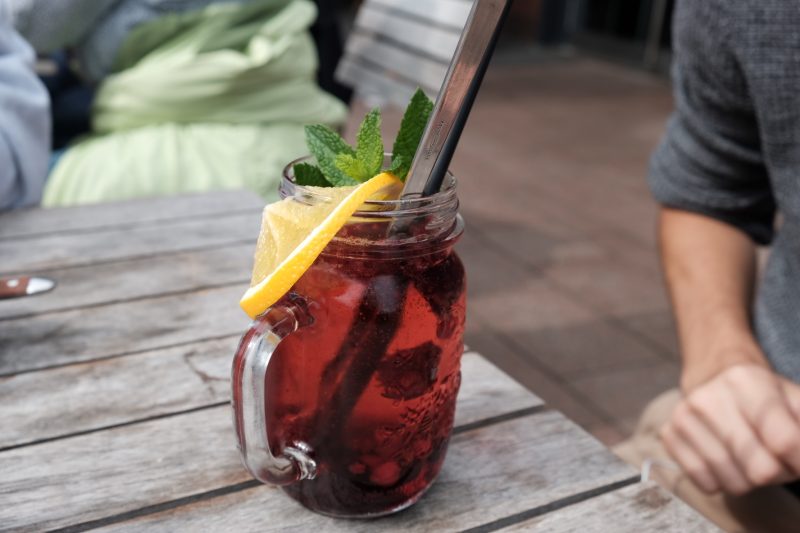 We then had a look at the Nikolaifleet and went up to the townhall, which looks gorgeous. We took a lot of pictures and then Totti decided to go in and get a soccer-dress of the Hamburg team.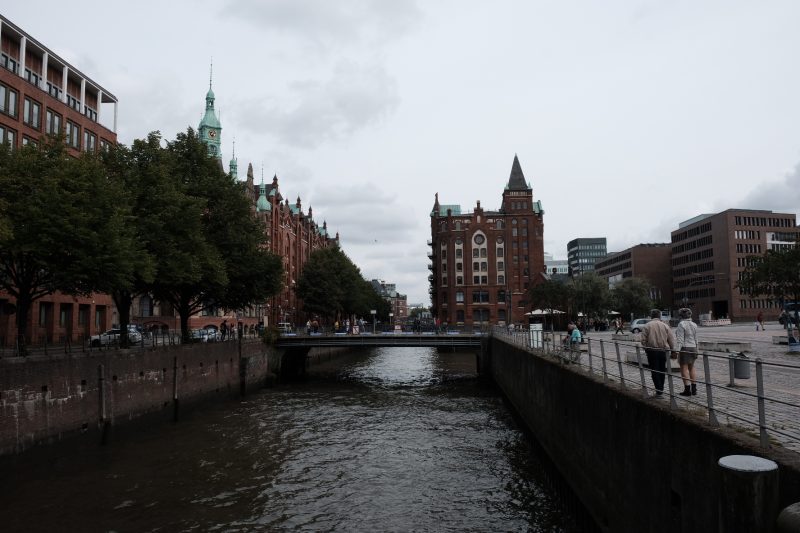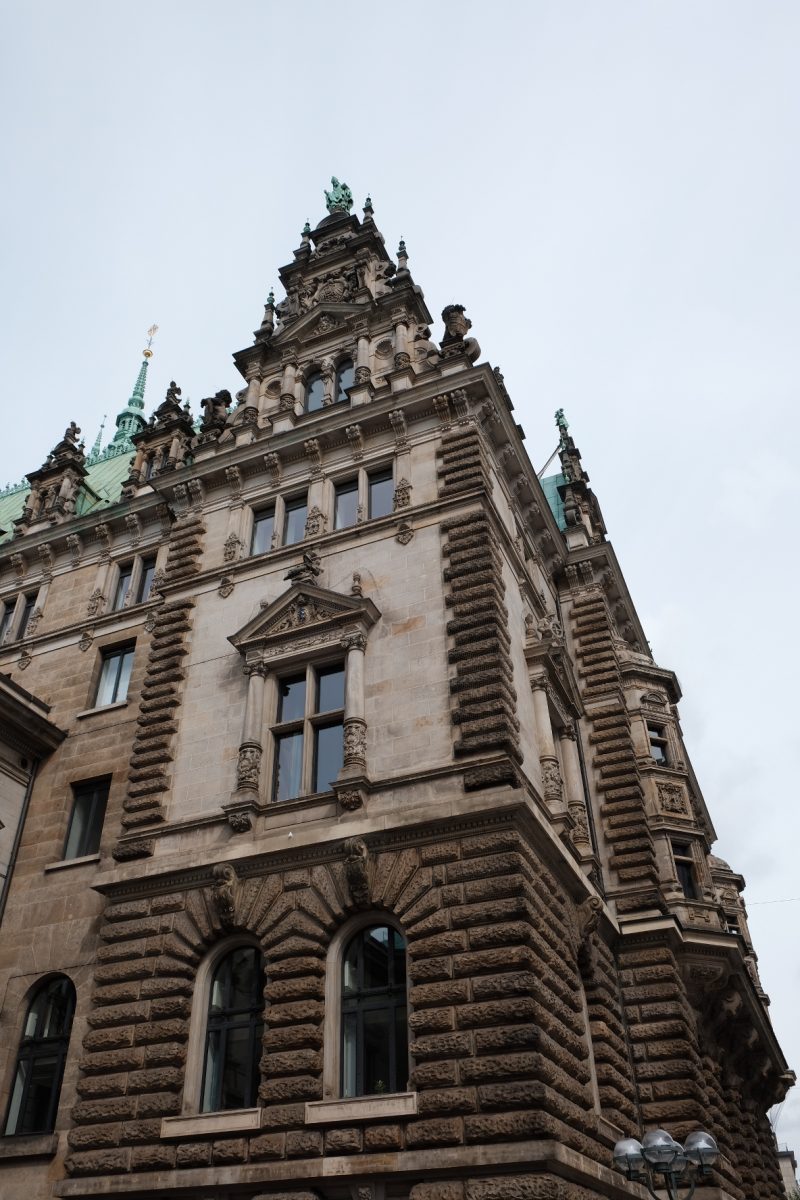 Suddenly realizing that we were getting quite hungry from all the walking, we stumbled into a small Asian restaurant and got absolutely delicious and cheap Asian food.
After that we thought we wanted to have a look at the Jungfernstieg and the Alsterkaufhaus and when we came out of it we got caught by the rain, so we escaped that by going into a Juice bar and had one of the most expensive juices ever.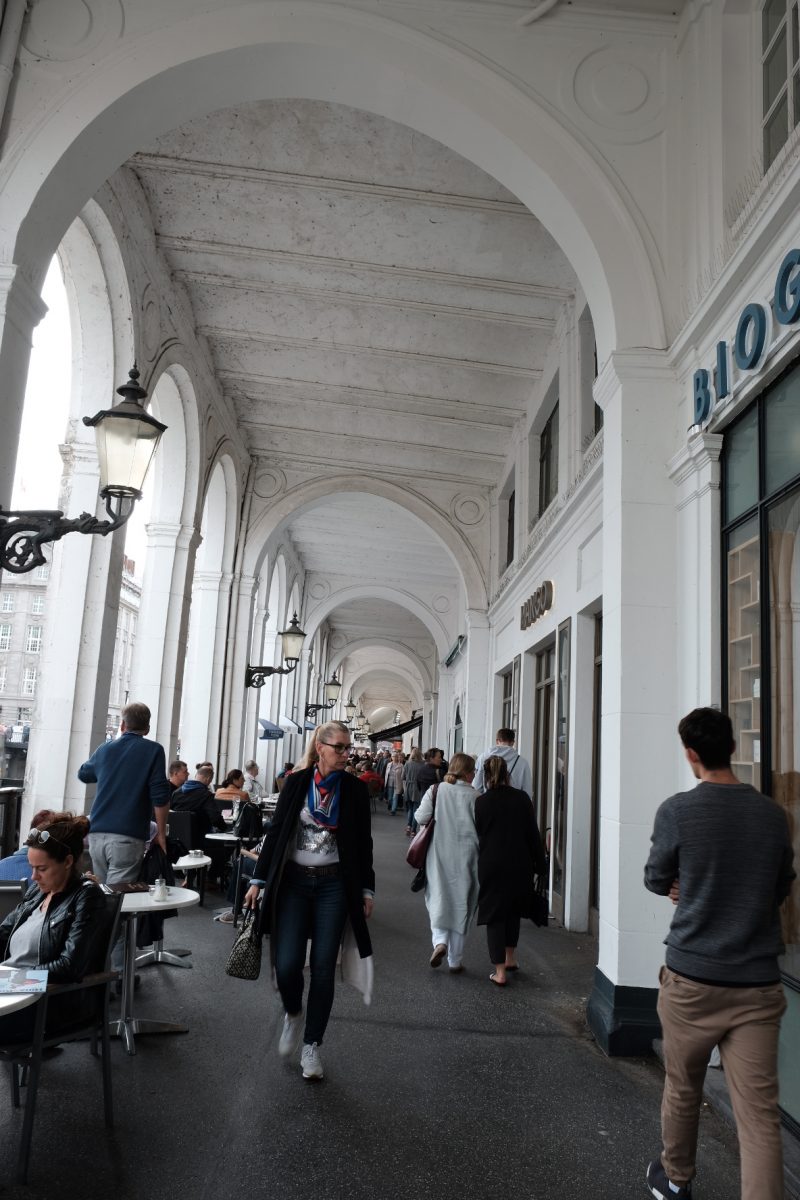 On our walk home we had a look at the Michel, a famouse church in Hamburg and came across this beautiful channel. In the evening we decided to go to the Portugues quarters to have dinner there, which was so lovely. In this quarter there are so many restaurants and bars with a lot of amazing food, so I can only recommend going there to have dinner, such a nice southern flair.
Before returning home we decided to stop at the harbour to have a drink next to the Elbe, which was perfect to finish off the evening.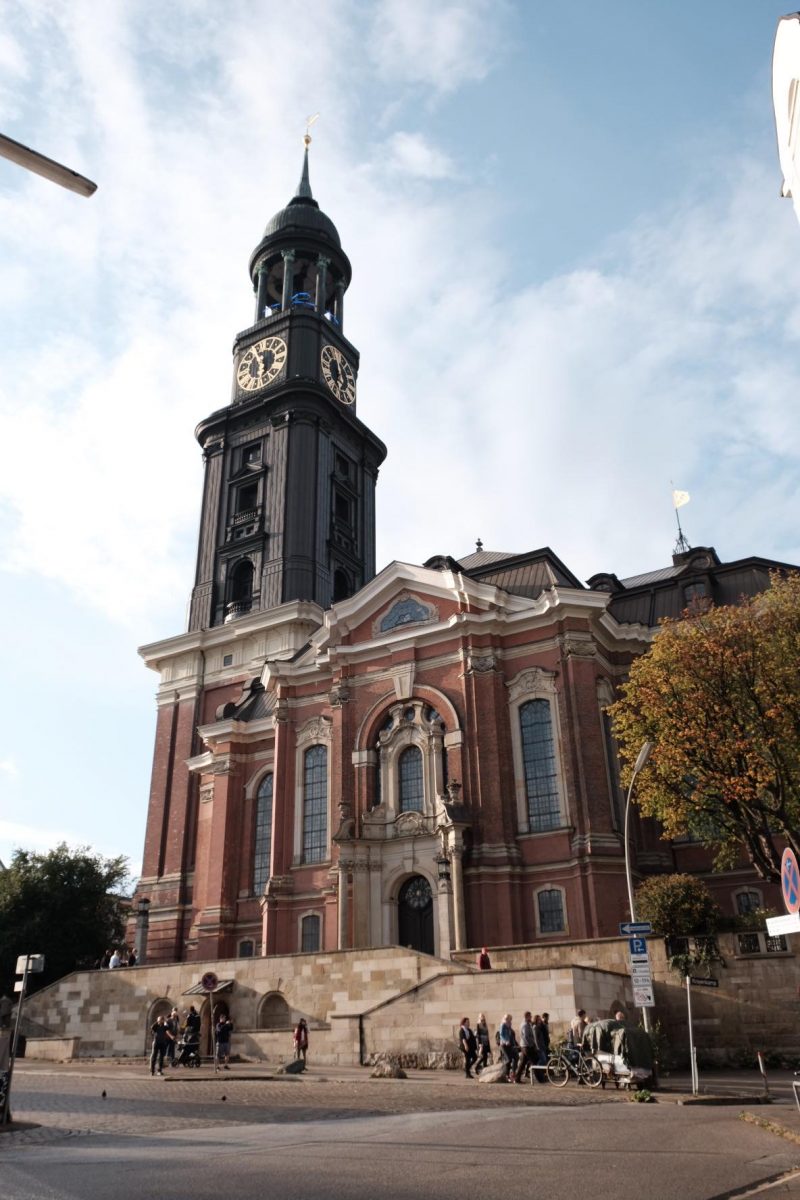 The next day we decided to start with the Elbtunnel, which connects the northern harbour with the Elb-island Steinwerder. It's pretty cool to be honest going down on the one side of the river and then walking underneath it to reach the other side, kind of strange as well, but manly cool. As you can see not all of us were always wide awake and ready for the day in the mornings ;).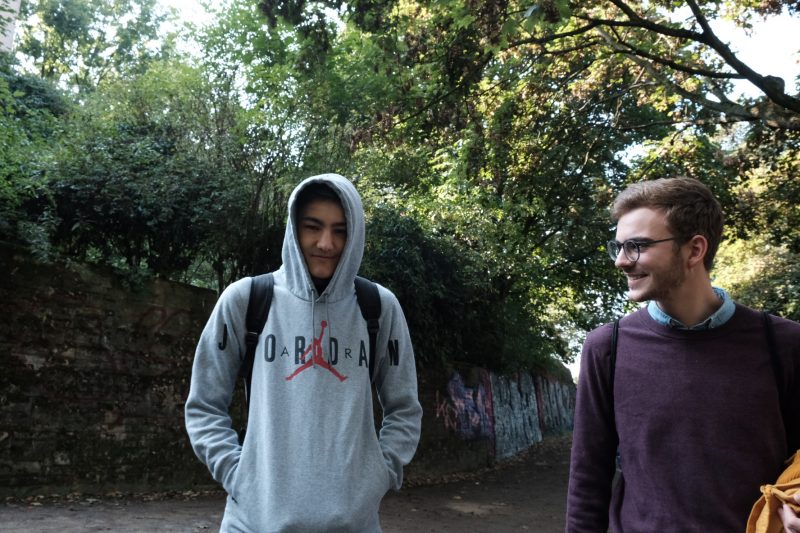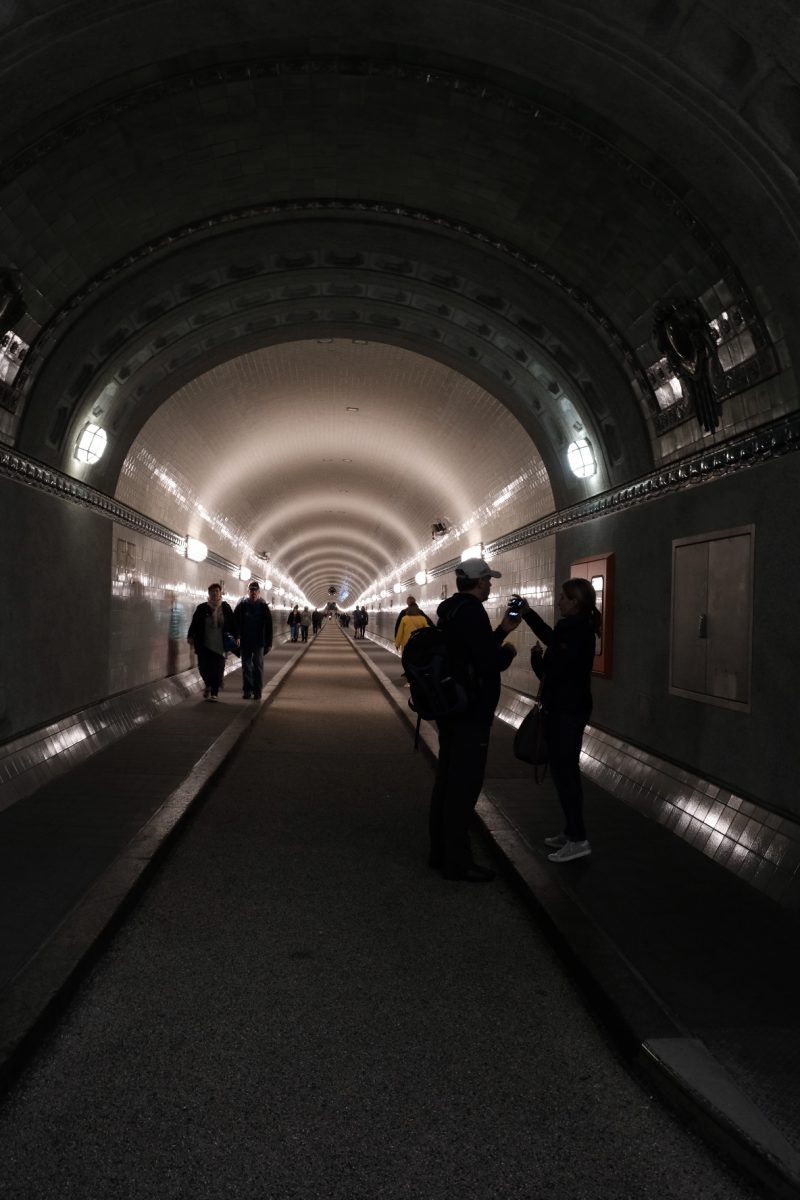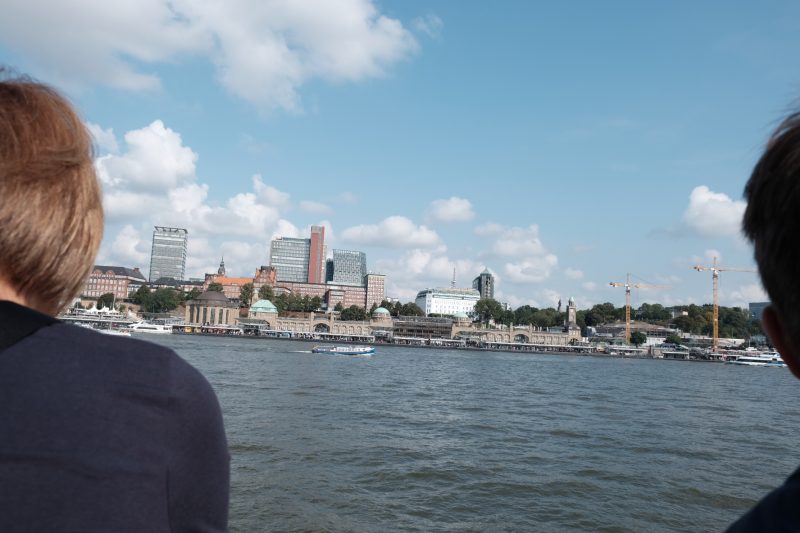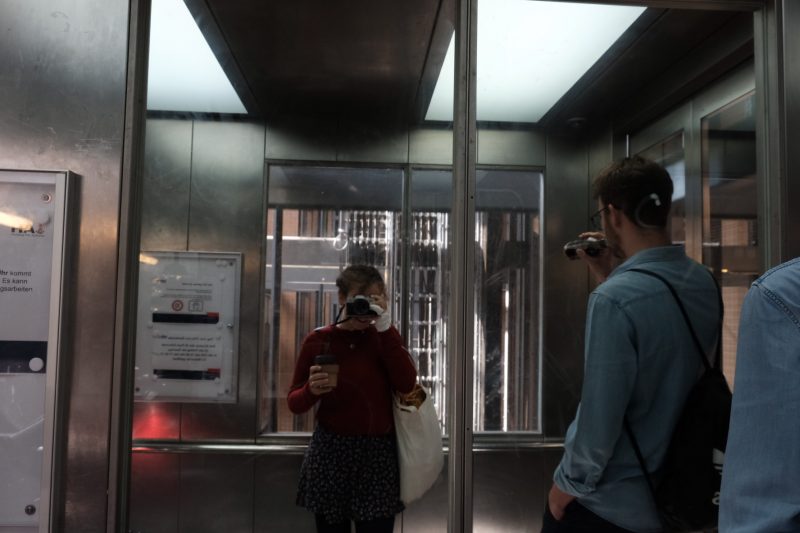 Up next was taking the ferry, which is part of the public transport in Hamburg (so Pro-tip, don't buy a ticket for a special tour around the harbour, when you can do the exact same, but simply with the ticket you probably already have for busses and trams). We took off at Landungsbrücken and stayed until the final stop of line 62, which is Finkenwerder, where we didn't get off, but stayed until Övelgönne. There we walked alongside the river on the beach for a while, enjoyed the warm weather, which we had that day and then continued our way to a beach bar, that served Fischbrötchen (Little breadrolls with fish in every variation in it) and other snacks and sat in the sun. We stayed there for a while, since it was so wonderfully summery there, so we decided to have an Aperol Spritz as well, before heading to our next destination for the day.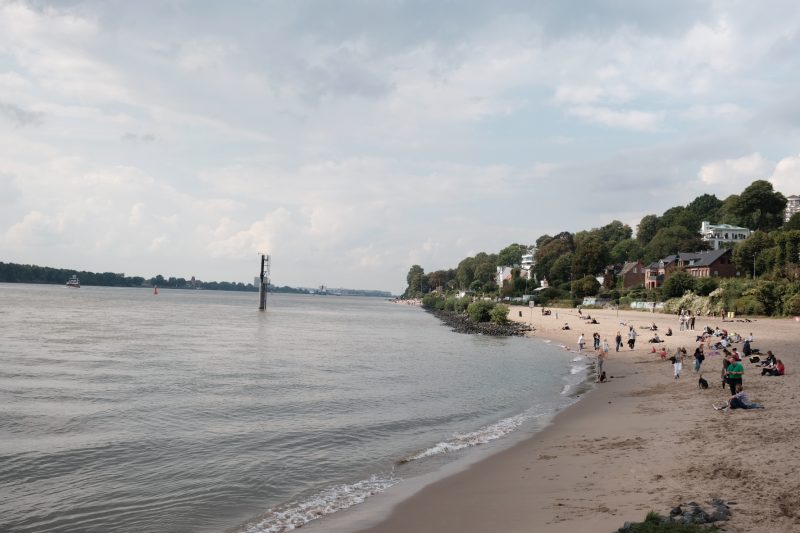 Before arriving there I pressed Flo a little bit to get a lovely picture infront of bridge, but look it turned out really nicely don't you think? And then we did the Miniatur Wunderland for our final attraction that day, which I didn't think would be cool at first and just agreed on joining the boys, since they really wanted to go, but turns out it was actually really cool. You can see a lot of Germany, but also parts of the US, Switzerland and Austria as well, which was the coolest.
After that Max, Flo and I went home before Totti, since he was that interested in the tiny landscapes, but our brains had enough miniature world for a day, so we decided to rest at home while waiting for him. In the evening we tried to find a place to eat close to the Reeperbahn, which wasn't that easy, if you don't want Turkish takeaway or McDonalds, but something to sit in. Eventually we found an American diner, where we had delicious burgers. We then went back to the Reeperbahn in orderd to find something nice, to have some drinks, but after having one fancy but expensive drink in the Olivia Jones bar, we realized that Sunday probably wasn't the best day to go out partying and that we actually were way too tired to stay up late, so we decided to call it a night.
Monday was our final day before going back home and let me tell you eight days visiting two cities is pretty exhausting. Not only for the mind but also for the body and it started showing a little that slowly but surely it was enough travelling for the summer.
We still wanted to go back to the town hall and the Alster, since it looked so cool there. We rented a pedal boat for an hour and just cruised around the Alster, trying to not crash with the tourist boats, which was a lot of fun and is surely very recommendable if you have the time.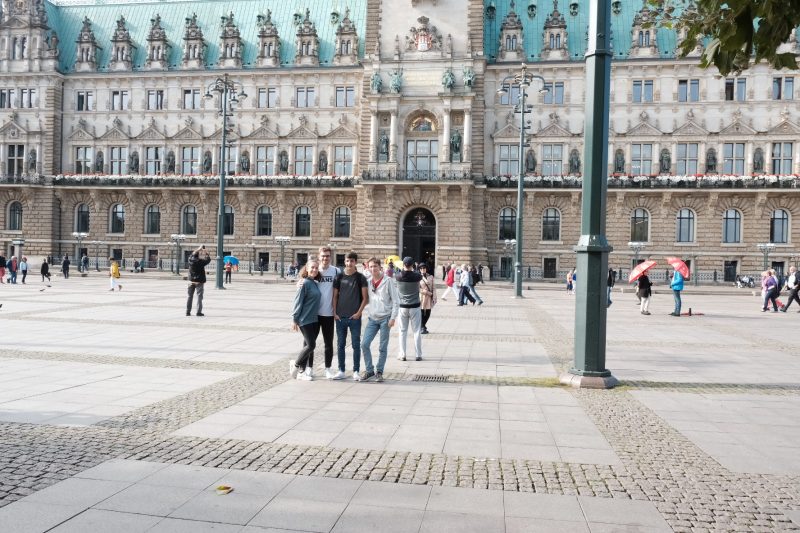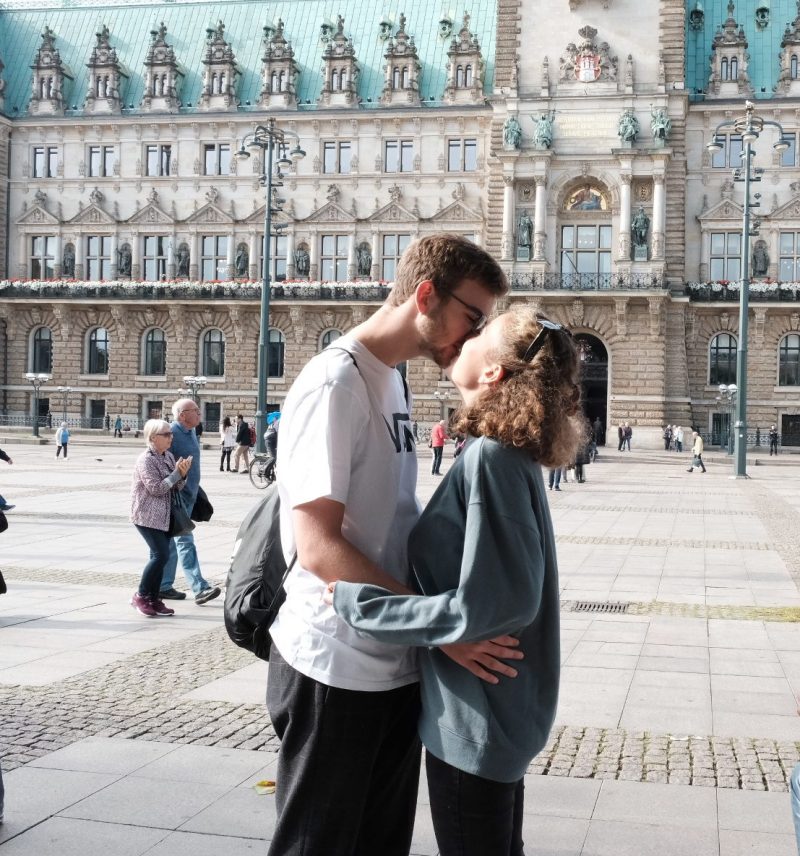 Last but not least we went to the Schanzenviertel and Carolinenviertel, two very alternative quarters, with hundreds of great restaurant options, vintage shops and art all around. Simply super cool and hipster if you ask me and I really enjoyed the atmosphere there. We were trying to find a pub to have one final drink in, when it started pouring outside. So we found a nice place and stayed until it was time for us to go, quickly buy some snacks, get our luggage and go to the night train that would take us home.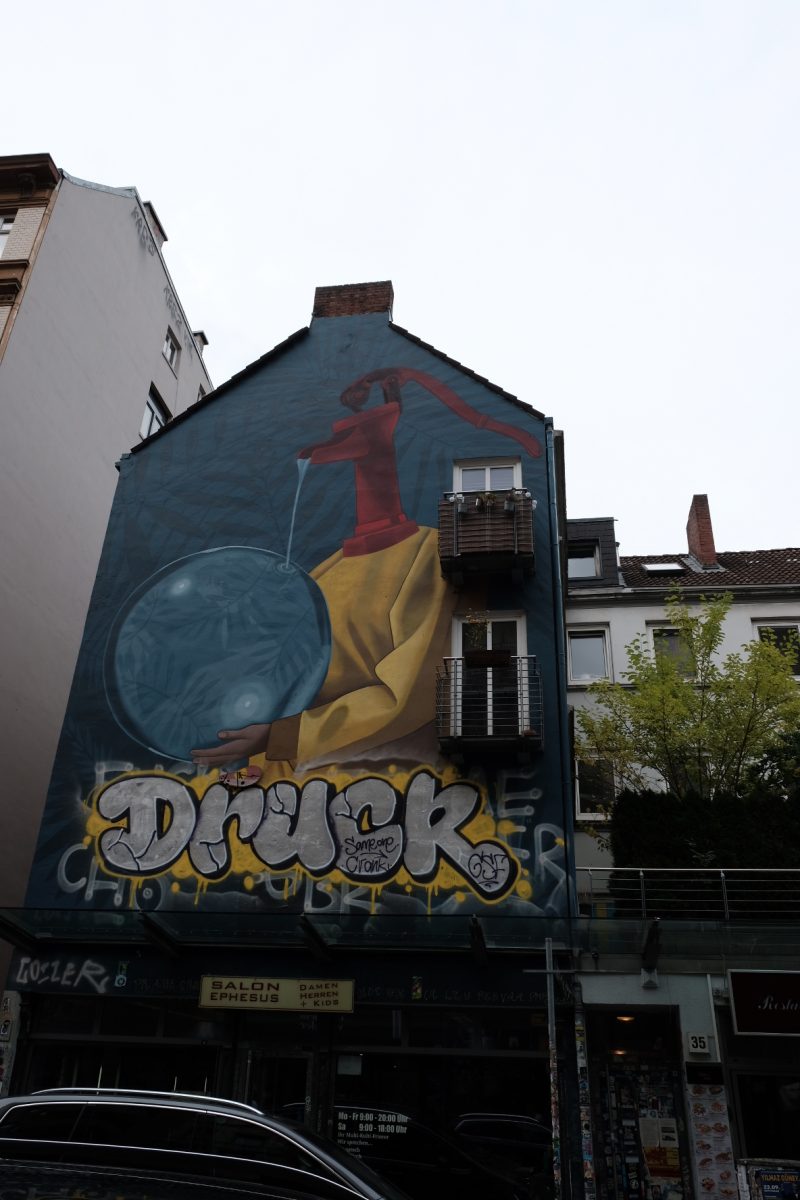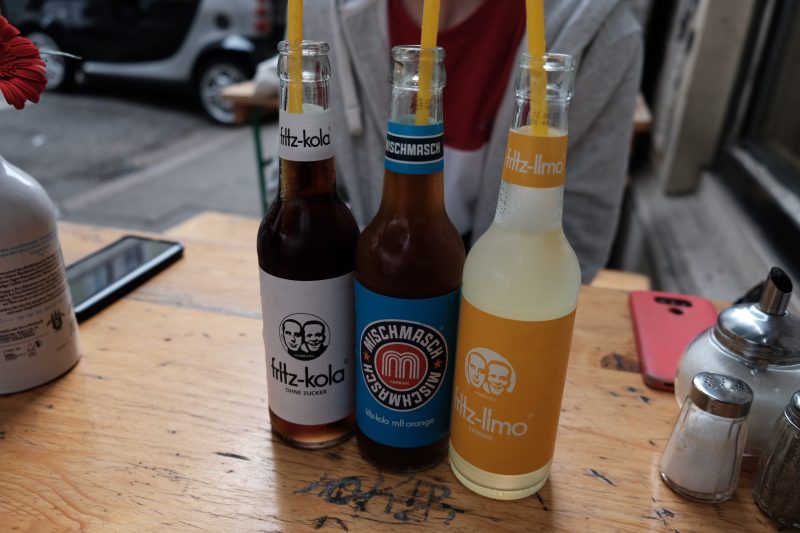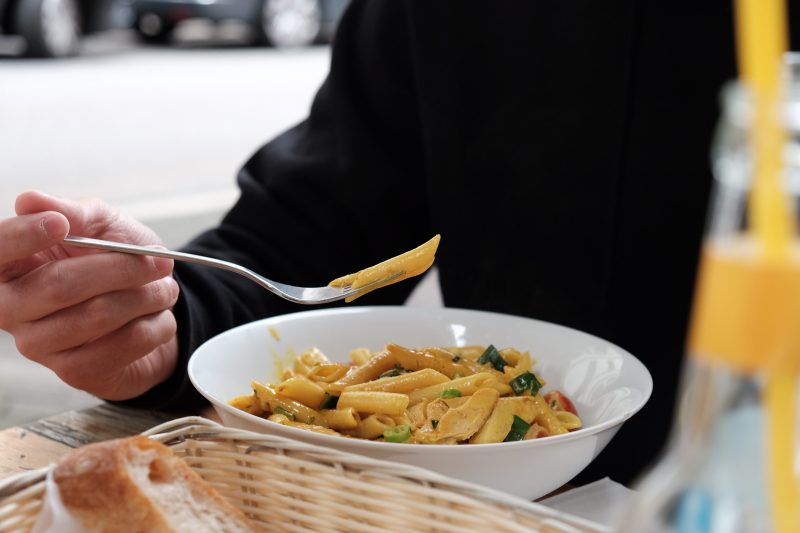 On the train ride home, we basically snacked, laughed of tiredness for a while and then quickly fell asleep, to wake up to someone bringing us breakfast, what a service, ey?
All in all this whole Germany trip was amazing. Travelling with three boys was very different to all the other trips I have done until now, but very cool as well and I really had a great time, so thanks guys.
Thanks again for coming by, I hope you enjoy my posts.
If you are interested in anything student-home and first week of Uni related stay tuned, because you can be sure, that something like this will be up next.
See you soon,
Lena xxx