27 Feb

Cliffs of Moher and farewell parties

Hi everyone,

How are you all doing? My last two weeks in Ireland have officially started and you know what I really feel good about it now. There was a time when I was really sad leaving all of this behind, but since I have figured out a lot of things for at home and I had some time getting to know that feeling of change again, I am really happy now. I am happy because I am enjoying every moment I have here to the fullest, I don't worry about money or time for now and just enjoy being alive and this is a wonderful feeling. I am currently sitting in the Happy pear garden outside in the sun and just had a very inspiring talk with my friend Andrea, who is studying for her English exam now, about the future and the good byes to come and feel so motivated to tell you all about those amazing last few days I had, so let's jump right into it.

My kids had midterm break last week, so I worked all day on Monday and until the afternoon on Tuesday and then I was free until the following Monday. I had a lazy day on Wednesday just going to Dublin with Lidia, shopping, eating and drinking fancy drinks in cafes, just to come home to have a relaxed movie night.

On Thursday I got up early to get to Dublin with an early Dart. I had planned a trip to the Cliffs of Moher for a long time, but always waited for a warmer, sunnier opportunity to get there. In the end I did that trip all by myself, which was really nice actually, since I started off like this here and now did one final solo-trip. I booked a daily bus tour though, because I just didn't feel like paying extra for a hostel. And it was a great decision, since the bus driver talked constantly, told us stories and facts about Ireland and its people and played famous Irish musicians when he needed to focus more on driving and less on talking, which happened very rarely to be honest.

First stop of the bus tour was Kinvara, a small town next to the sea, with small shops, tiny fishing boats and a not much else to see in those twenty minutes we were allowed to stroll around.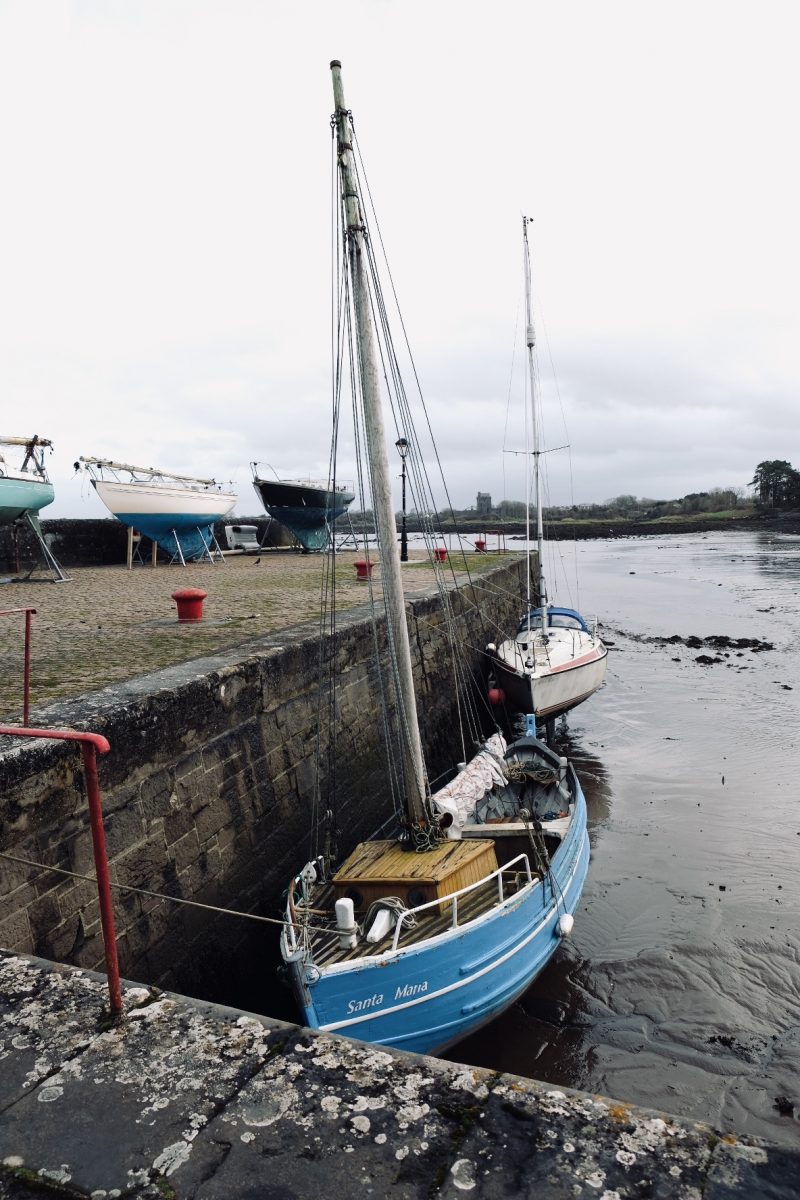 Then we drove past the Burren Mountains and Galway Bay and then further on the Atlantic Coast Line, which had the best views and was very breathtaking. We saw the Arran Islands out of the window, whilst we were driving along the Wild Atlantic way, where we saw wild white ponys graze in between the bushes, who seemed to not care about a single thing in the world. We stopped again at the Baby Cliffs, where we took plenty of pictures and just enjoyed nature for a while.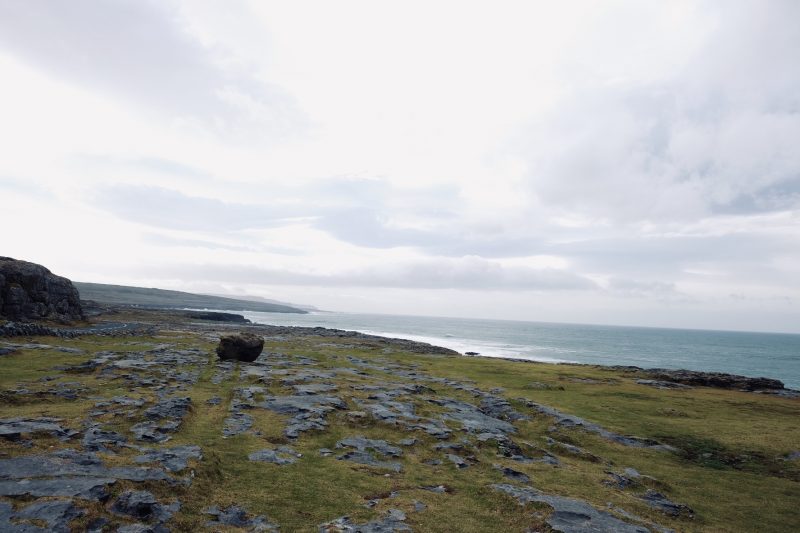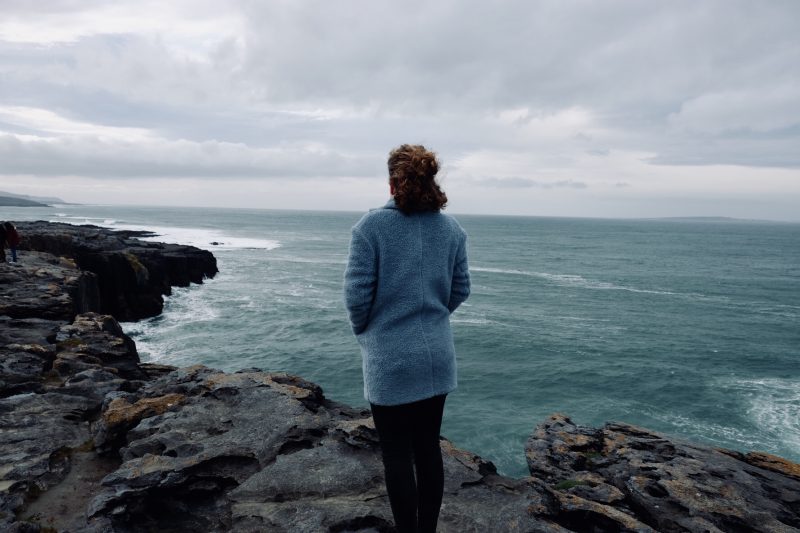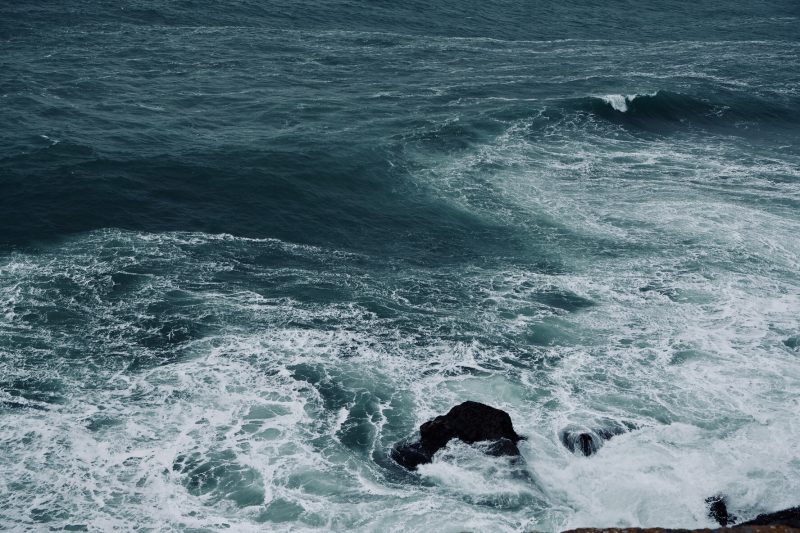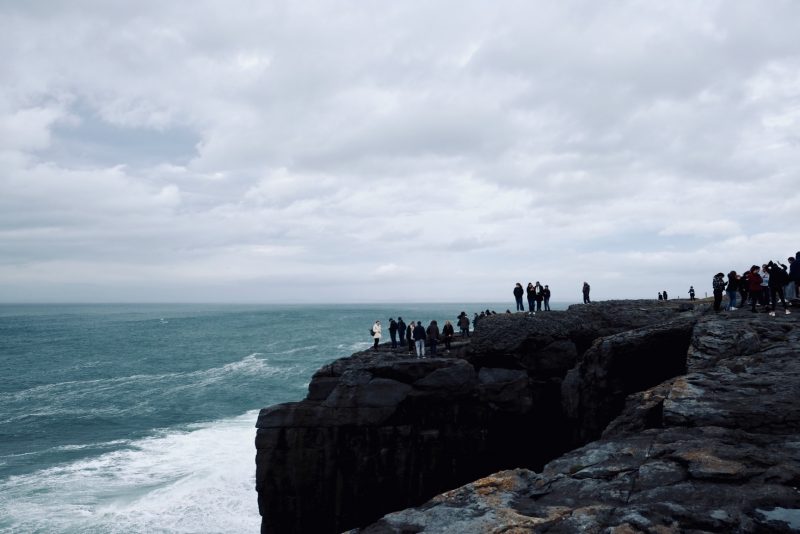 Next stop was a little lunch break in Doolin, where we had a little bit more time to have some traditional food in an Irish pub, which was nice. Before I got back onto the bus I saw two girls waiting for the bus to open up again, starring at their phone and not really knowing what to do with themselves just like me, so I assumed that they were also travelling on their own and thought that I might as well talk to them. It turned out to be a very good idea, since the next stop was the Cliffs of Moher, where we had one and a half hours free time, so it was nice to do the walk with someone else. The three of us, a German girl and one from Chicago, were wandering up the cliffs together and all were quite literarelly blown away, not only by the incredibly strong wind, but manly by those breathtaking views.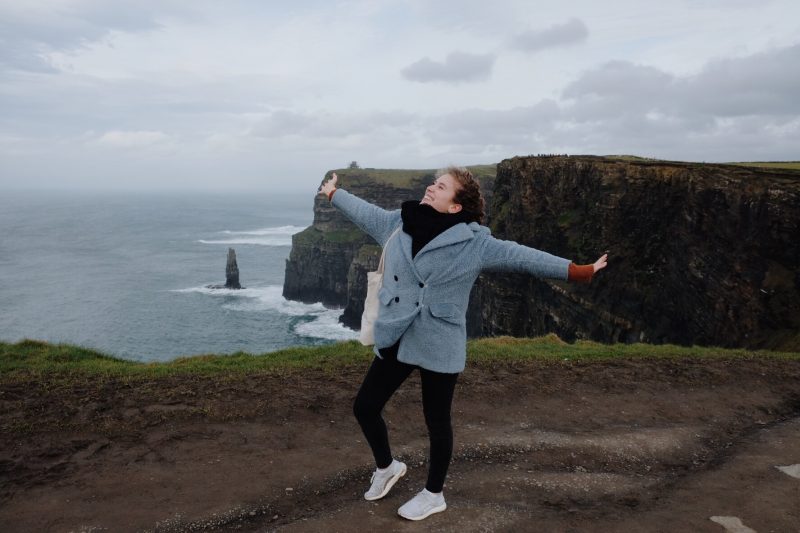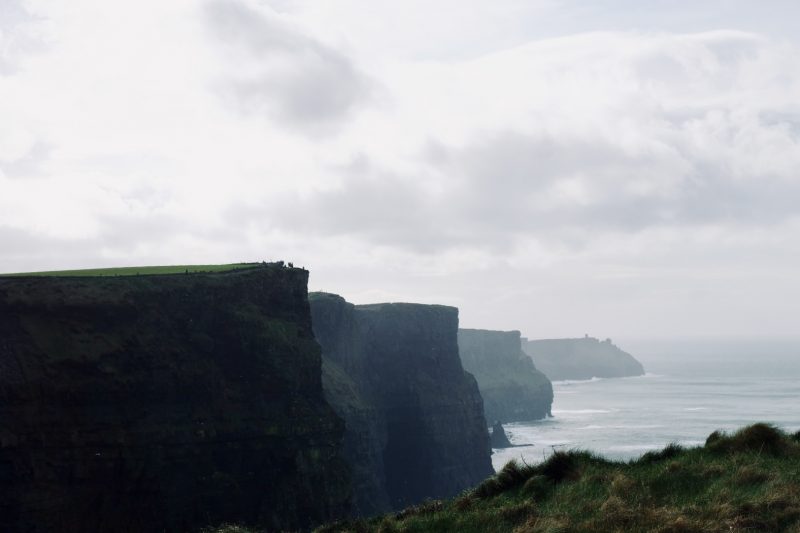 I felt so alive again, standing on those giant cliffs looking out onto the sea and realizing how small me and my little problems actually are. Moreover I couldn't stop feeling super thankful for the fact that I am actually able to experience all of this.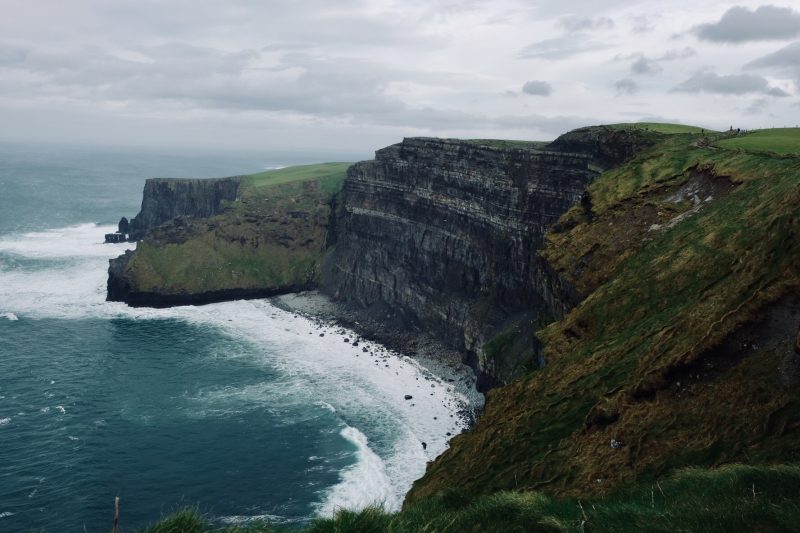 I mean how can you not fall in love with this amazing scene.
Our last stop was Bunratty castle in Limerick, but since it was already after 4pm we couldn't enter anymore, so the German girl and myself went for a coffe and a yummie brownie and had a lovely chat. A little while before we had to go back to the bus the girl from the US joined us and we had a nice time chatting about what we were up to. From Limerick, we went straight back to Dublin and I got a little lost in my own thoughts. It was strange, I had such an emotional high from the cliffs but it was followed by an emotional low, which was probably only because I was exhausted and tired. I felt bad for feeling like this after the amazing day I just had, which didn't get me out of that either. But I guess that's just the way it is sometimes, that after such a high a low is only natural.
On Friday I had a really lazy day and I honestly didn't do a single productive thing, which didn't put me in the best mood either and then none of my friends had time to meet, so I kind of was stuck in that strange mood all day. I only had plans for the evening, since Lidias sister was about to visit her and I would join them for a couple of drinks in the evening in the Harbour bar. I was arriving there on my own, expecting to only see Lidia and her sister sitting on a table, since all of my other friends were either busy with babysitting or something else. When I walked up and turned around I saw all my friends jumping out of their places they hid behind and screaming "Surpriiiise!". And the strange mood was gone in one second and replaced by pure happiness and thankfulness. I couldn't believe they kind of tricked me into coming here without me noticing a single thing. They had decorated a small area next to a fireplace with balloons, candles, garlands and selfie-equipments.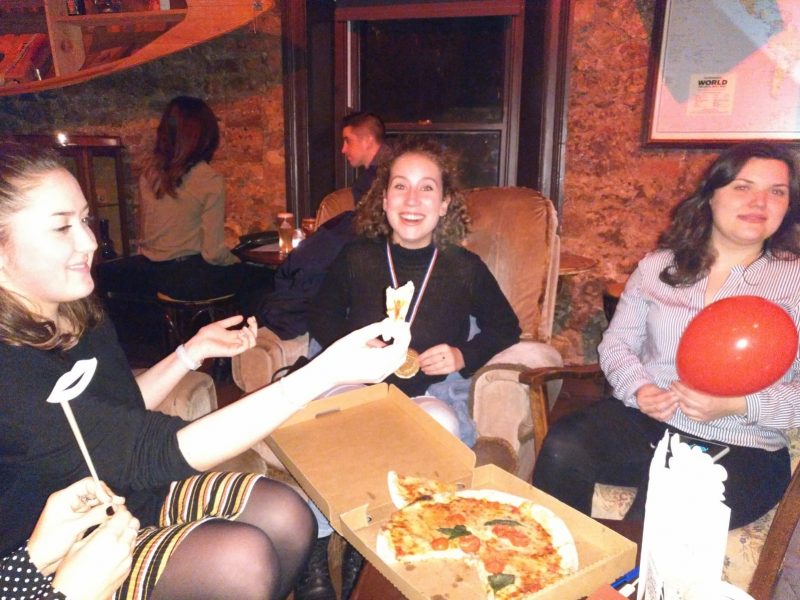 We had the best evening enjoying Pizza, Cider and beer and ourselves of course. It was the best surprise ever and I honestly didn't expect them to do anything like this for me. Thank you so much girls, I love you a ton and will miss our weekly dinners, meeting in the Harbour bar, going out in Dublin and travelling around Ireland with you. But we'll surly see each other again soon, to visit each others homes and travel more together.
On Saturday Lidia and I went first to Dun Laoghoir and then to have a quick look what Sandycove lookes like and we were blown away. Sandycove is such a beautiful little town like Greystones, Bray and all the others next to the sea and close to Dublin and it looks like an Italian city to me. We bought loads of fruit and had a little picknick on some rocks and just enjoyed it being so warm and being outside.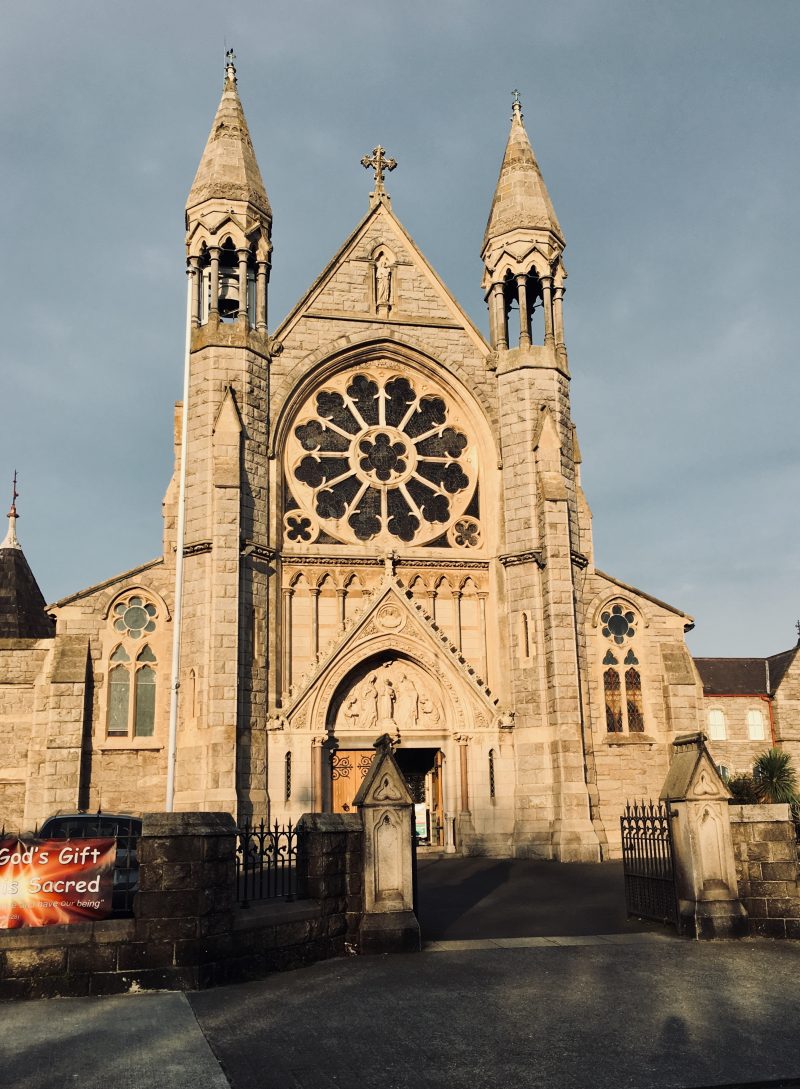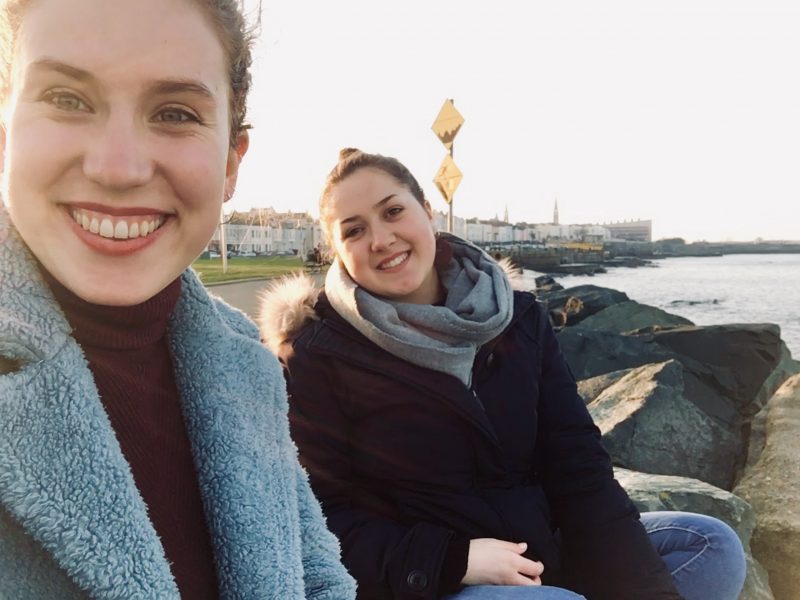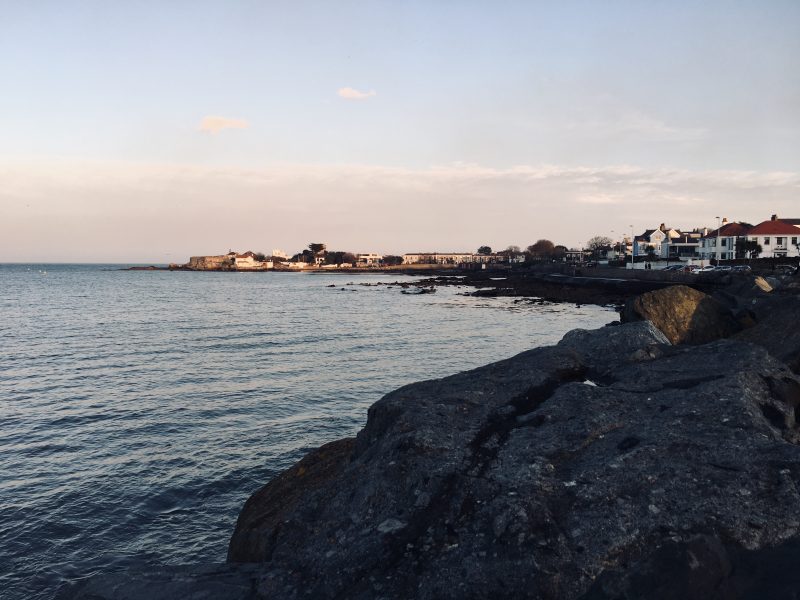 One last thing I wanted to mention in this blog post, is that I did my first photoshooting ever. Whaaaat!? Sure I sometimes got my pictures taken by my dad, but never by a stranger I'd never met before. Dom, a Dublin based photographer, commented on one of my pictures on my Instagram and I replied. I never ever did that before, but I just had a good feeling about it. We actually made it happen and met on Sunday to take a few photos and I loved the experience. She was the nicest, gave very good instructions and I think from what I saw until now the outcome is amazing. She only sent me a sneak peek yet, but I thought I'd share those pics with you on here.
And that's all of my news, I had a lot going on in only four days, but I loved every single thing.
Thanks for taking the time, reading all of it.
See you soon,
Lena xxx