26 Jun

Budapest

Hellooo everybody,

How are you all doing?

Good god at the moment it's incredibly hot in Linz. You either go to lie at a lake the whole day, spray yourself with a lot of sunscreen and eat cool waterlemon, ice-cream and have one cold brew after another, or you stay inside and only go out in the evening sun, at least, that's what I do. But sounds like I am complaining about the warm weather, which I surly shouldn't since I already complained about the rainy and cold days in April and May, so I think I'll just stop talking about the weather, since this isn't at all what I actually wanted to write about.

It was my boyfriends birthday in March and I decided to gift him a little city-trip to Budapest. Totally not for own purposes! 😉 I love giving someone a gift where we get to spend time with each other, so a short stay there just sounded perfect. We then decided to extend the one night to three, so we would have all the time we needed, to do everything without the stress of having to leave out attractions we wanted to see. I did a little bit of preperation in advance, but not too much was needed, to be honest, since we wanted to simply explore on our own whilst covering a few of the main sights. And that's exactly what we did. If you want to know what we did, get a few ideas for yourself if you plan on going there some day, or simply get inspired to travel some more, this post is for you.

On our first day we got up super early, and by that I mean 2 in the morning, so we could catch a flix-bus, which would take us directly to Budapest. If you haven't travelled with flix-bus yet, you really should consider doing so. Not only are they really cheap, but they take you from A to B without having to change means of transport, it's easier than going by car, since you don't have to drive yourself and can relax in the meantime and also way better for our environment. Flo wasn't completly sold on the idea of getting up so early and sleeping on the bus, but it was okay for him in the end and we arrived in Budapest bright and early. Therefore we had plenty of time to rest a little bit after the journey and still get plenty of time for exploring.

First of all we just strolled through the streets, got some forints (around 300 forint are 1 euro, so you feel like you are super rich, since you run around with a few thousands) and headed straight into a lovely coffeeshop, to get some caffeine for the day.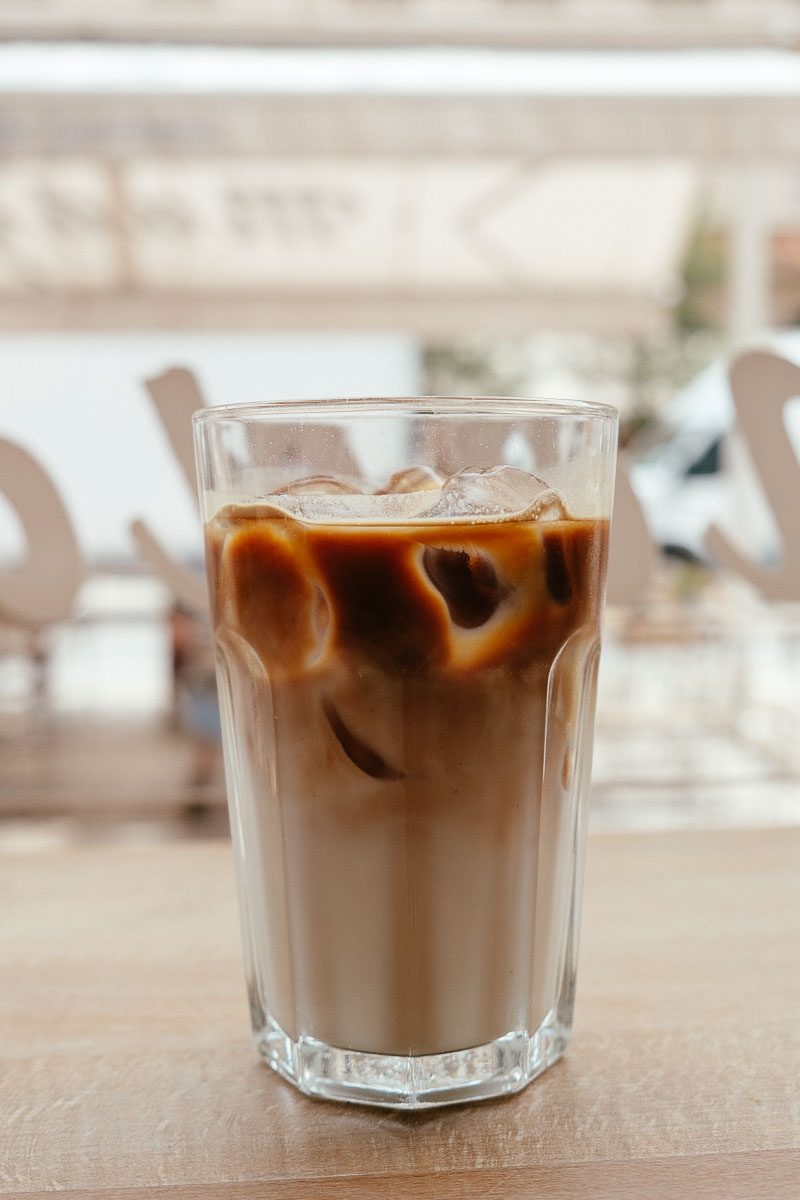 We then decided to wander through the old town, where also all the shops were. So many buildings in Budapest look super cool, so for architecture lovers, this is your city.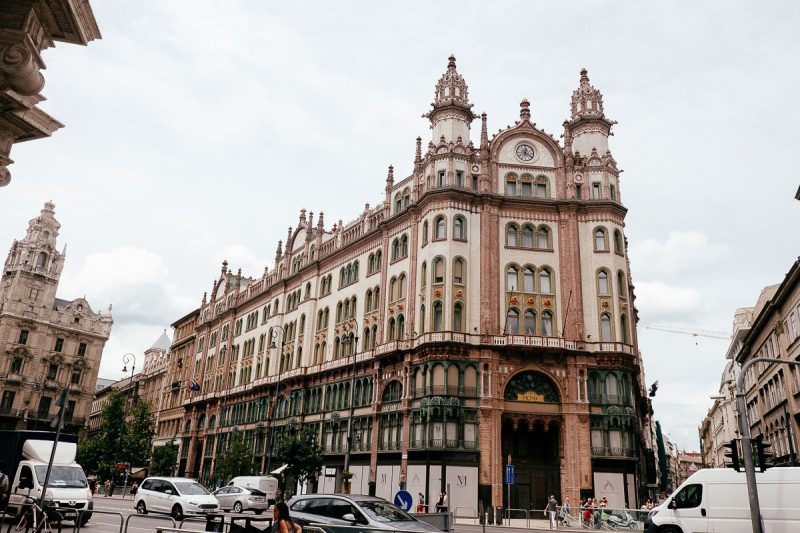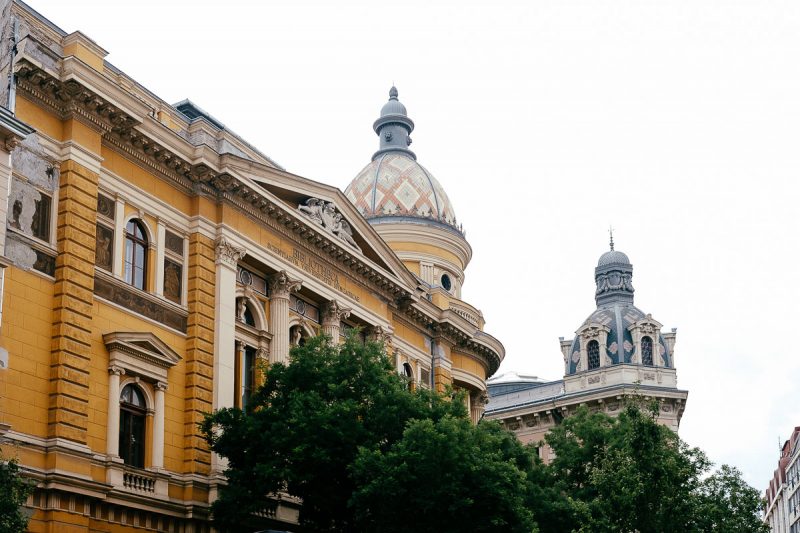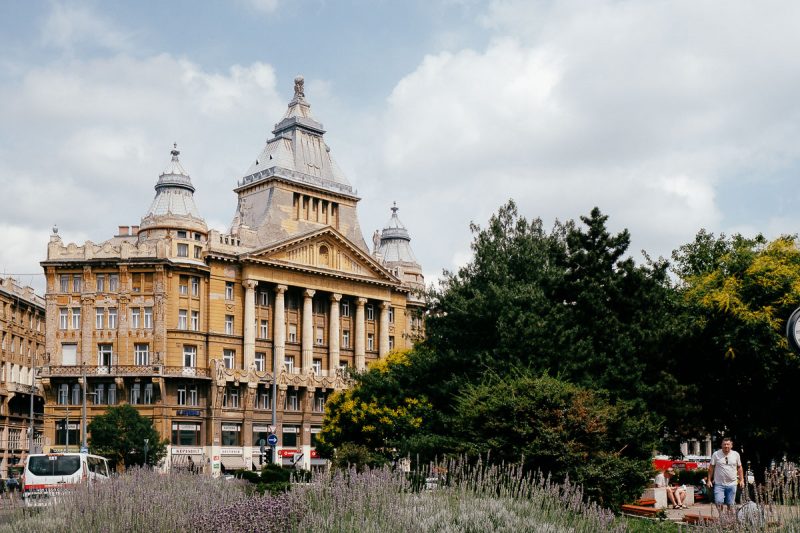 We arrived at the huge place infront of St.Stephens Basilica and then Flo mentioned some food would be a good idea, so we popped into one of the little bistro-cafe-restaurants, which are all around this place and had some yummie burgers.
St. Stephens Basilica is a really good tip for all of you, who want to get a good overview of the city, since you can climb up and enjoy Budapest from above. On that day we didn't go in, but decided to come back on our last day, to have a look what the inside looked like as well and didn't get dissapointed either.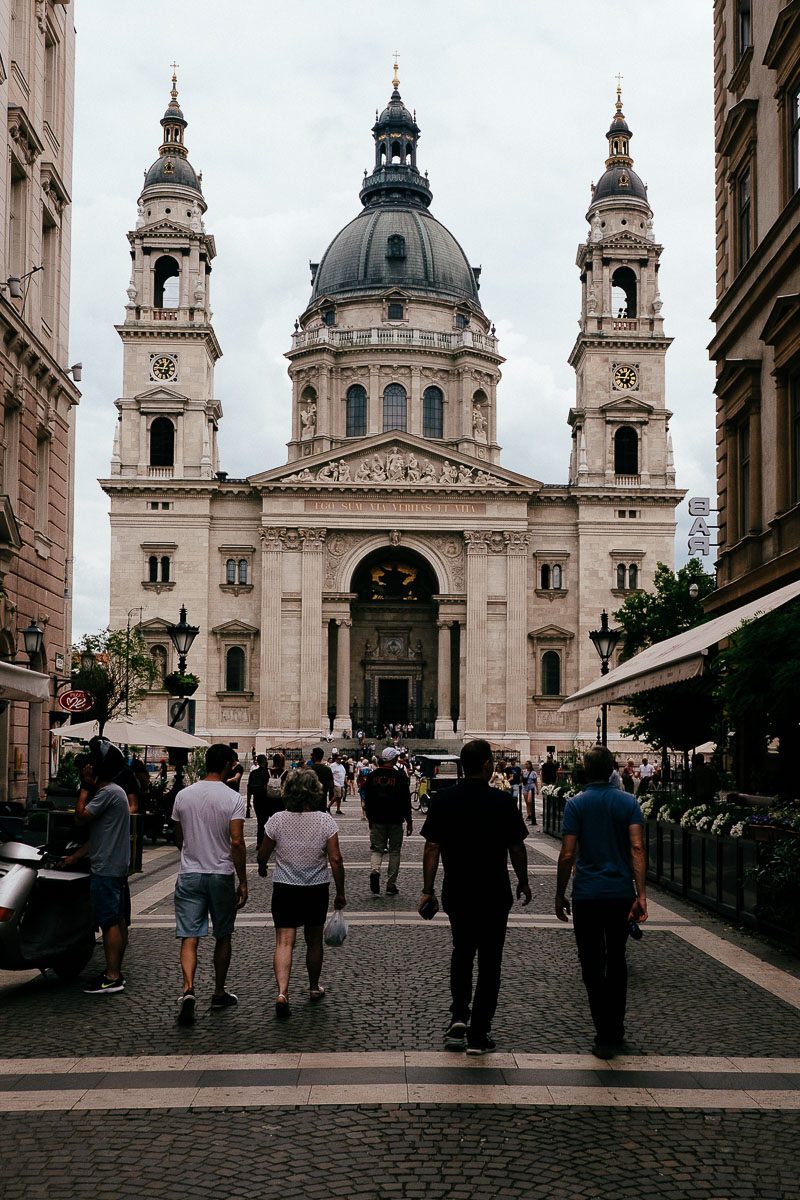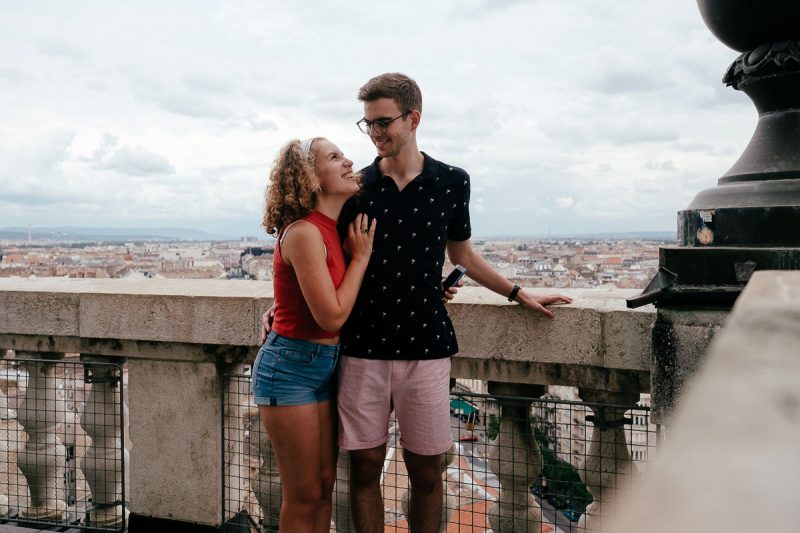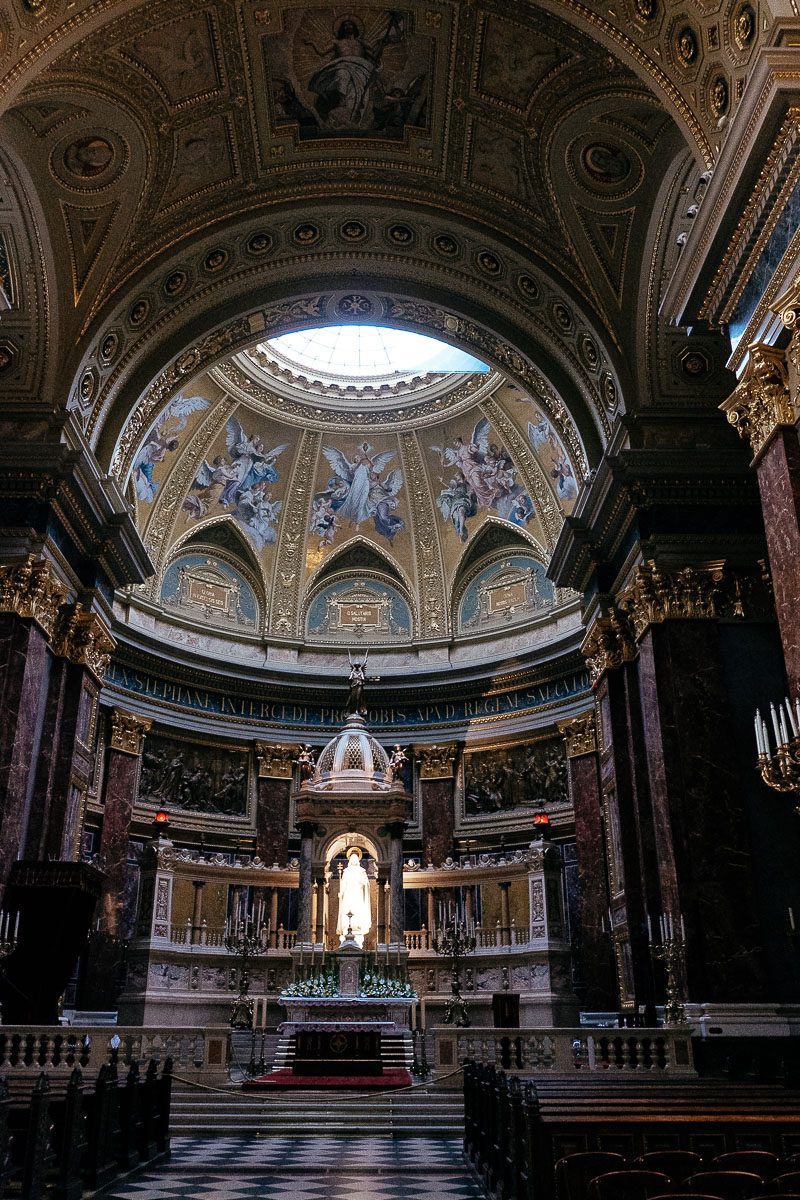 After that we decided to follow the street northbound and after a while arrived at the well known parliament, which is certainly a building you shouldn't leave out having a look at.

From there we went closer to the Danube and back into the other direction, so towards the chain bridge and "The shoes on the Danube bank", two more things we wanted to see that day, since they were on our way.
"The shoes on the Danube bank" is a memorial, which honours the Jews who were killed during second world war. They were ordered to take off their shoes and then were shot, so that their bodies fell into the cold Danube water and got carried away, but their shoes remaind there.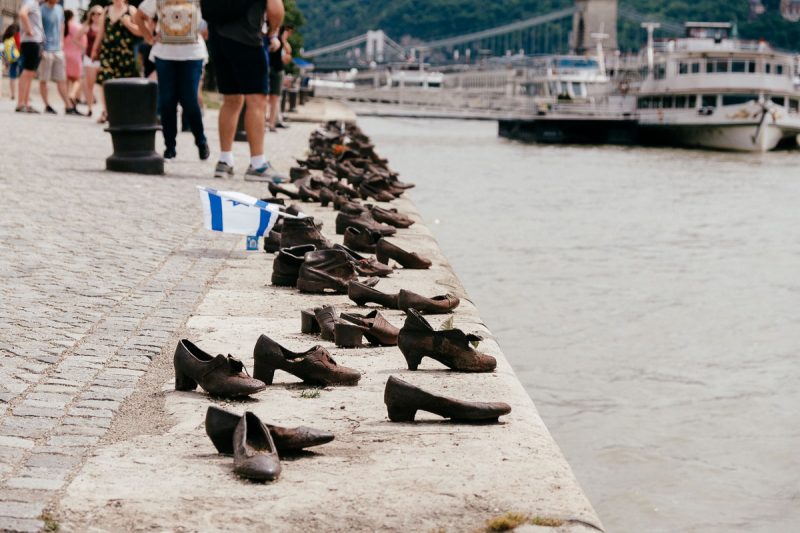 We followed the Danube southwards and made it to the Chain Bridge, which you apparently should have a look at. It looked really cool, but that's about it I would say, but Flo and I sat down at the little bar next to it and enjoyed a cold cup of Mojito and a… something else, that Flo ordered.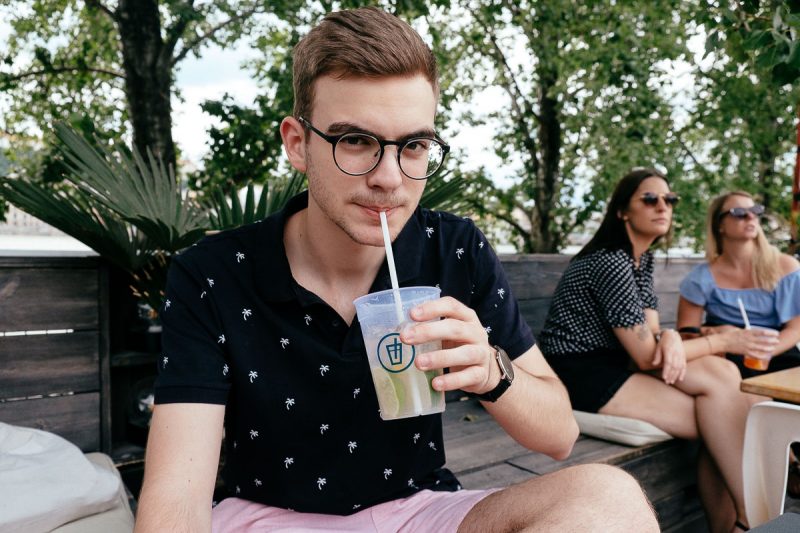 We then decided to make use of all the time we had left and took the Metro, which apperantly is the oldest electrified underground railway system on the European continent, to Heroes square. It marks the end of the long main street "Andrassy ut" and leads into the cute little city park. Certainly something you should see for example in combination with the little park or a row with the cute row boats, which was something we decided to do, since they looked so appealing to us.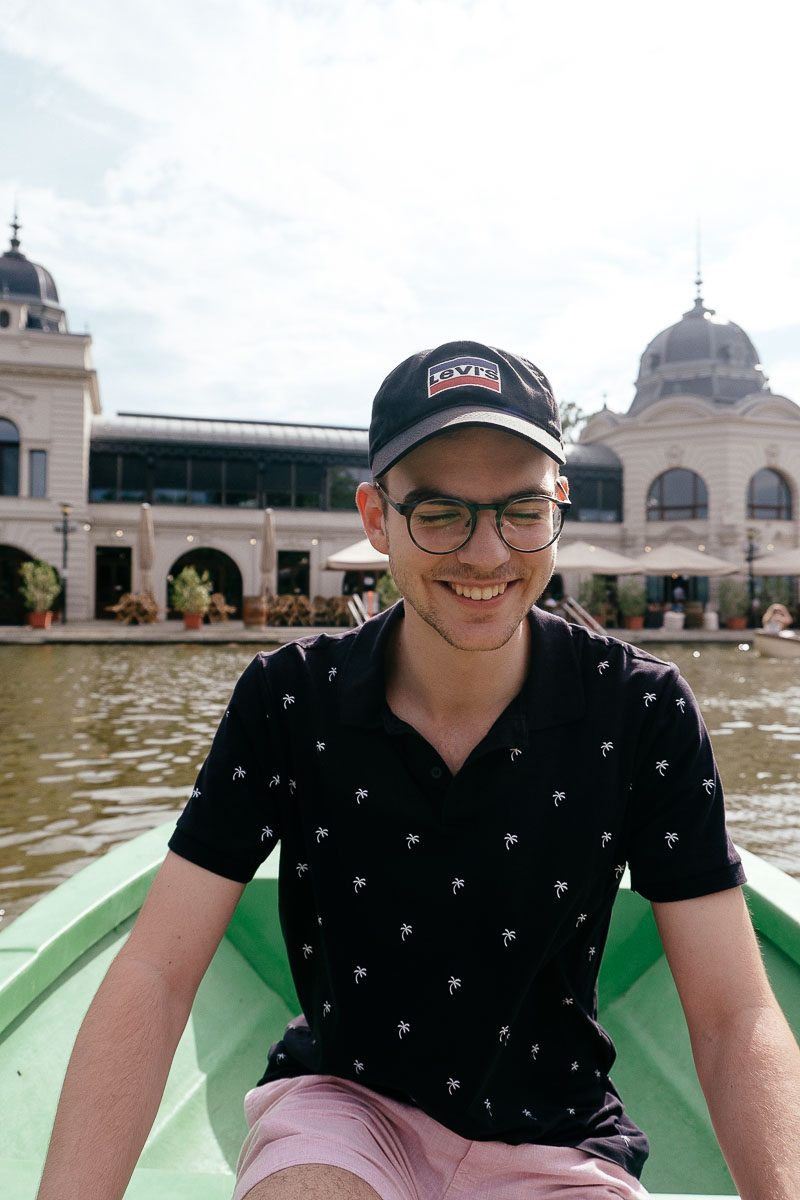 Short fangirling moment for this handsome looking guy!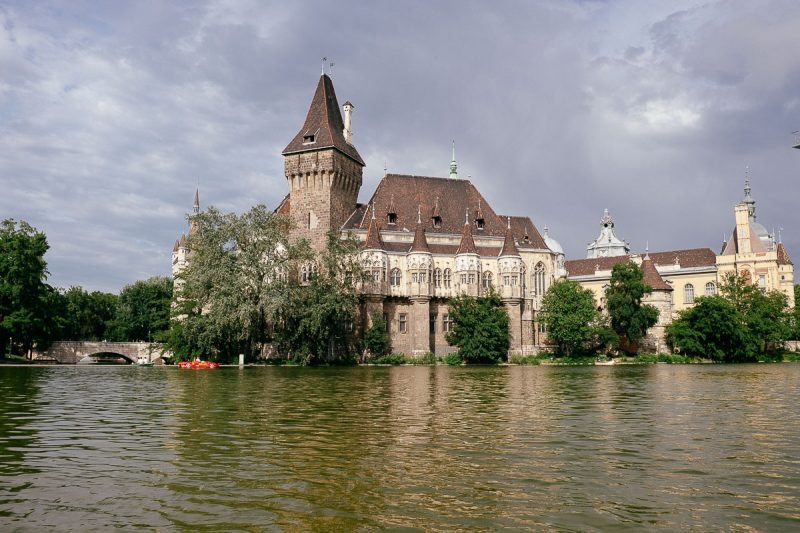 We then decided to sit down in the park for a relaxed ice-cream break, before heading back to the hotel.
In the evening we went to a lovely restaurant called Barack & Szilva, which was just perfect, since they offered Hungarian cuisine, but it wasn't as hearty and meaty as you would expect it to be, or as it normally probably is, so we really enjoyed it. I don't have any pictures for you, but this is really a good tip, for food lovers.
Flos dad and my friend told us to visit Szimpla kert, which is one of the famouse ruin bars in Budapest. Not only did we drink delicious cocktails there, but enjoyed the fancy vibe of this bar. People hung and put things and nig nags everywhere and it actually seems as if they did that with no ulterior motive. This is certainly one of the places you have to see, if you ever come to Budapest.
Next to Szimpla kert there is a street food place called Caravan, which is amazing as well. We went there two of the four evenings we had, since they had so many different dishes, from various countries, in various styles to choose from.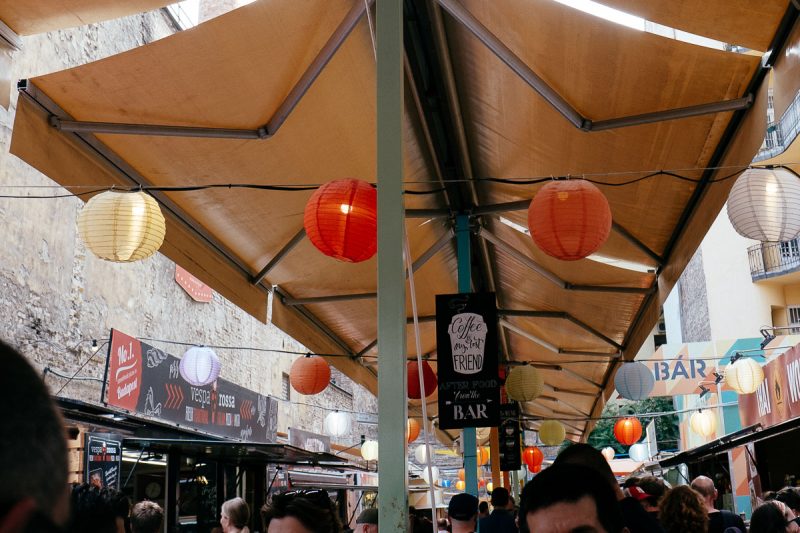 On the next day we decided to cross the Danube, to see what was on the other side, in Buda. We wanted to go up to Buda Castle by the funicular, but since we would have had to queue for ages, we decided to walk up there and it turned out to be way quicker than I thought in the beginning.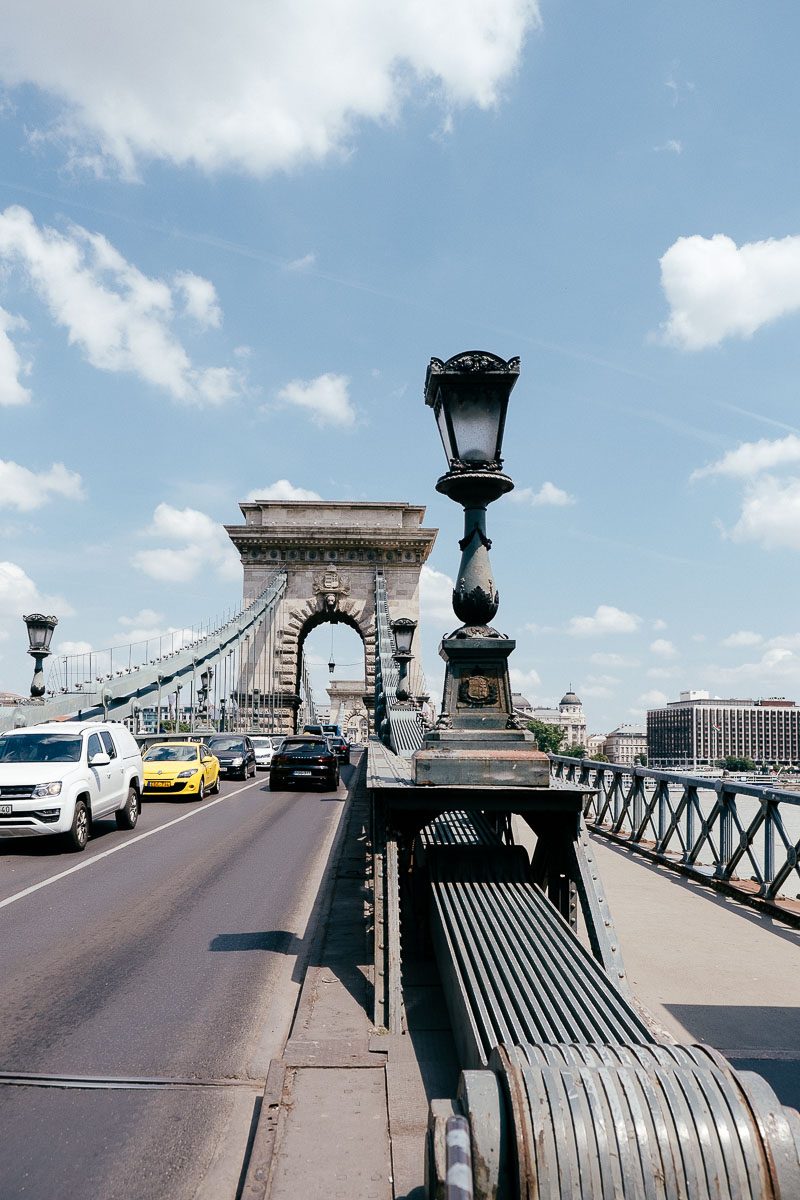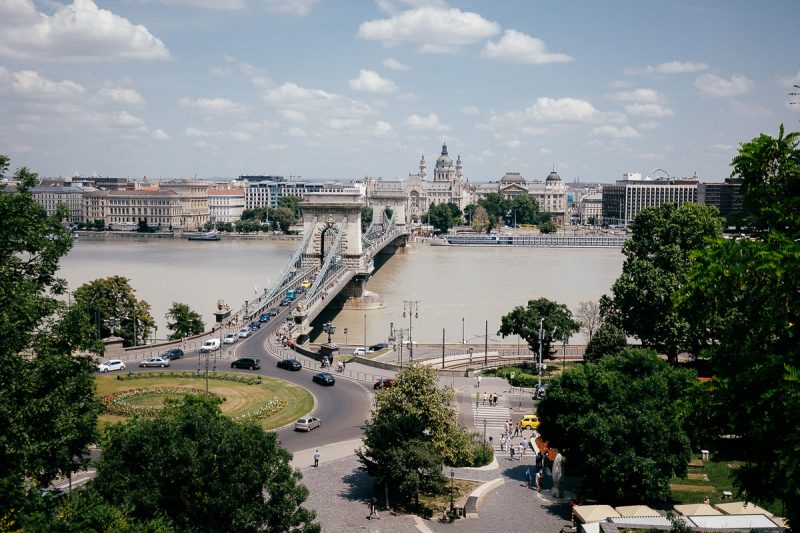 Buda Castle is also very beautiful to be at. It was super hot since it was just around lunch time and after a quick look around, Flo and I decided we had to sit down somewhere in the shadow and have some food, to give us back some energy. Buda Castle is very close to the Fishermans Bastion, so this was our next stop. It's gorgeous roof got me, since it was so colourful and its tiles were partly layed out like flowers. We also had a fantastic view again up there, this time over the other side of the city, Pest.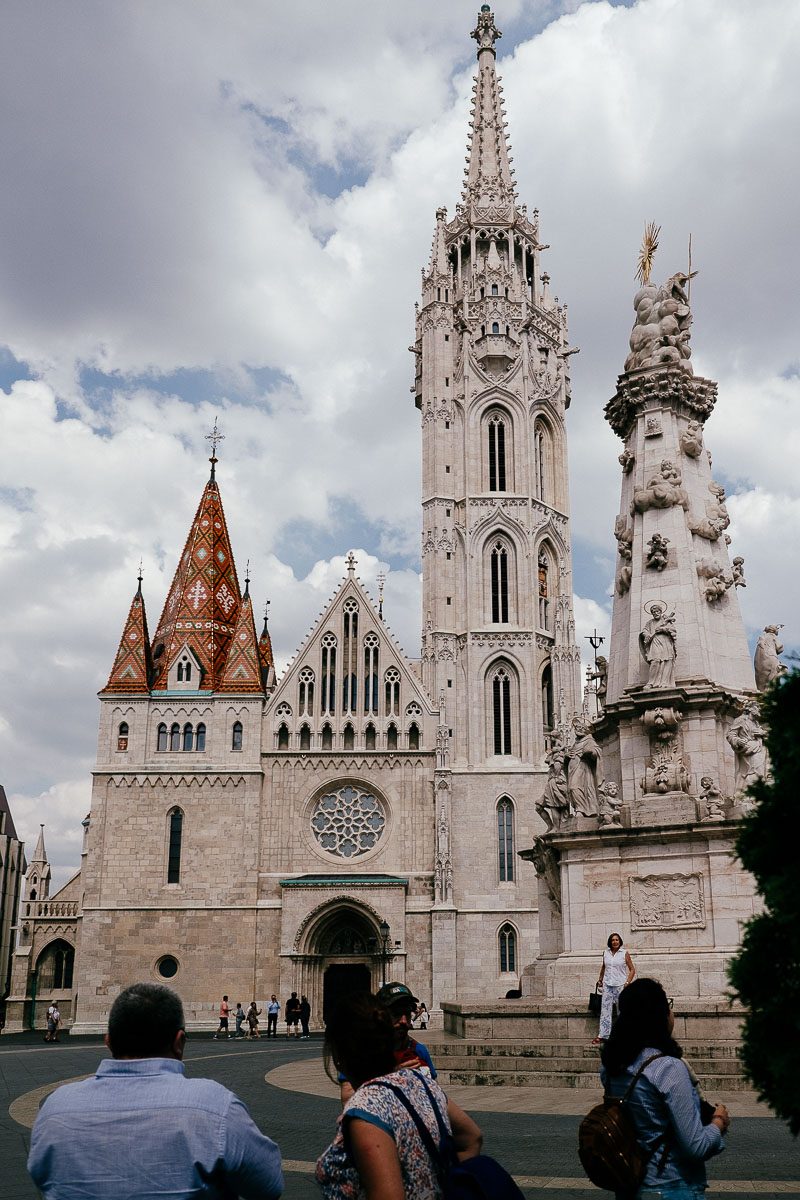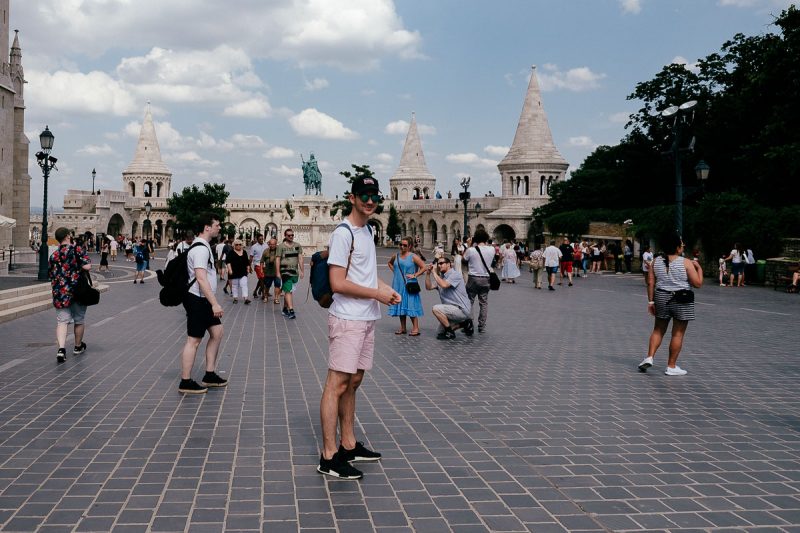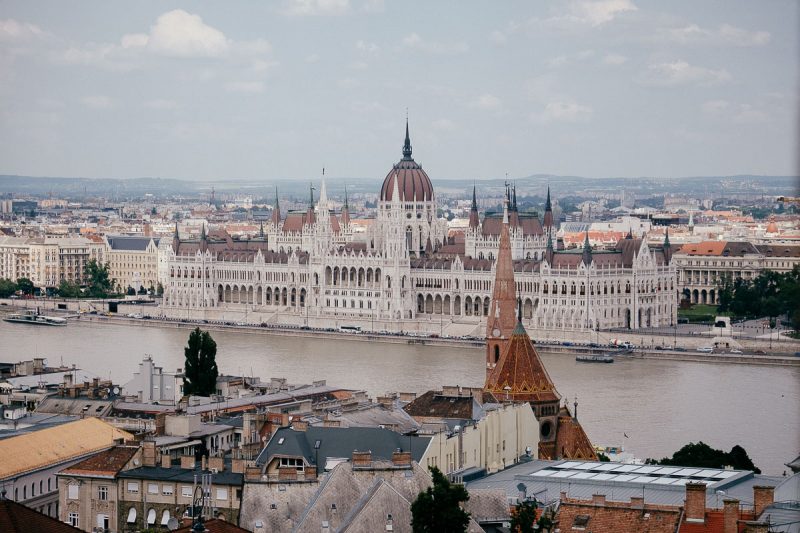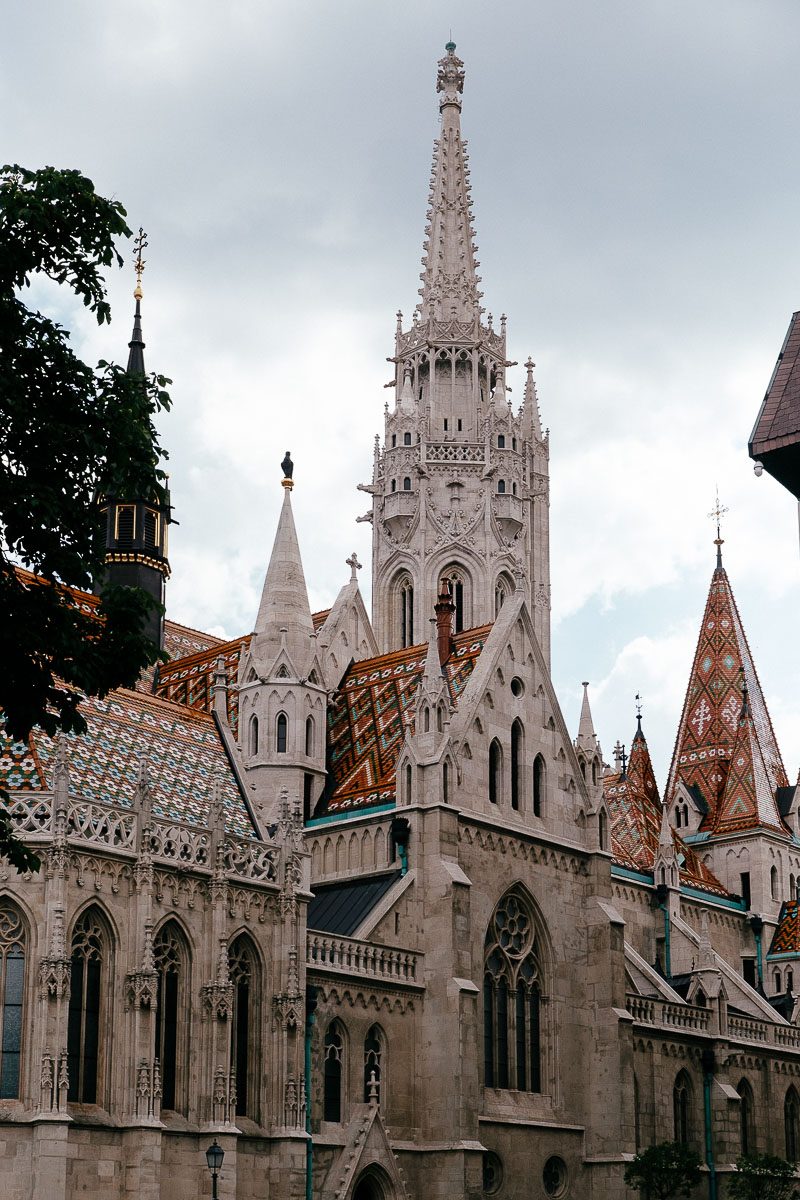 We went back and walked around Buda Castle a little more, since more parts were now in the shadow, which made walking around so much more pleasant.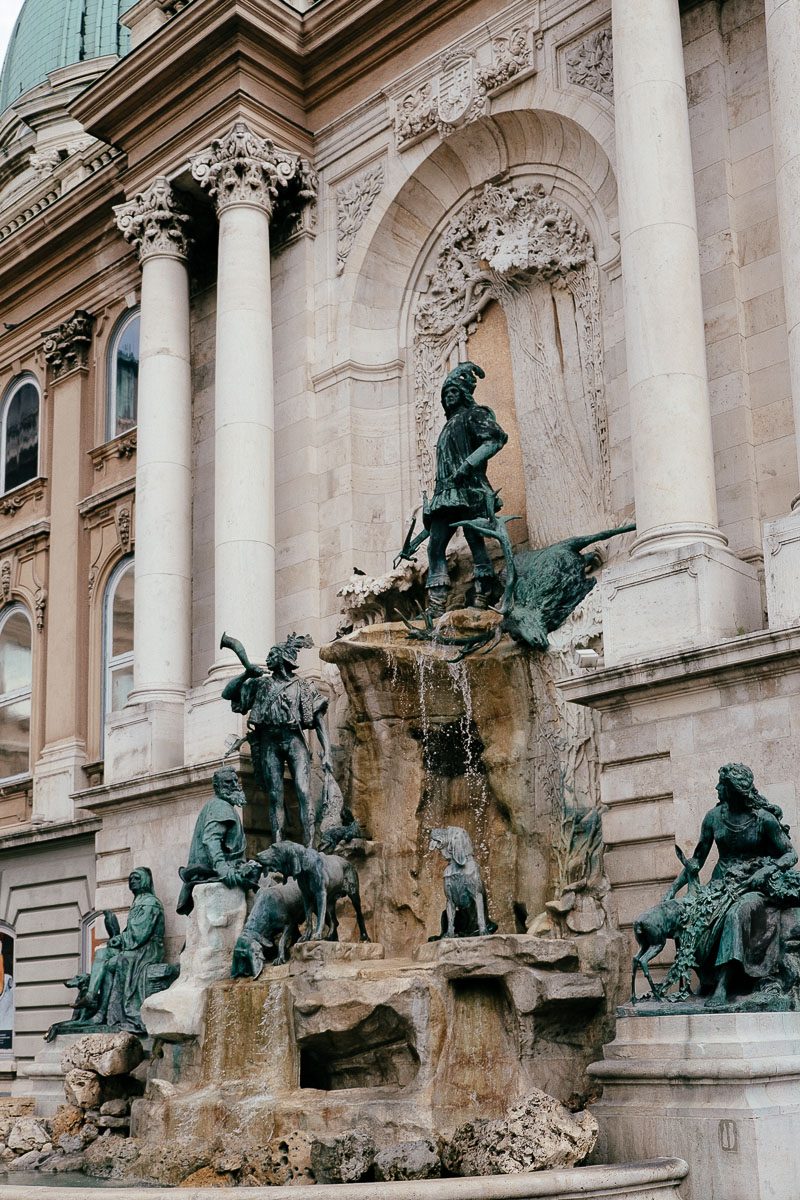 On our way back down we walked through some beautiful gardens and then back over a bridge until we arrived back in Pest again.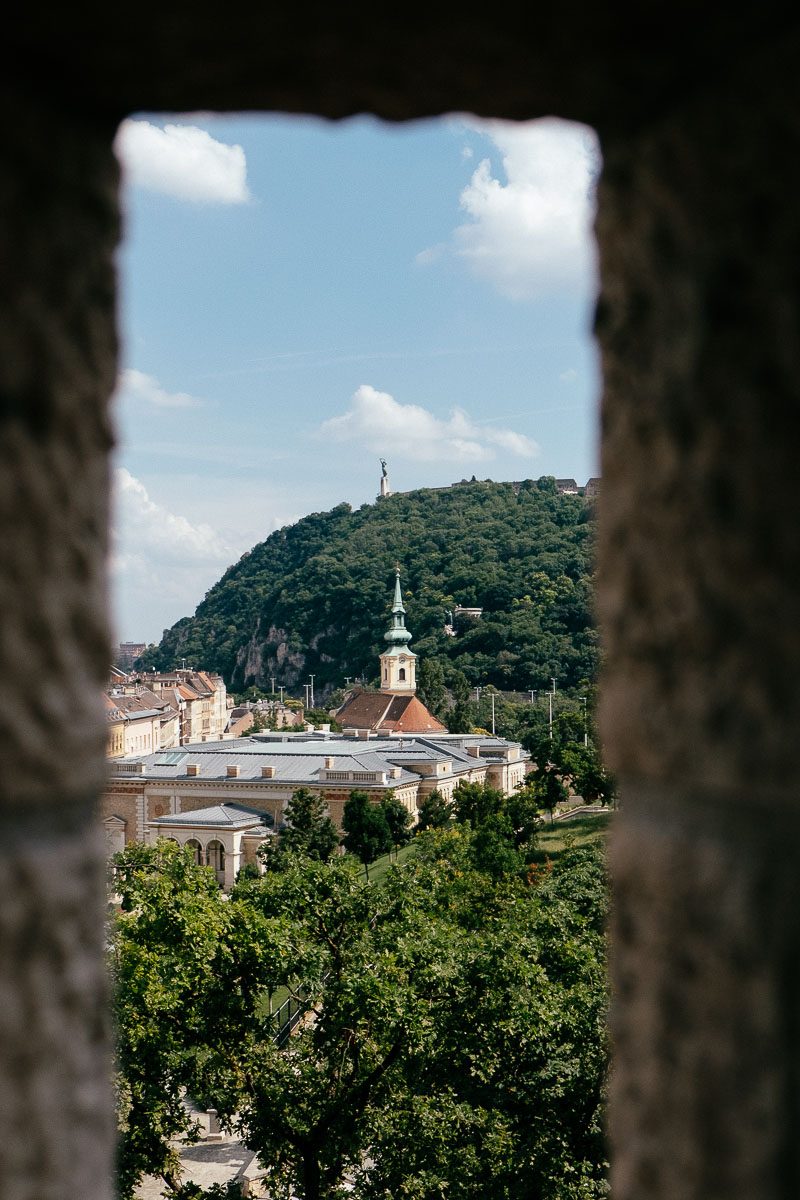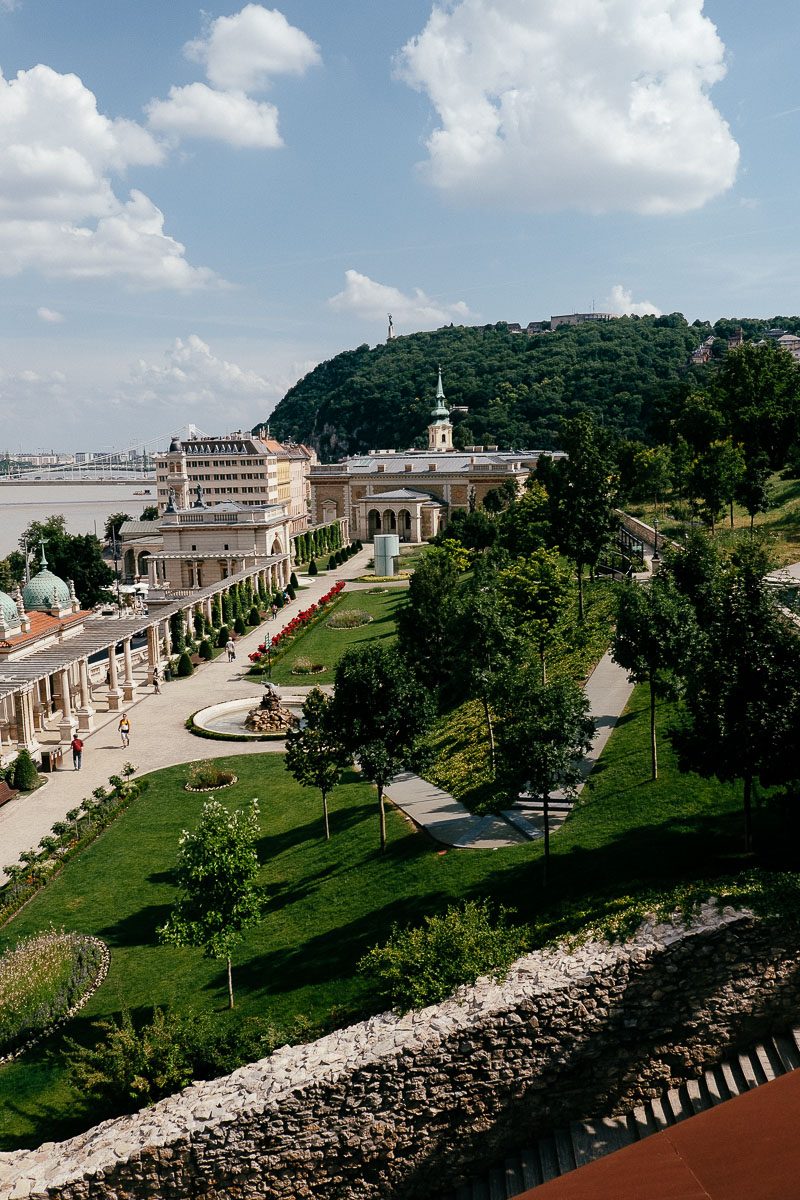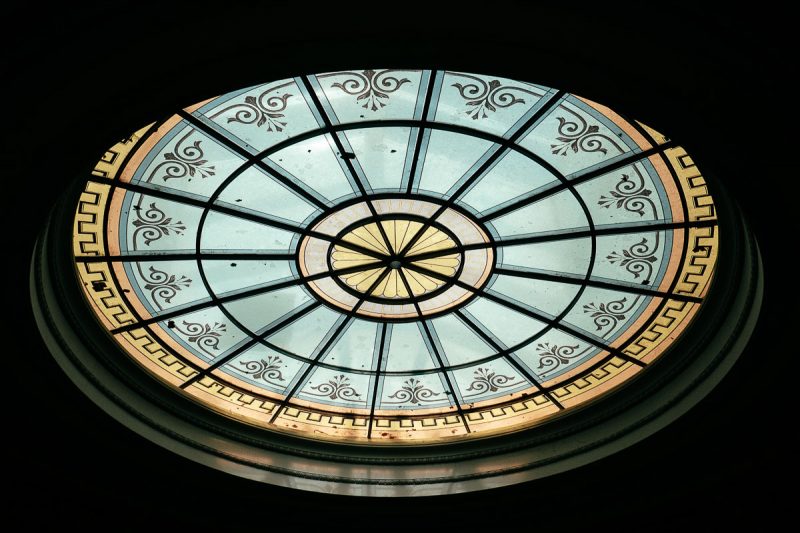 We could have walked up to Gellert hill, which you can see on the pictures with the statue on it, which is called the statue of liberty, just not the one in New York, but in Budapest, but we decided against it, since it was really hot outside and we weren't in the mood for a long hike in the beaming sun. Instead we decided to have an iced coffee and some yummie treats in a lovely cafe very close to the bridge (called KUGLOF cafe-bakery-kitchen, for those interested)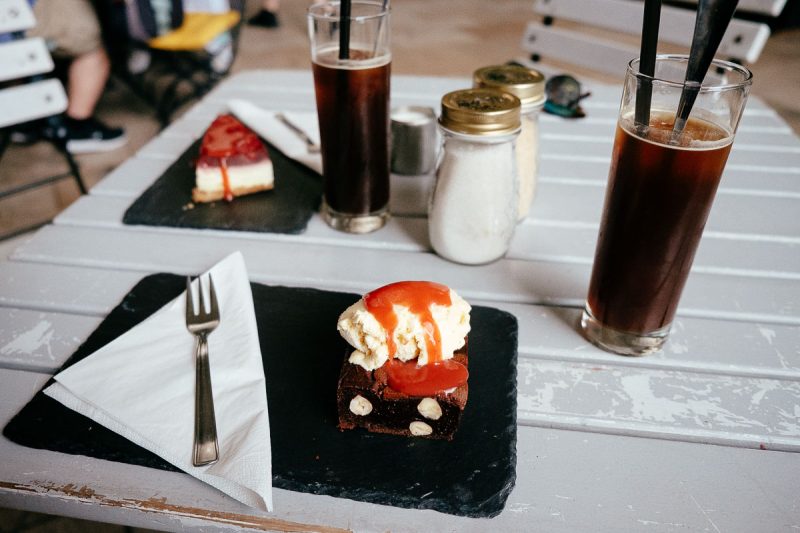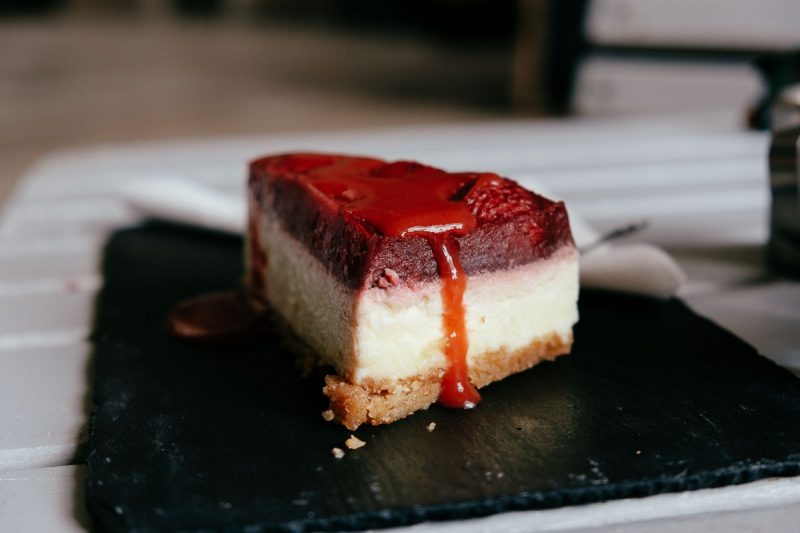 After dinner that evening we decided on going into a cocktail bar and we didn't get dissapointed. I don't recall the name of my cocktail, but look at that fancy cup I got to drink out of.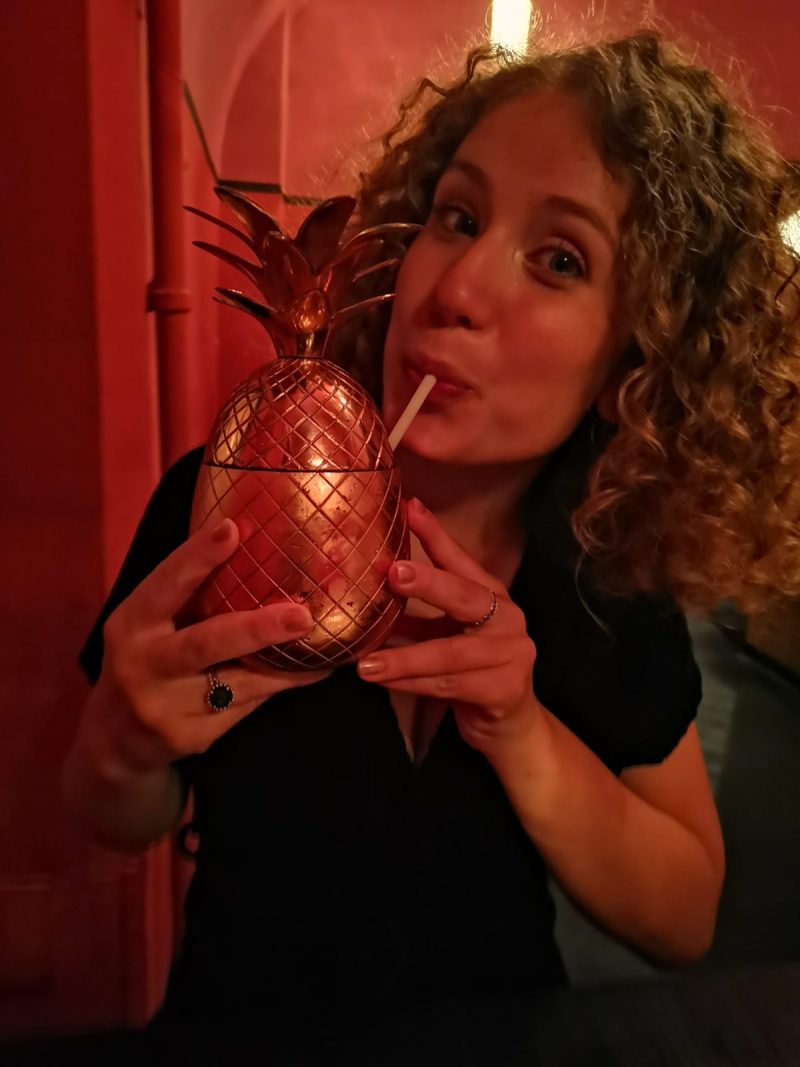 It was absolutely delicious, but since it wasn't that late, we decided on changing bars, to see something new and it was a really good idea. First of all we had a look at the Buda eye at night (the photo is obviously by day, but just way better quality than the one I took with my phone of the night, so thought you might enjoy this one more) but then got to the Tuk Tuk bar, where we got really fancy and super yummie Cocktails.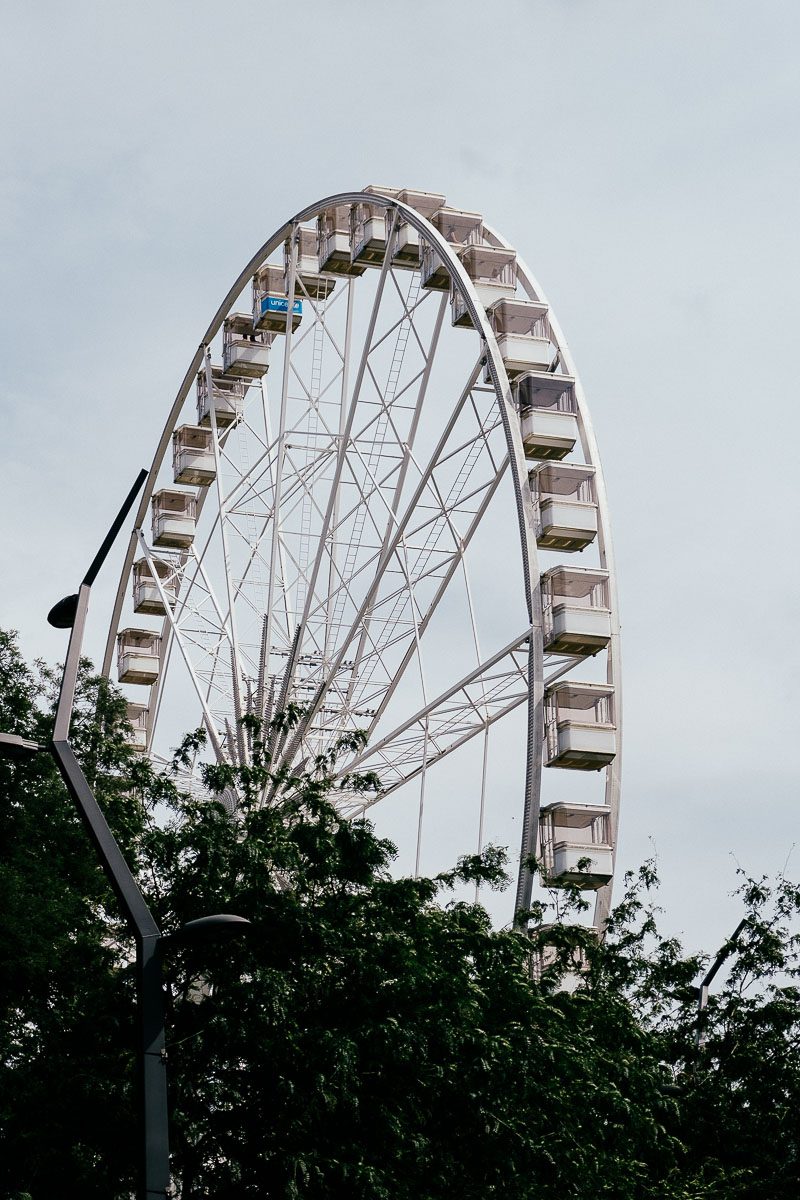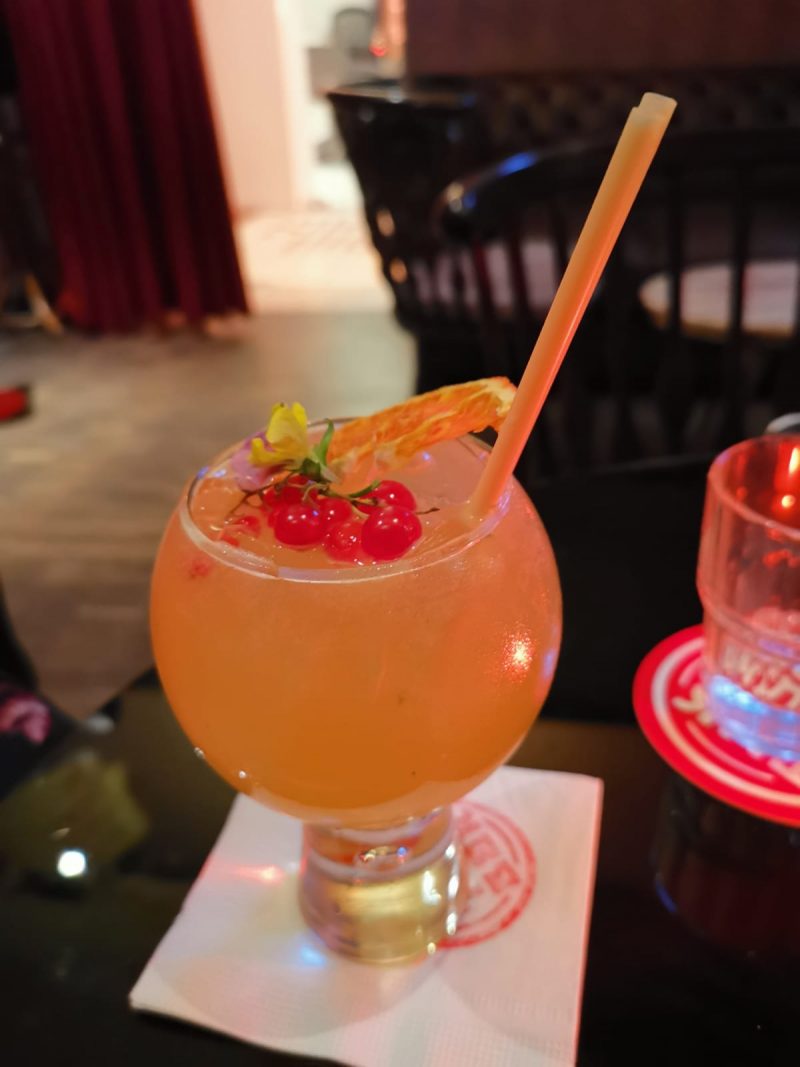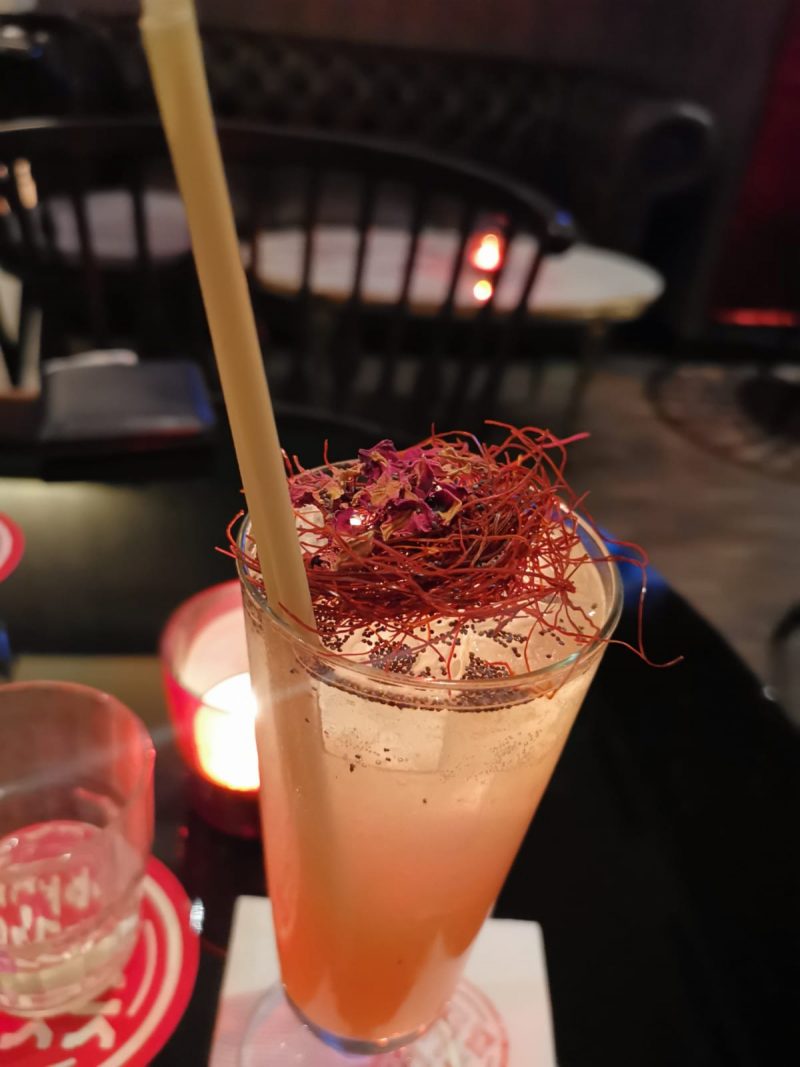 After those few glasses we called it a day and went back to our hotel, to get some good rest for the next day.
Now for our third day we rented some bikes, which was just perfect. Budapest has so many cycle paths all through the city, so that riding a bike there is an absolute pleasure, I highly recommend. You can see so many things so much easier, since it is less exhausting than walking everywhere, you get the wind in your face from driving, which is a very welcome thing on a hot summer day and it's so much fun as well. We decided to go to the little island in the middle of the Danube, which was so nice again. When we arrived we were welcomed by a dancing fountain or whatever something like this is called. You might know something similar from Las Vegas or from Barcelona, which is basically a huge fountain which is kind of dancing to music and it looks simply amazing. I didn't take pictures of it, since you can't really capture the dancing on photos, but you can imagine it or simply goole it if you really want to see.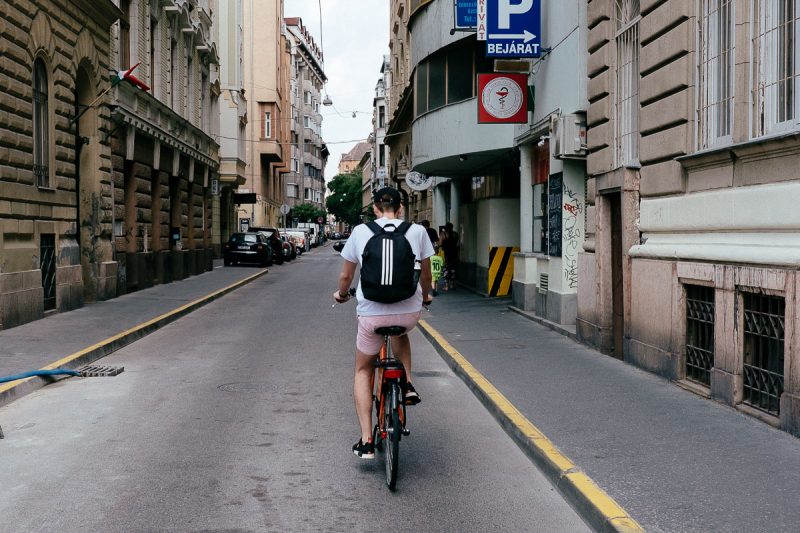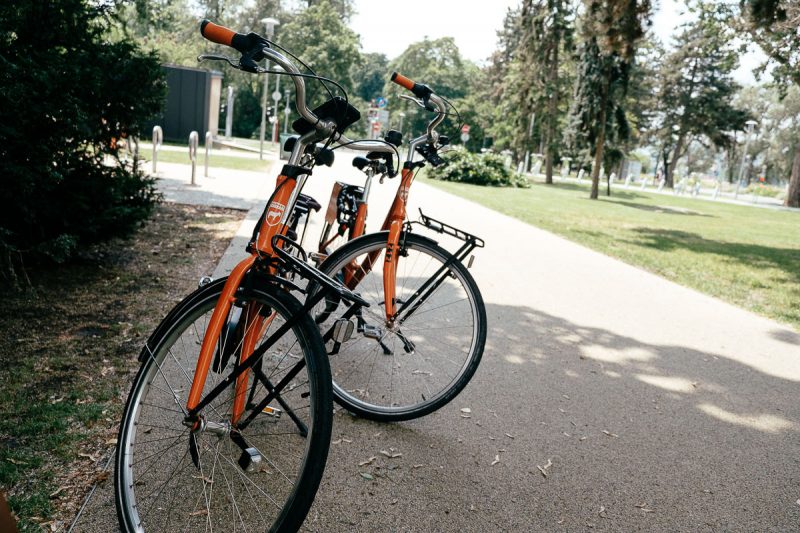 We went further around the whole island and stopped at the big swimming pool, where we got tickets and jumped into the cool water. It's a pretty big bath, so I would surly recommend going there if you wanted a cool refresher. Pittily it started raining, no actually pouring, when we just got out of the water and had a little snack, so we packed our stuff, hopped on our bikes and rode back to Pest, where the sun was still shining oh so bright with no sign of rain at all. We went to have a coffee at the square infront of St. Stephens Basilica and then took the bikes back to where we took them from and went back to our hotel room a little earlier.
In the evening we couldn't really find the restaurant that we wanted at first, normally we pick one easily and are happy with it, but this time it took us a while, so we remembered one, we saw the day before, opposite of our cafe. We had the most delicious and fancy dinner and eventhough it looked extremly pricy, we were surprised that it actually didn't cost us that much, since you get more for your money in Budapest, than you would get here in Austria for example. (Monk's Bistrot is the name of this one)
Afterwards we went back to a pub to have some drinks again, where I tried drinks Flo recommended, since he certainly is the Cocktails and drinks-pro in our relationship now.
The next and also our last day we once again enjoyed the yummie breakfast that we got in our hotel and then packed everything so we could just store it and come back for it in the evening.
We went to the Market Hall, which was the last attraction on our list and I really recommend you go there. The exterior of the Market Hall was amazing and also the inside looked really cool. They sell loads of fresh fruit and veggies there, fish and meat and a ton of souveniers, no one ever needs.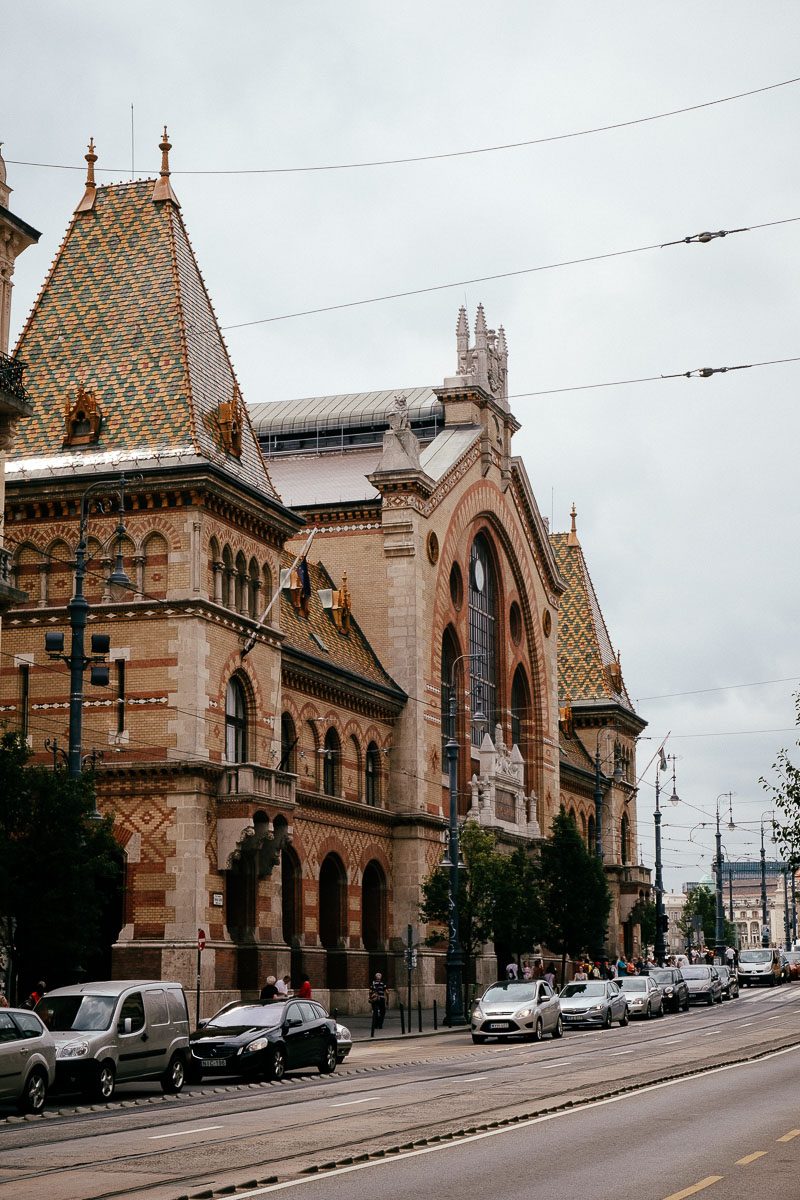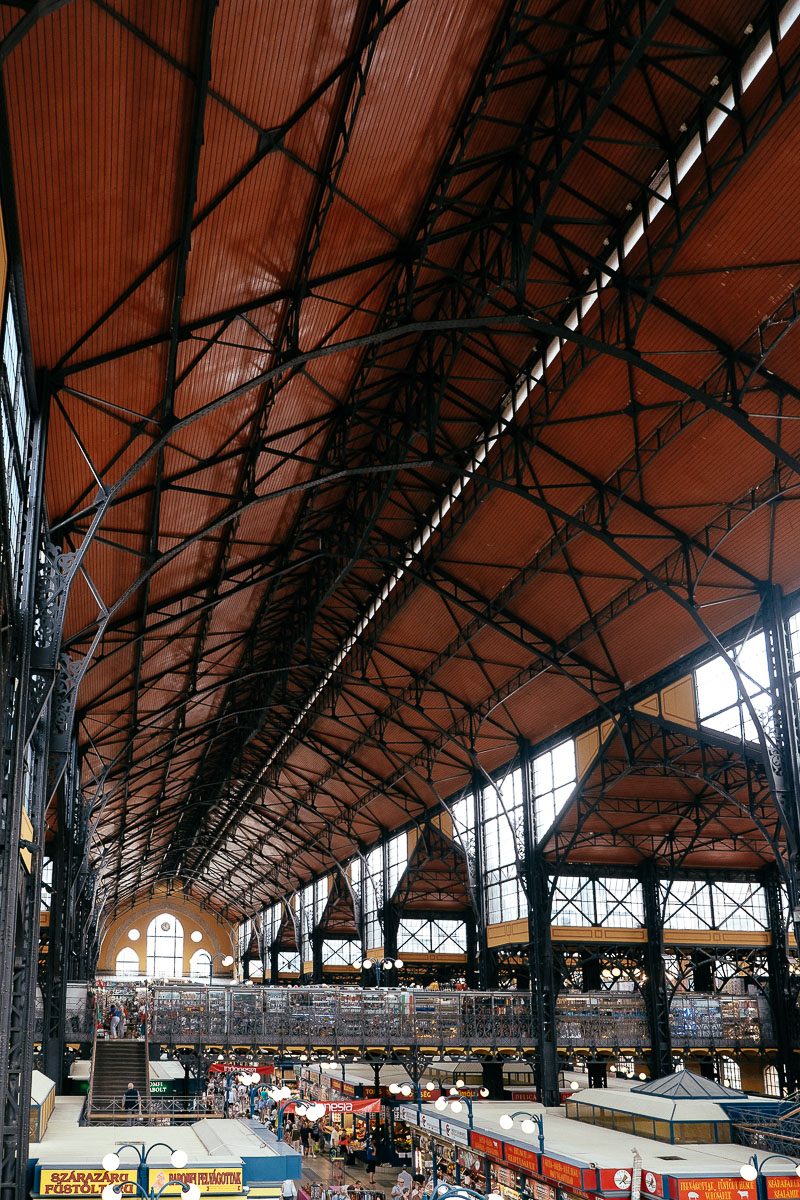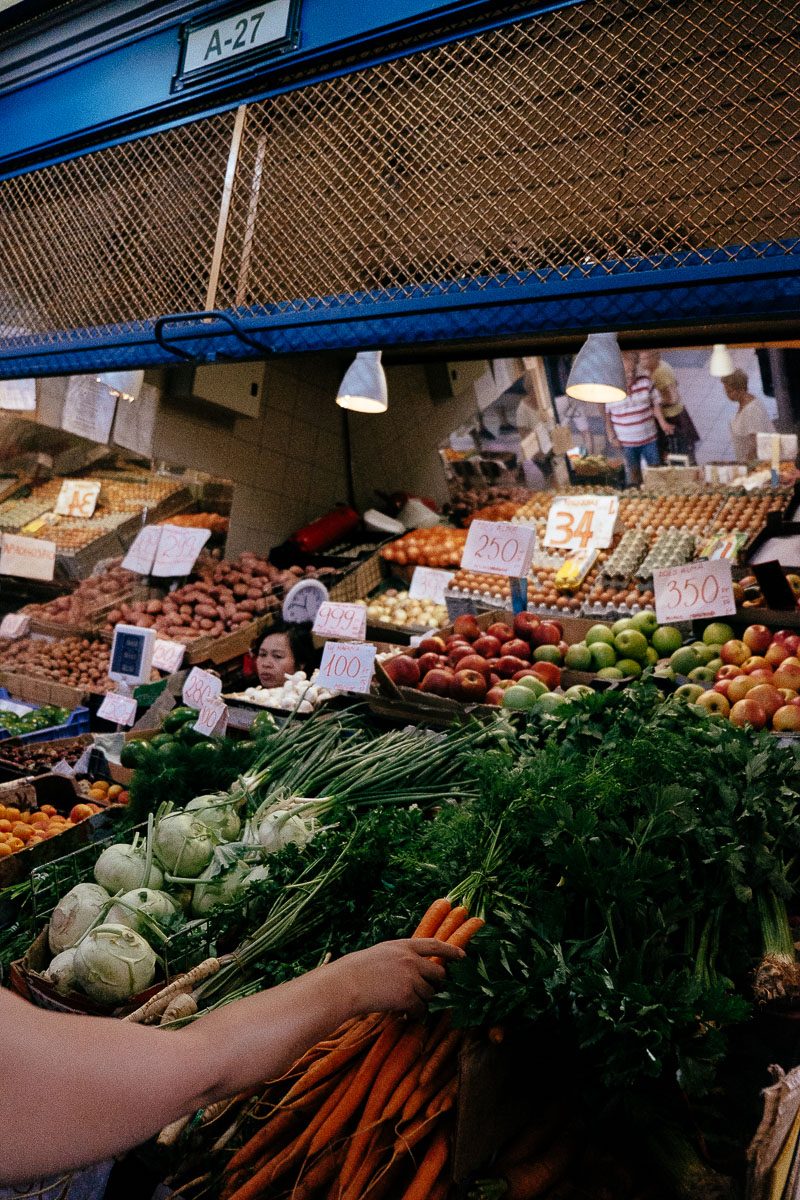 We also went back to the Basilica, as I already mentioned earlier, to go inside, had some yummie pasta on the way there, did some window shopping and in the afternoon decided to go back to the little city park to just lie down for a bit and relax there.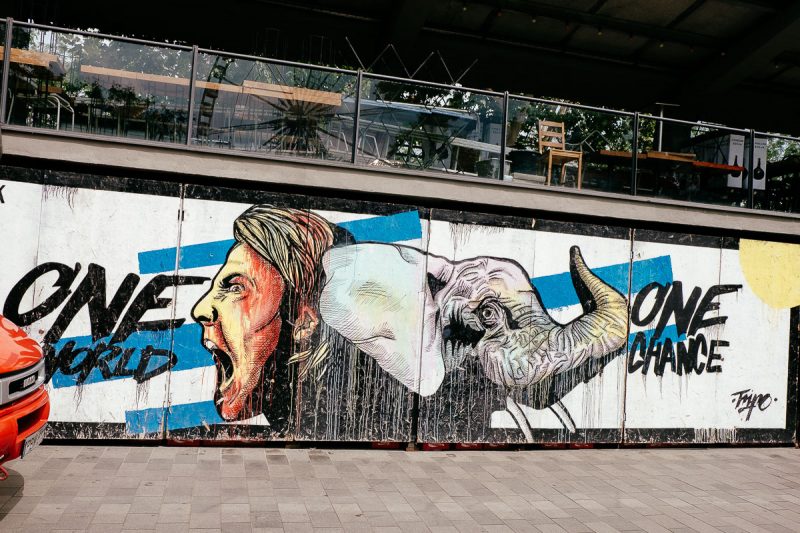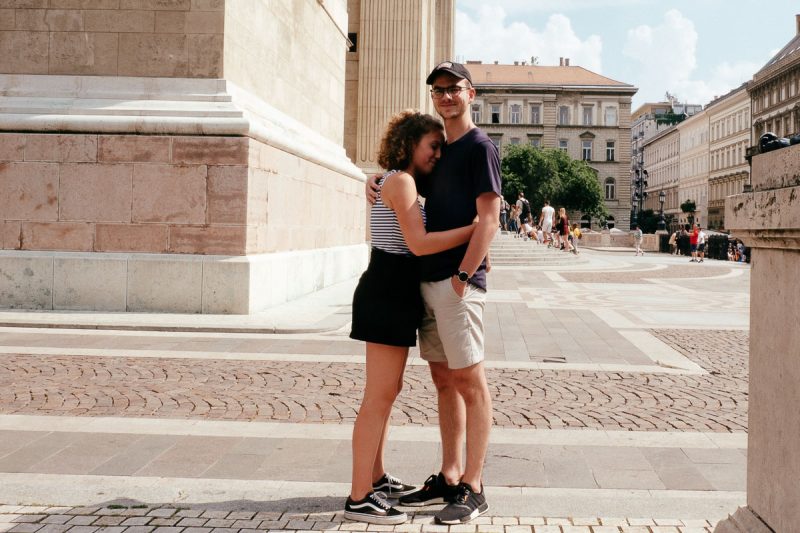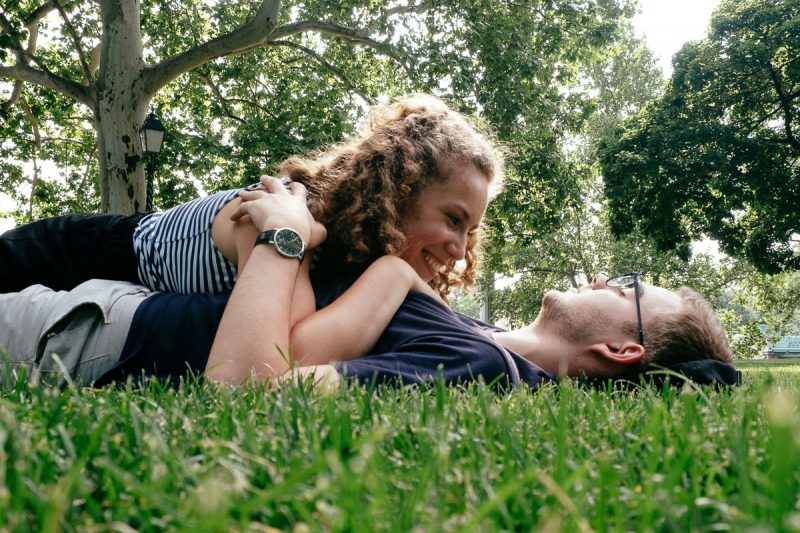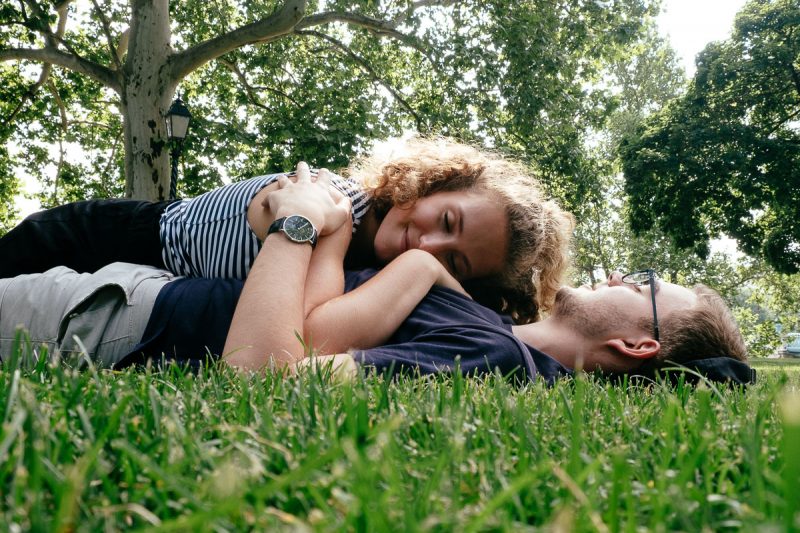 On our way back to the hotel we had some streetfood again at the Caravan and then got our stuff and headed back to the bus which would take us back to Linz again.
I certainly can recommend going to Budapest in the near future. Not only is it cheaper to live there, than in many other countries in Europe, but it has so much character. So many gorgeous buildings, so much yummie food, great things to explore and just a really nice city to be in.
I hope you enjoyed this blog post, about all that we did in our 4 days in Budapest. Probably you got inspired to go there yourself or if you already planned on going there, got some tips you want to include in your trip.
Thanks for having a read or simply flicking through the pictures.
See you again soon,
Lena xxx