01 Sep

AuPair girls go Austria!

Hi everyone,

How's the end of your summer going? I hope you can still enjoy some sun and a bit of freedom, until school, Uni or work starts again.

I certainly am, although I am so excited for Uni to finally start and as strange as it might sound I am really looking forward to studying again, let's see how long that's going to hold on for.

As you might have already seen from the title, two of my lovely AuPair friends came to visit me in Austria a week ago and I thought I'd tell you a bit about that, since it was just wonderful reuiniting with them.

Originally I had a doctors appointment the day they'd arrive in Vienna, so I told them I couldn't pick them up from the airport, but from the trainstation. It all went a little differently and instead I found myself on the train to Vienna airport, to surprise the two of them.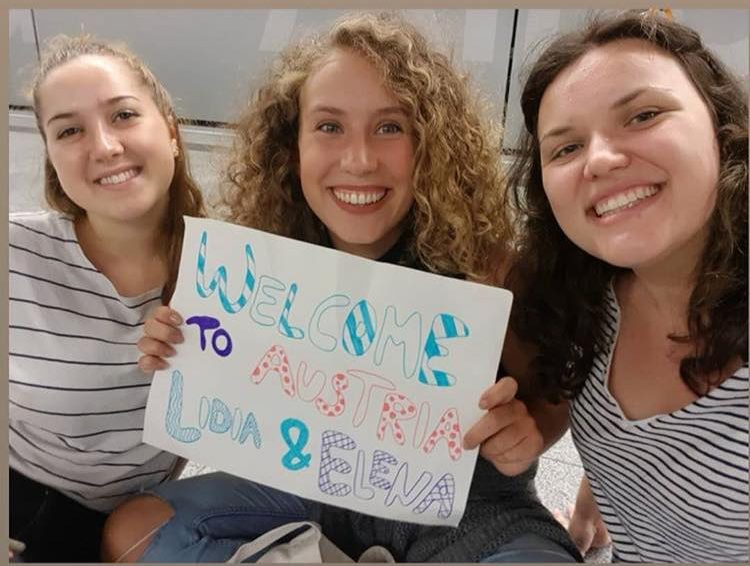 After hugging, laughing, nearly crying and a cup of coffee we jumped on a train to Linz, where my mum collected us from the trainstation to bring us home. We started off with some barbecue, to fill our bellies and for my family to get to know Lidia and Elena. Then I showed them arround the house and then we were simply relaxing for a bit in my room which looked like it was converted into one big bed.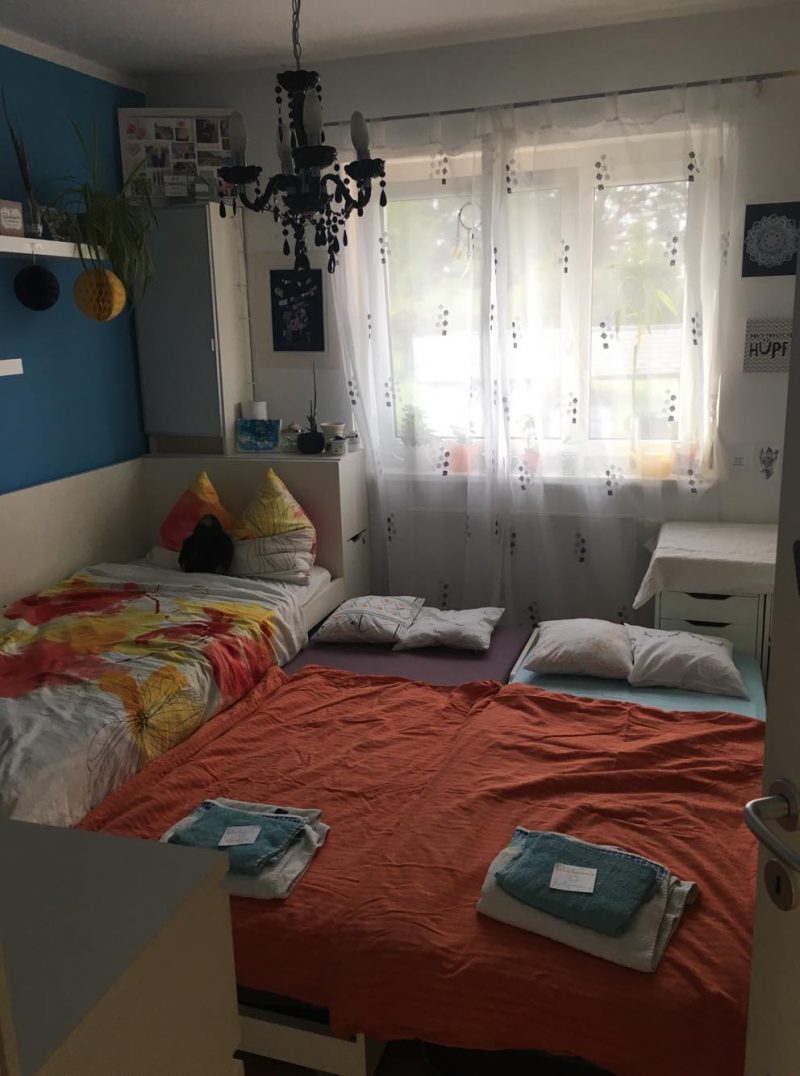 We then decided to go out for a drink, so we went to Linz, to have a Spritzer in Sky Garden, which was lovely since it was nice and warm still to sit outside. We had a lot of catching up to do, as you can imagine, so we really enjoyed this time all together.
The next day my mum had prepared a huge "Austrian" (as she called it) breakfast, with boiled eggs, veggies, cheese and ham and jams. (My mum's the cutest I know!) After that we got ready, took a lovely picture in the garden and then we made our way to Linz, to do some sightseeing.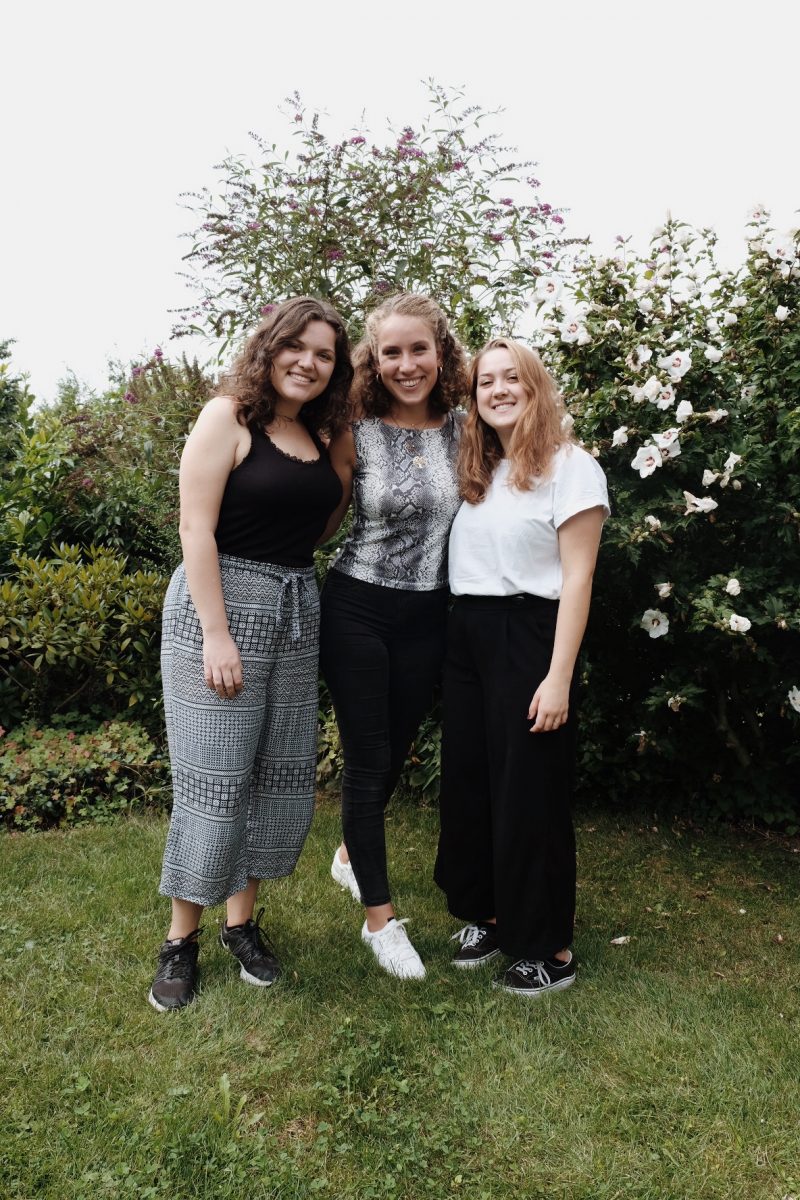 First up was walking through Altstadt, the old town of Linz, since it really is one of the prettiest places in Linz.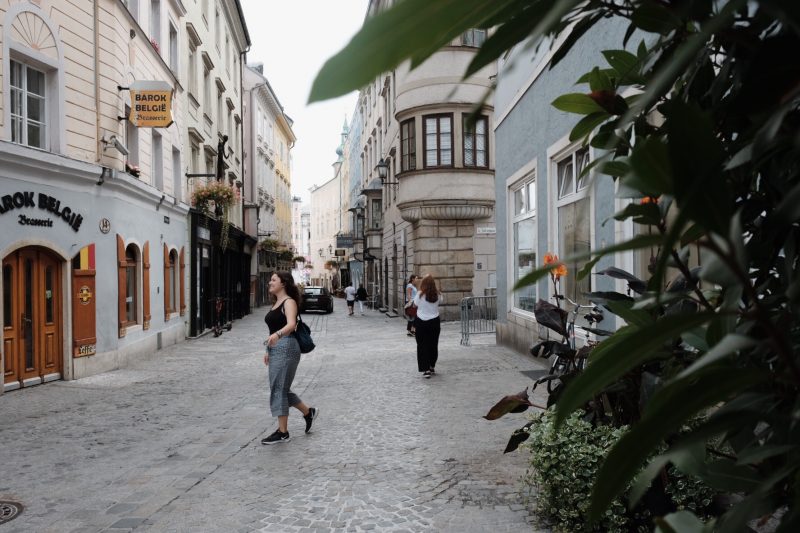 I then decided to take them to Pöstlingberg, since you get a great view up there, drive up with the old Pöstlingbergbahn and see deer running around. To be totally honest with you, I enjoyed it probably just as much as they did, since I haven't been up there for a long time. Obviously we decided to visit the Grottenbahn, which was even cooler than I remebered it to be.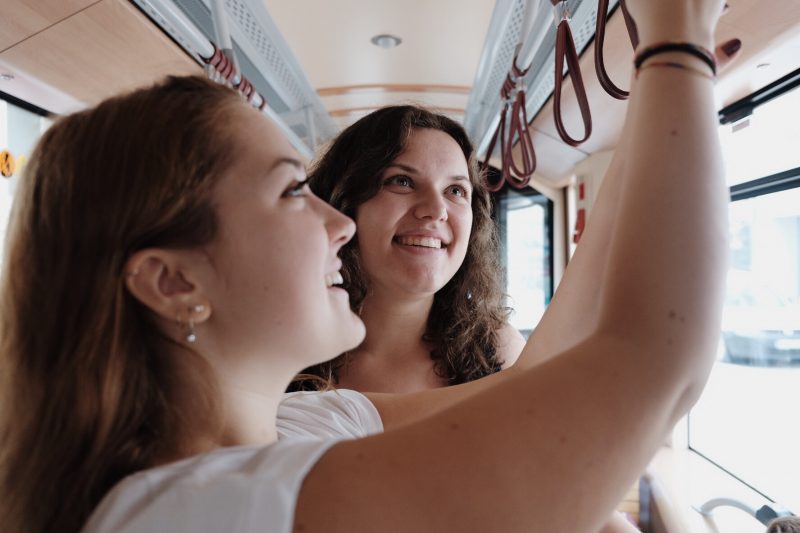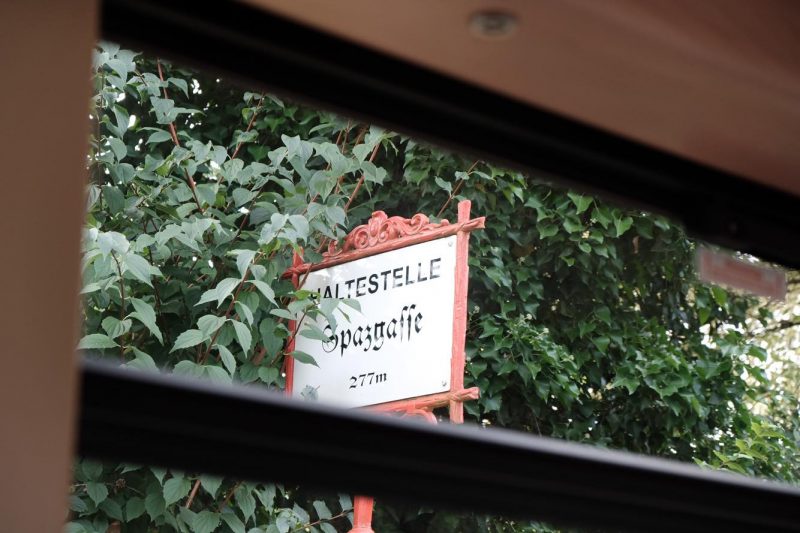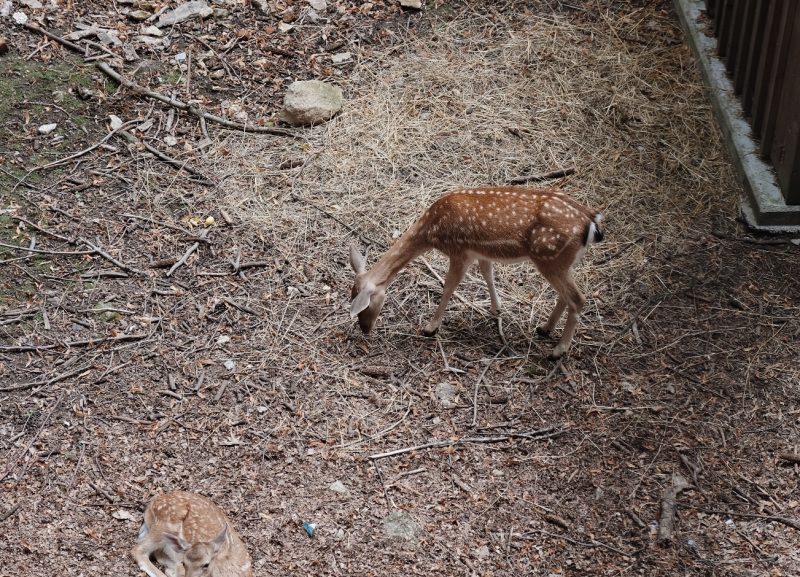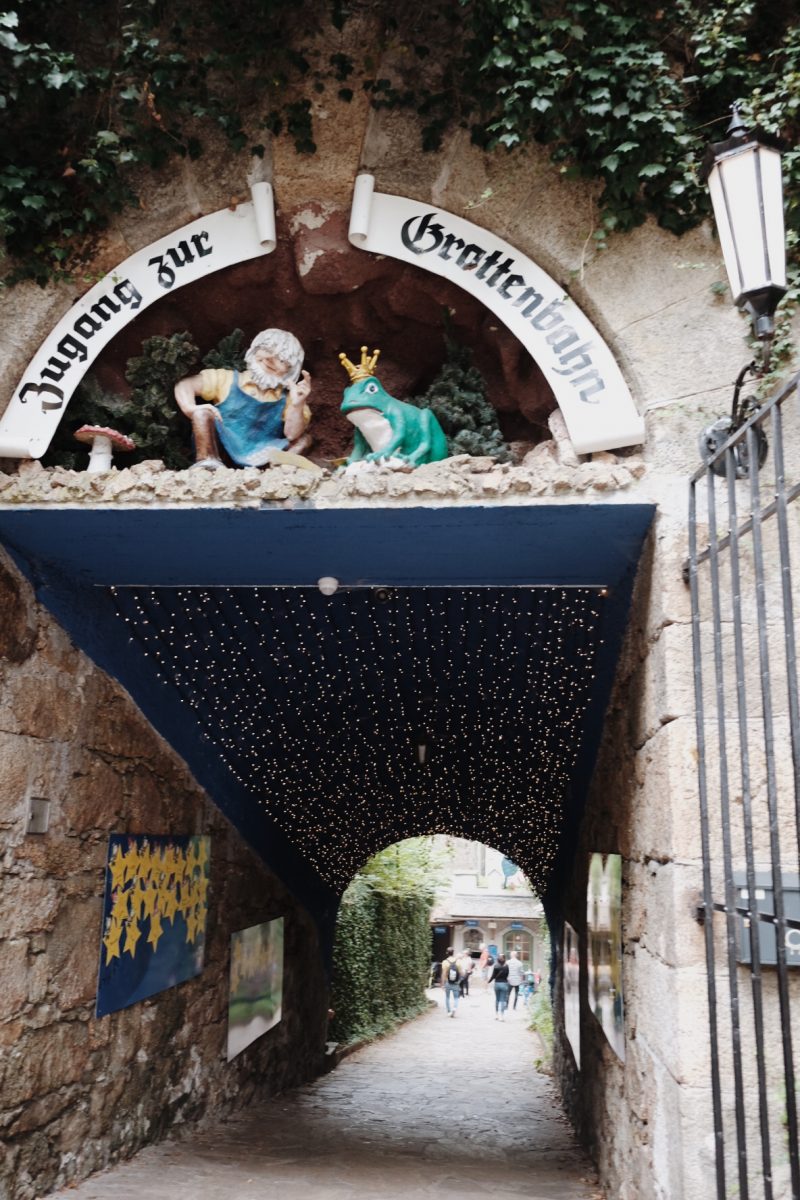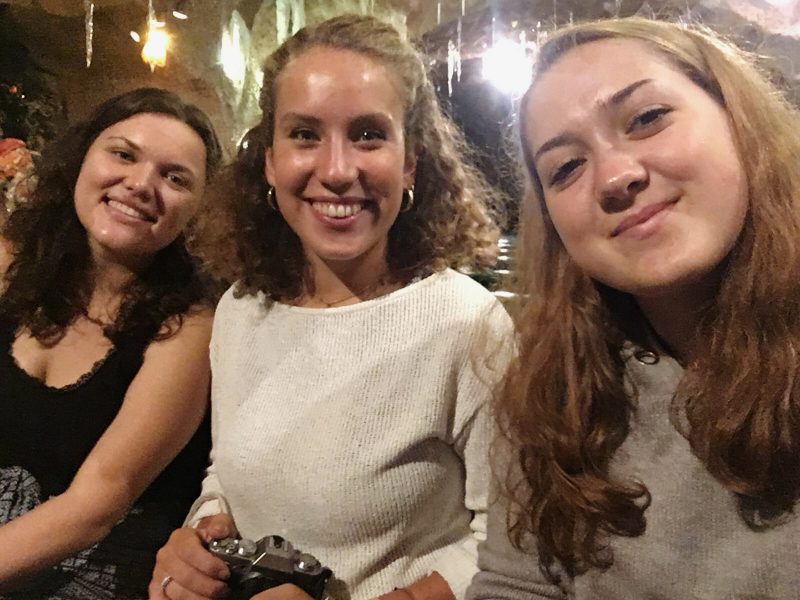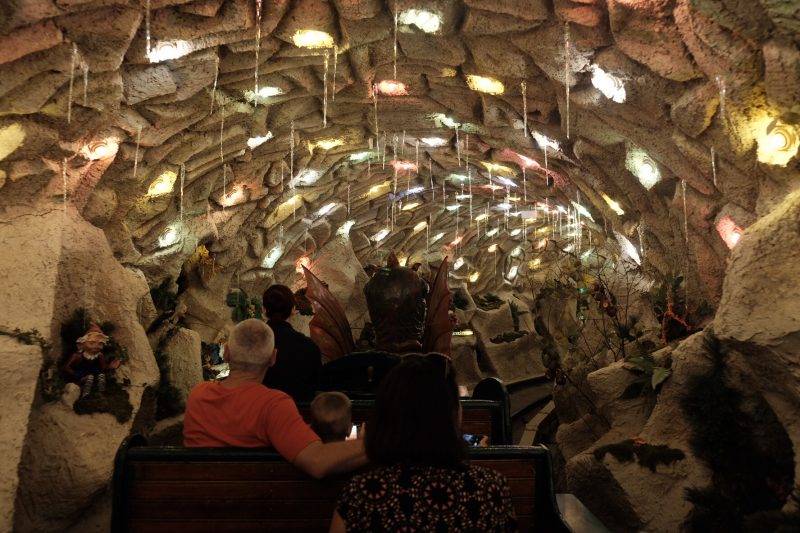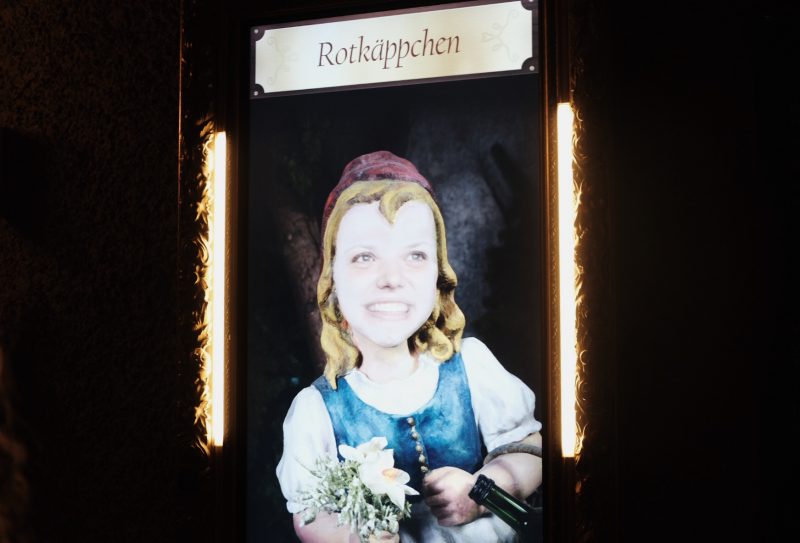 After seeing Linz in a small version in the Grottenbahn and saw Yindrak, a famouse and traditional coffee-house, and the Linzer-Torte, we decided to head to Pöstlingberg Schlössl to have a Linzer-Torte and a Sacher-Torte along with a cup of coffee and a gorgeous view.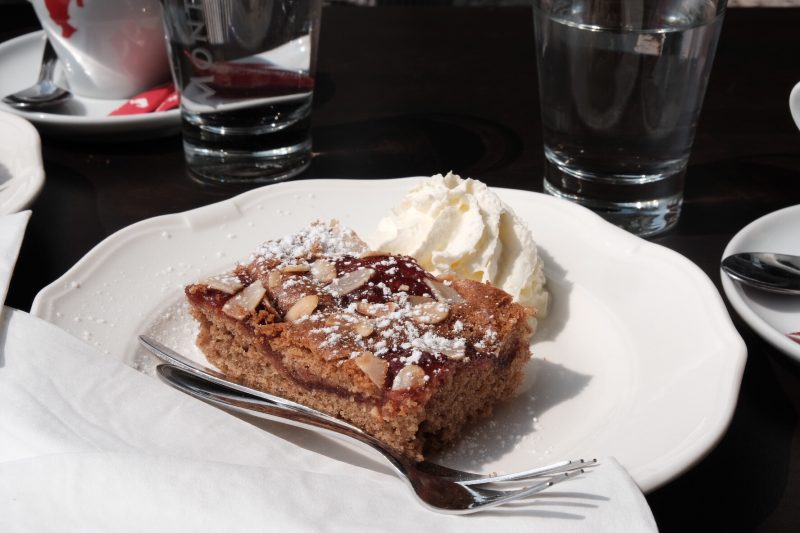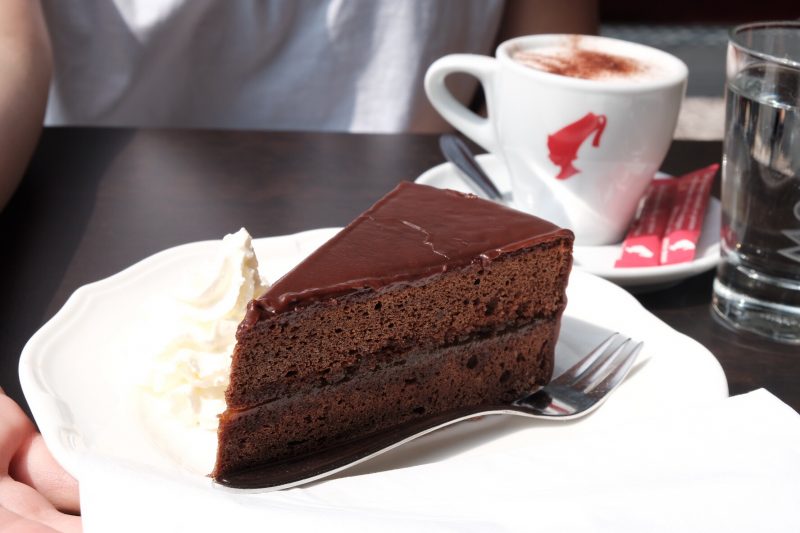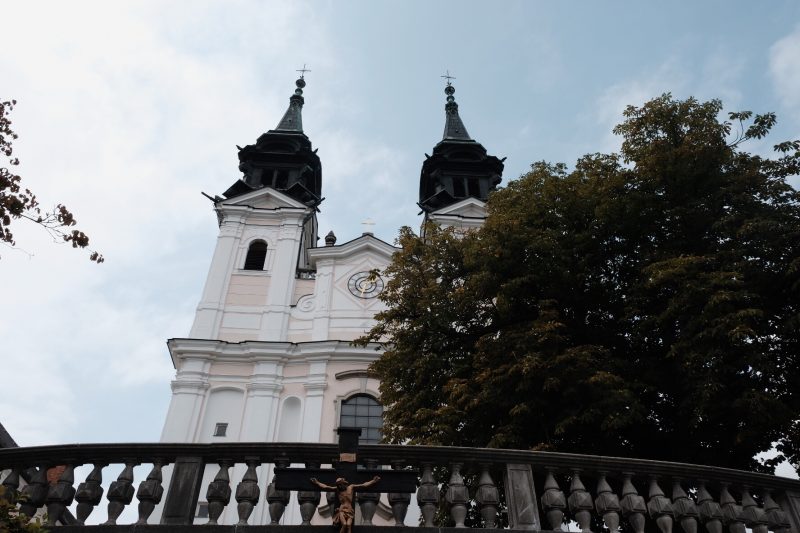 After spending some time up at Pöstlingberg we decided to go back down again to stroll through Herrenstraße and Betlehemstraße a bit, to see some of the cool new concept stores, buy some post-cards and look at cute little nig-nags.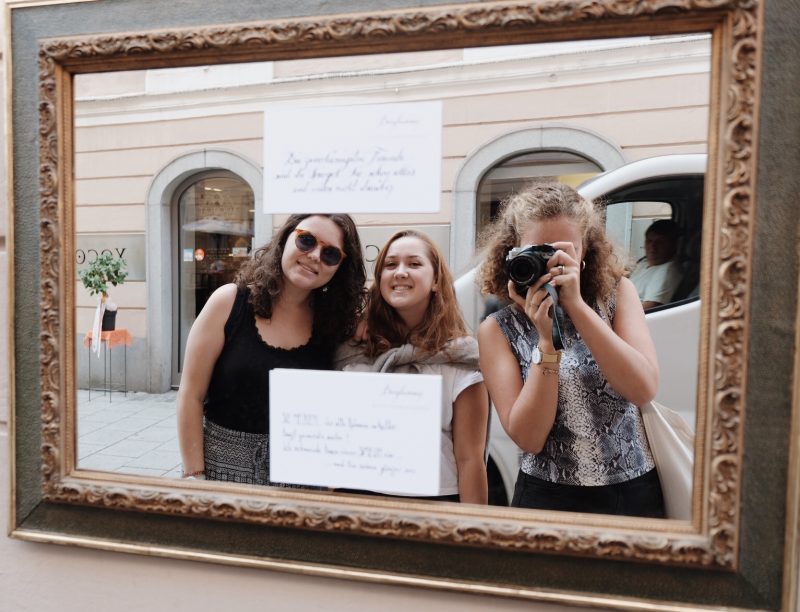 We then decided to go to the cafe little Dancer, where we had some yummie smoothies and then discovered the coolest thing: The lovely couple who ownes the cafe, are a girl from Linz and a guy from Greystones, which is the town that Lidia, Elena and I met and lived for our AuPair experience. So we decided to tell them about the funny coincidence and they loved it and we chatted with them for a while which totally made our day.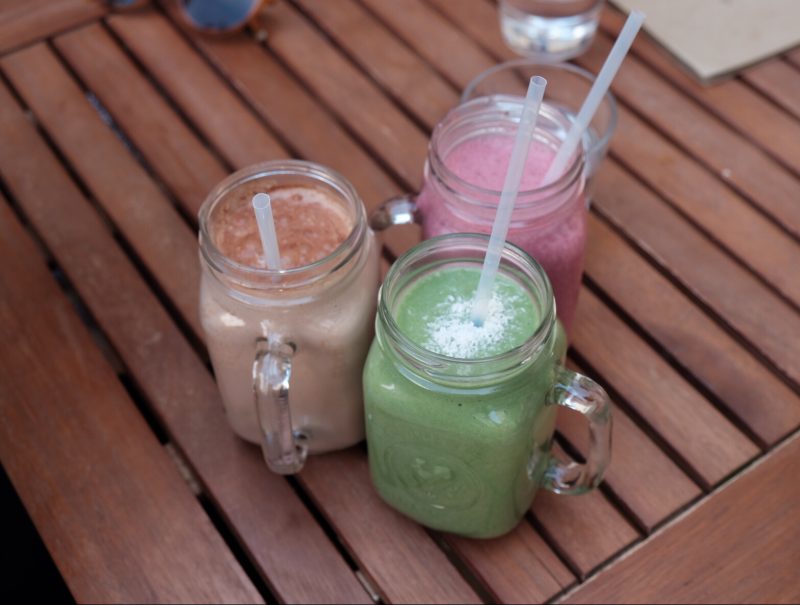 Filled from the smoothies we decided to go to Sinnesrausch, which, for those of you who don't know, is basically a gallery for modern designs and art, a place where you can try out a lot of things and kind of live the art-constructions.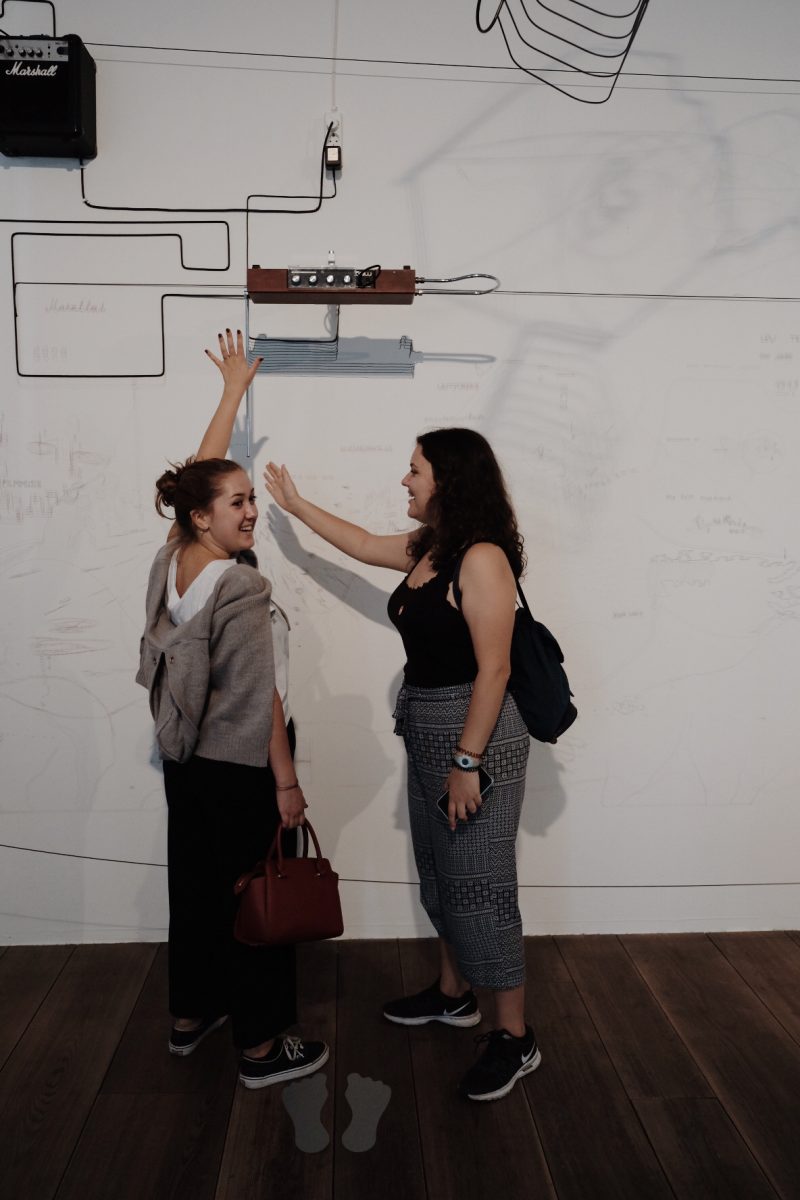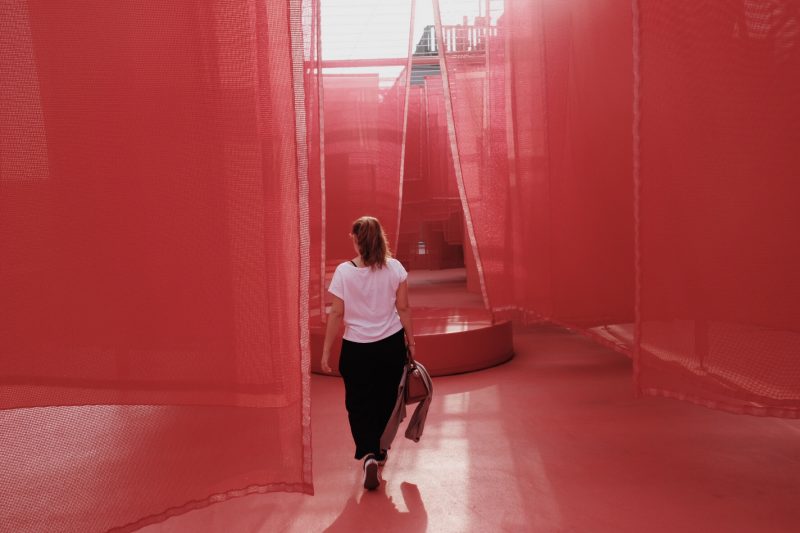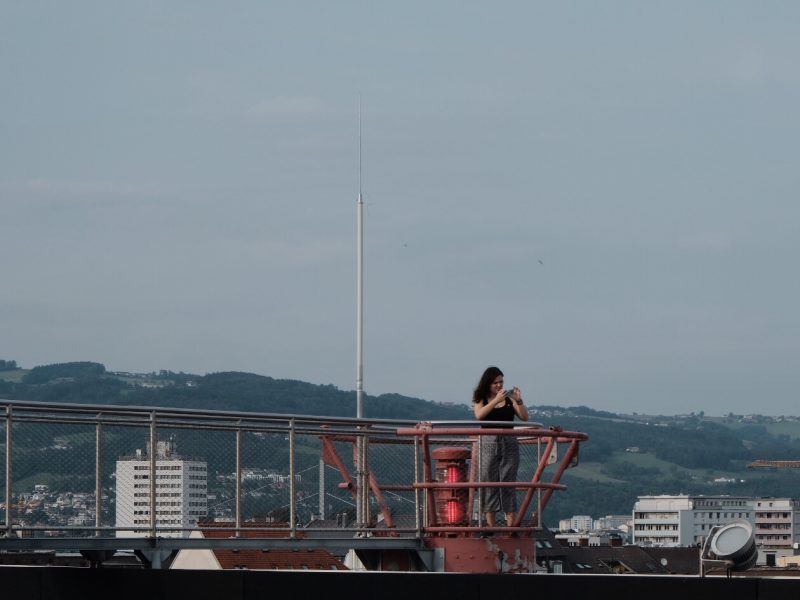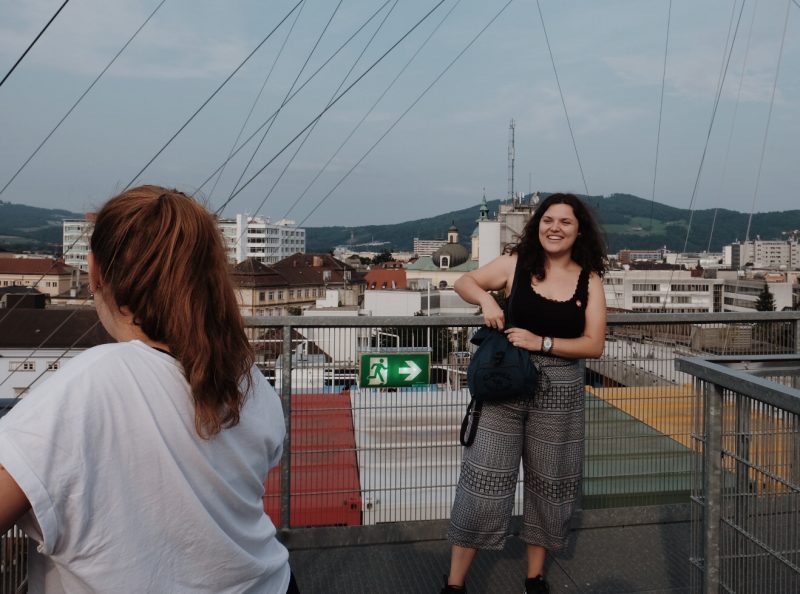 We then realized that the smoothie didn't really fill us up, for long and that we really needed to get our energy back. Lucky us, the Kronefest was already on and there were a lot of stands with traditional food and drinks, so we sat down and enjoyed some yummie dishes. Elena and Lida tried Hascheeknödel and Bratwürstel with Sauerkraut, which they really enjoyed and I had some lovely (not so Austrian) Paella. Normally this wouldn't be my absolute favourite festival, if I am honest, but having all the traditional food and drinks, was just perfect, since the two girls were here.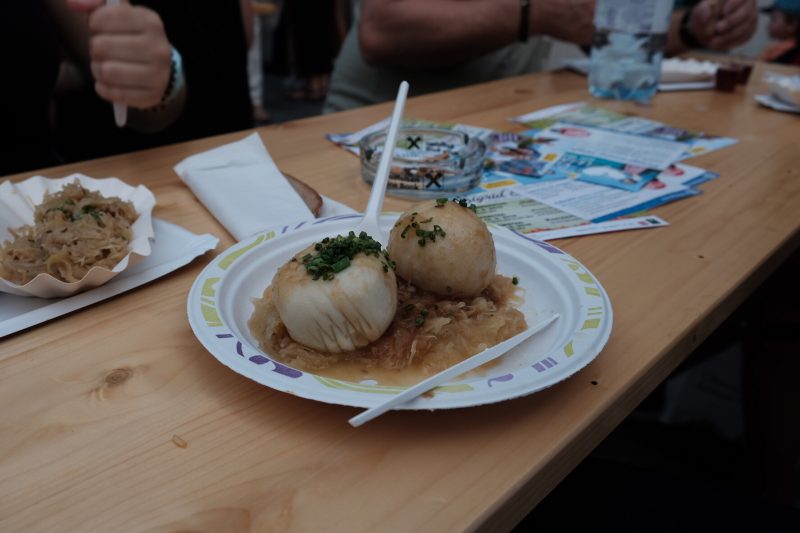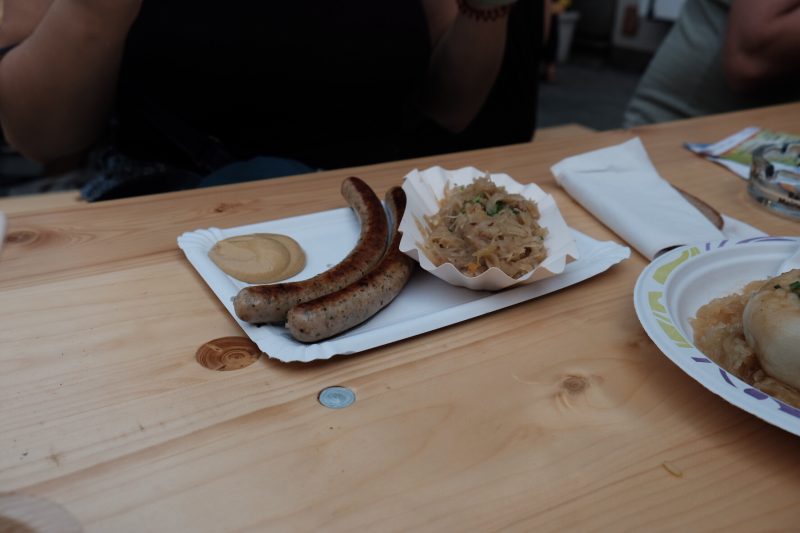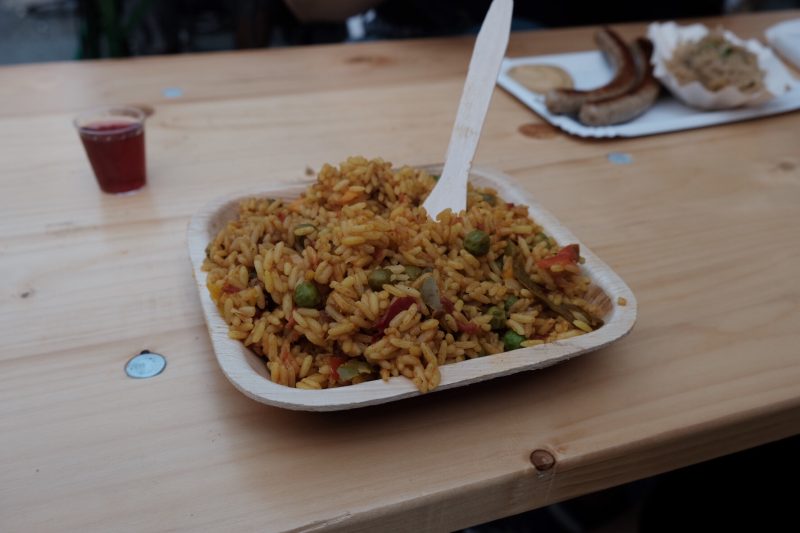 After that we decided to go further into the crowds of the Kronefest to have some Most and listen to some music. We simply enjoyed that for a while, talking about this and that until we met some of my friends at the main stage. Lidia ordered some Spritzers in German (really good job again Lidia!) and then we listened to Torstein Einarson for a while.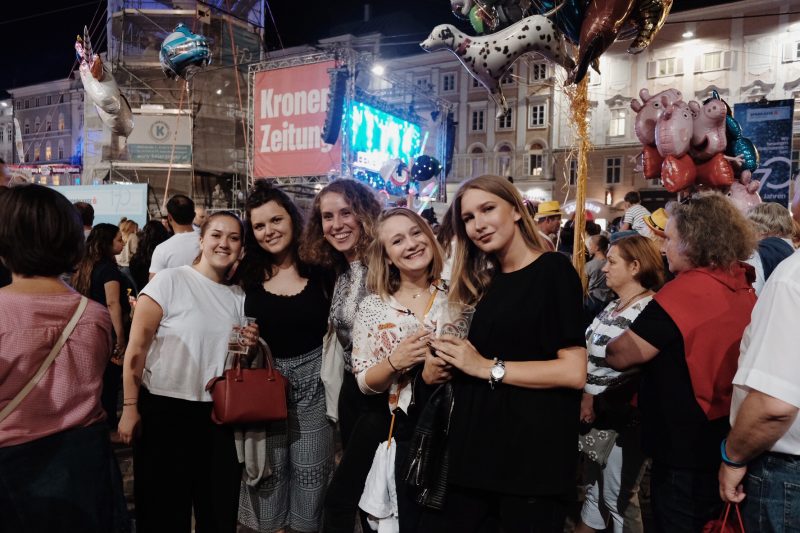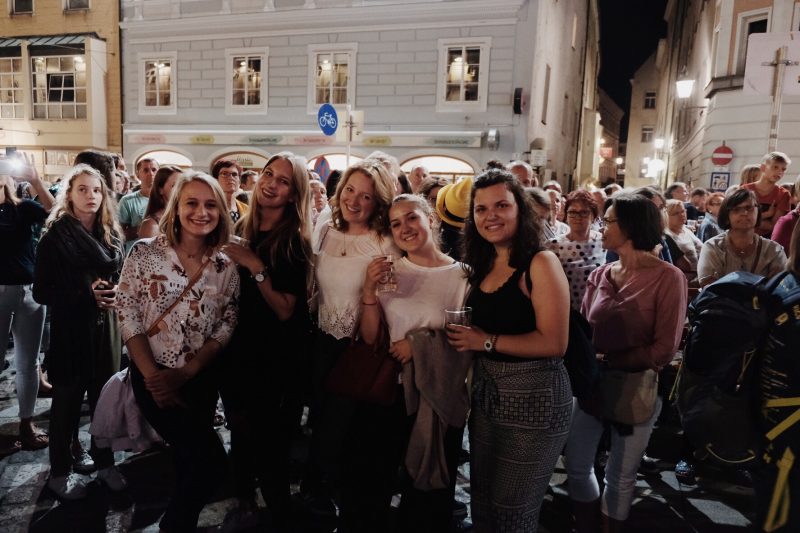 We then went to Salonschiff Fräulein Florentine, which is kind of a cafe and party boat, where you can chill on the upper deck and have a couple of drinks and then go downstairs on the first deck to party and dance your ass off, which we certainly did.
At around half 2 we realized how tired we actually were, since we had been on our feet for the whole day, so we decided to go back home.
The next day I had something more realxing planned. We took the car and went to Attersee, one of my absolute favourite lakes in Upper Austria, so clear and turquoise, simply perfect. On our way there we bought some snacks (Schnitzelsemmerl for the girls). Since it wasn't super duper hot, we got free entry at the public bathing place that we normally go to, which was really cool. We jumped in once, had our snacks and then fell asleep as well, who would have thought.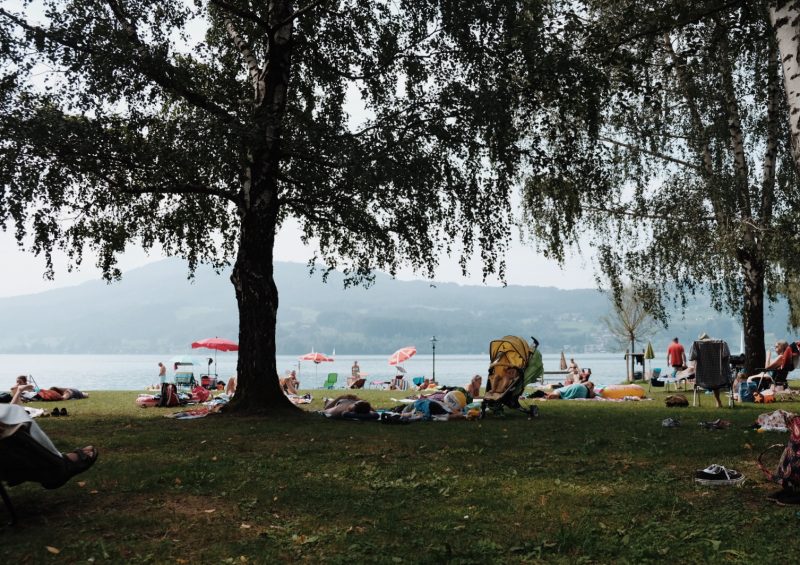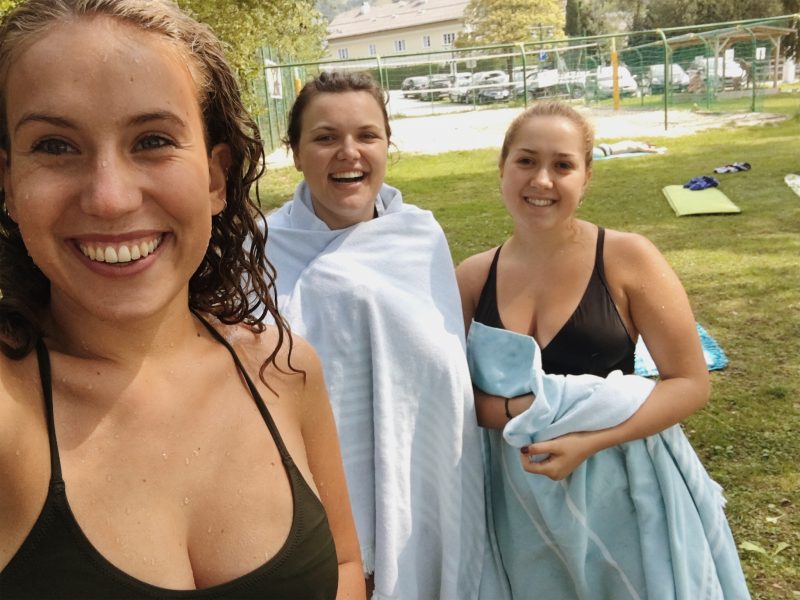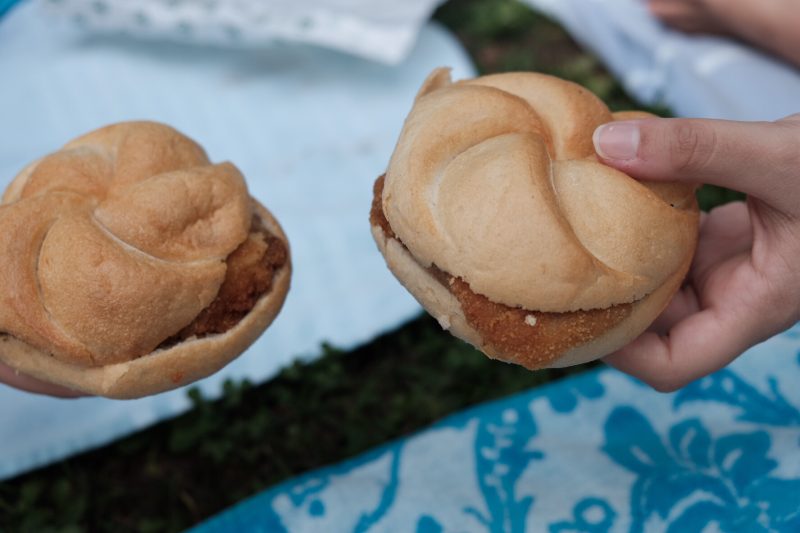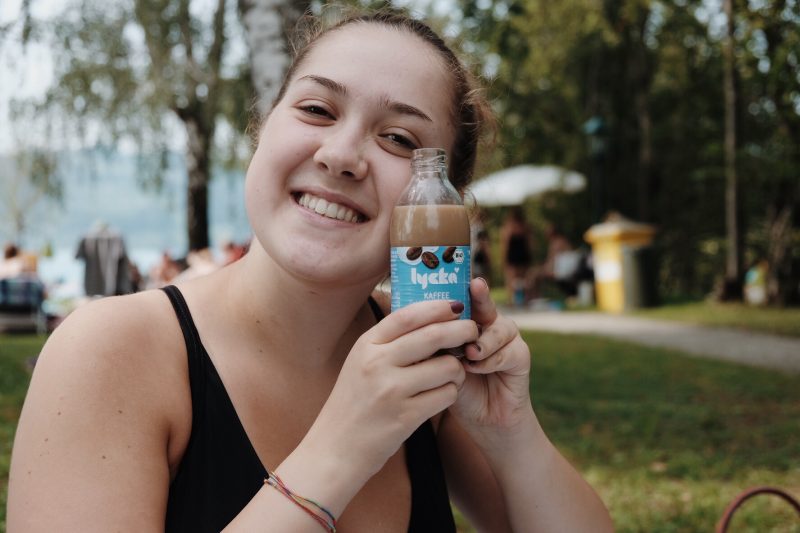 After this relaxing time I decided to take them to a Mostbauer, where we had a Brettljausn, some more Most and some pear juice.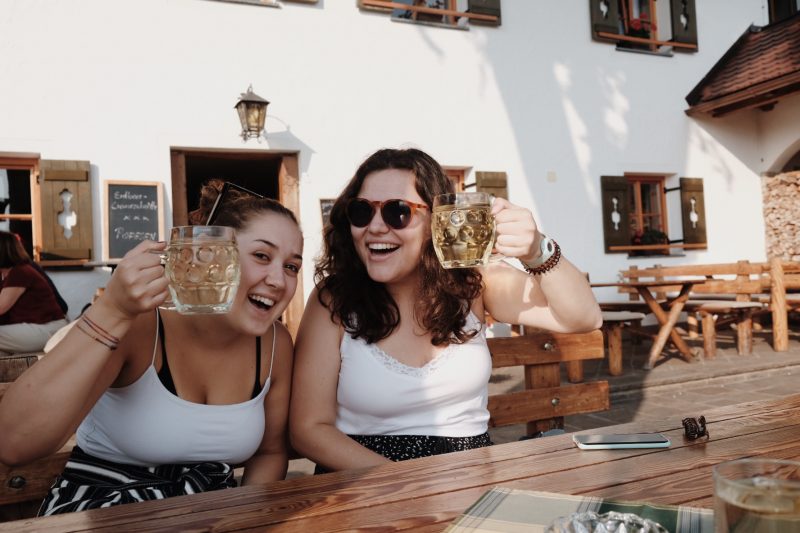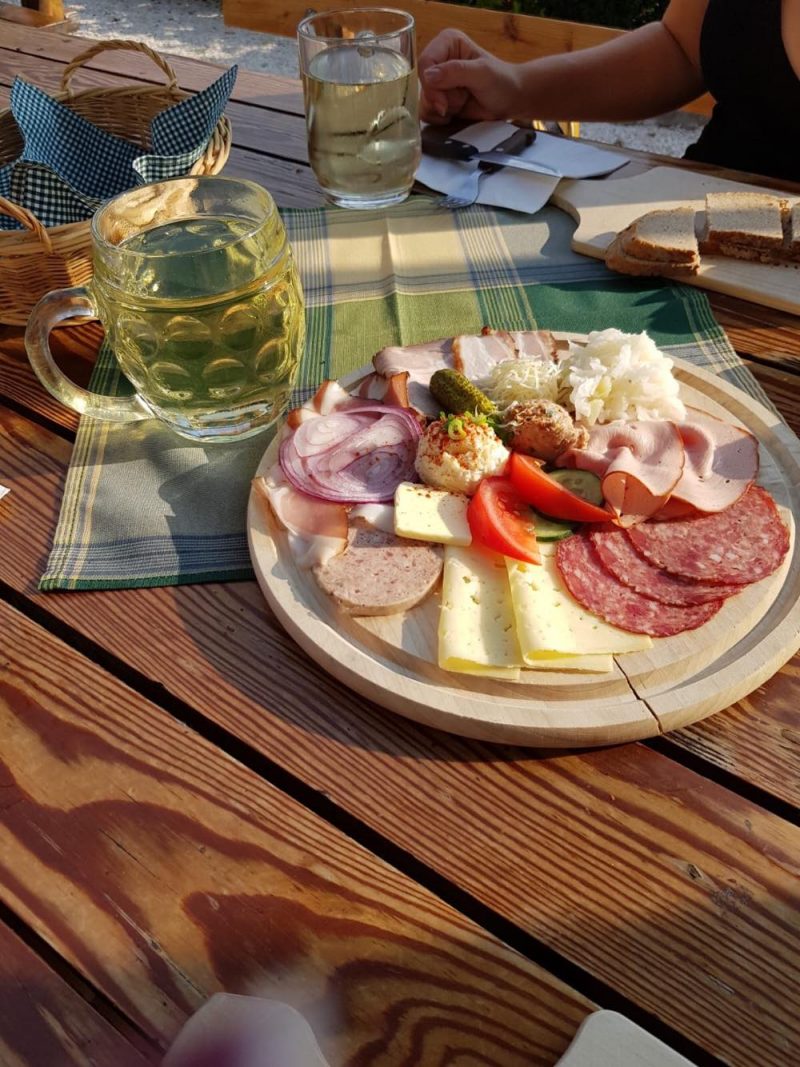 After that I really wanted to take them to Traunsee, since it is such a beautiful lake as well. On our way there we drove through some woods, where we stopped a couple of times, since it was too beautiful to not get out for a second.
Then we arrived in Gmunden, a town next to the Traunsee, where we parked our car and then strolled along the promenade, which was perfect, since it was already cooling down a little. We took a few jumping pics, and you have to know for one good picture you have to take at least fifteen that are complete fails.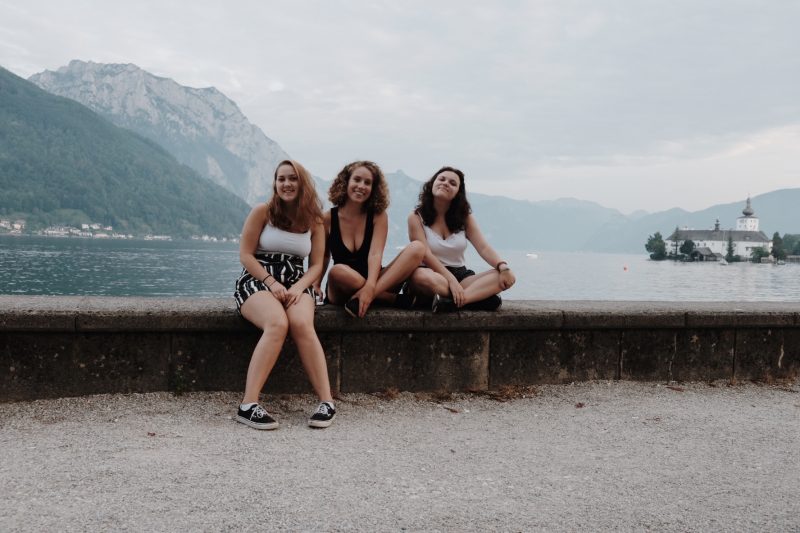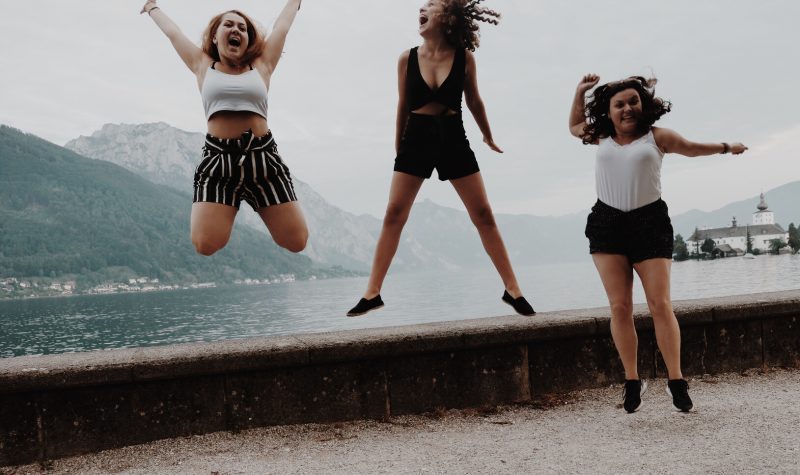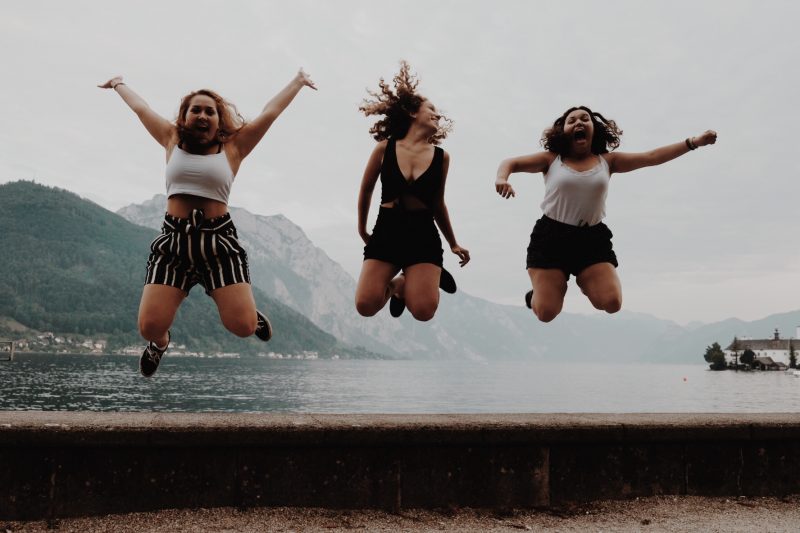 And what would an evening be without some kind of treat, right? So we got some yummie ice-cream and set down to enjoy the view and the yummie treat.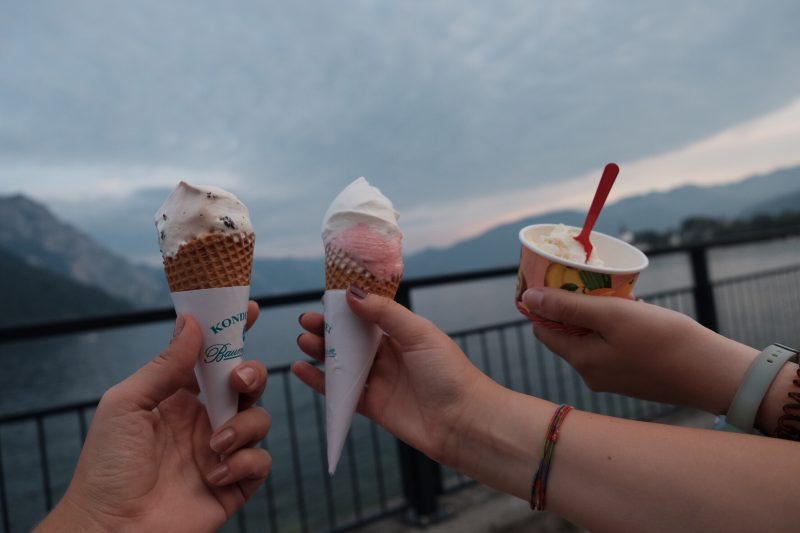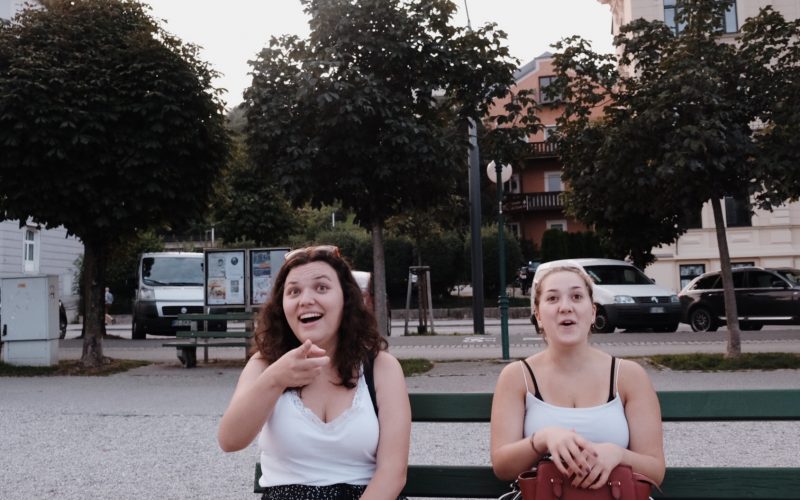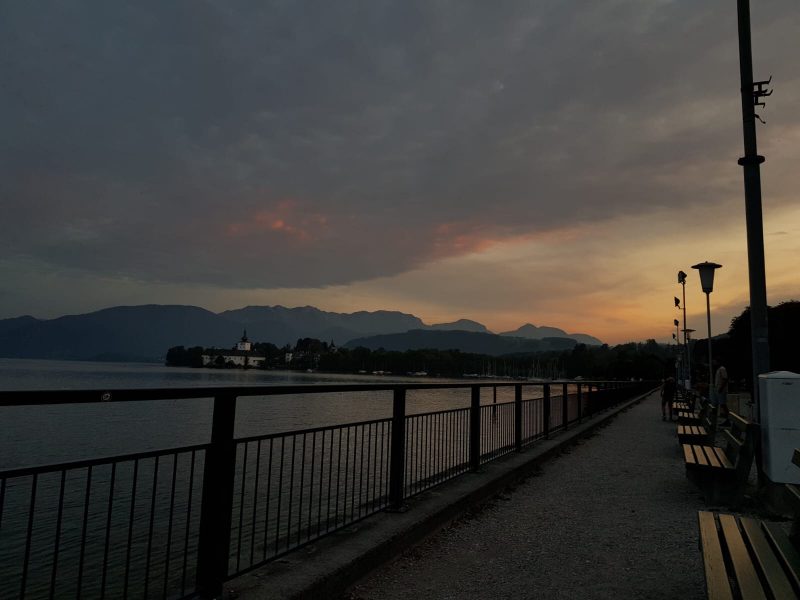 Then it got dark and we decided to head home and watch a film to finish off the evening in the same relaxed mood as we had the rest of the day.
Sadly the next day was already our last day fully together and since both of them would take a plane back to Madrid and Milano from Vienna, we decided to fit a Vienna-day into the programm as well. The girls said good bye to my family and off we went with the train back to Vienna.
After checking into our hotel we decided to rent three bikes for the day, which was one of the best decissions ever. We first cycled to Viennas state opera and then further to Burggarten and the butterfly house, where we had some Almdudler and coke.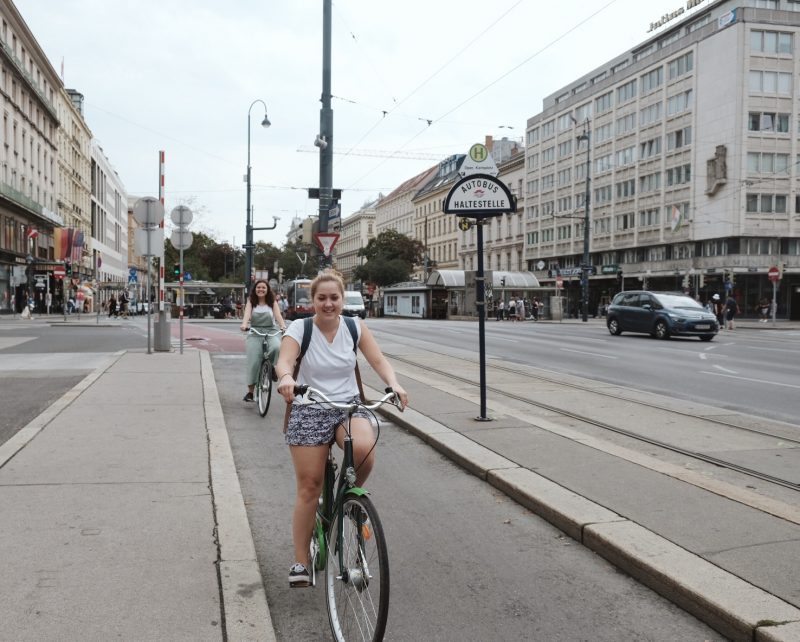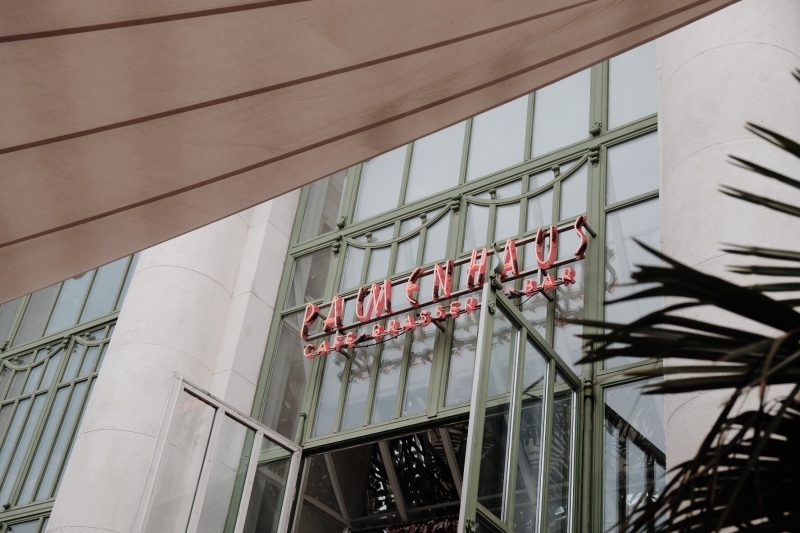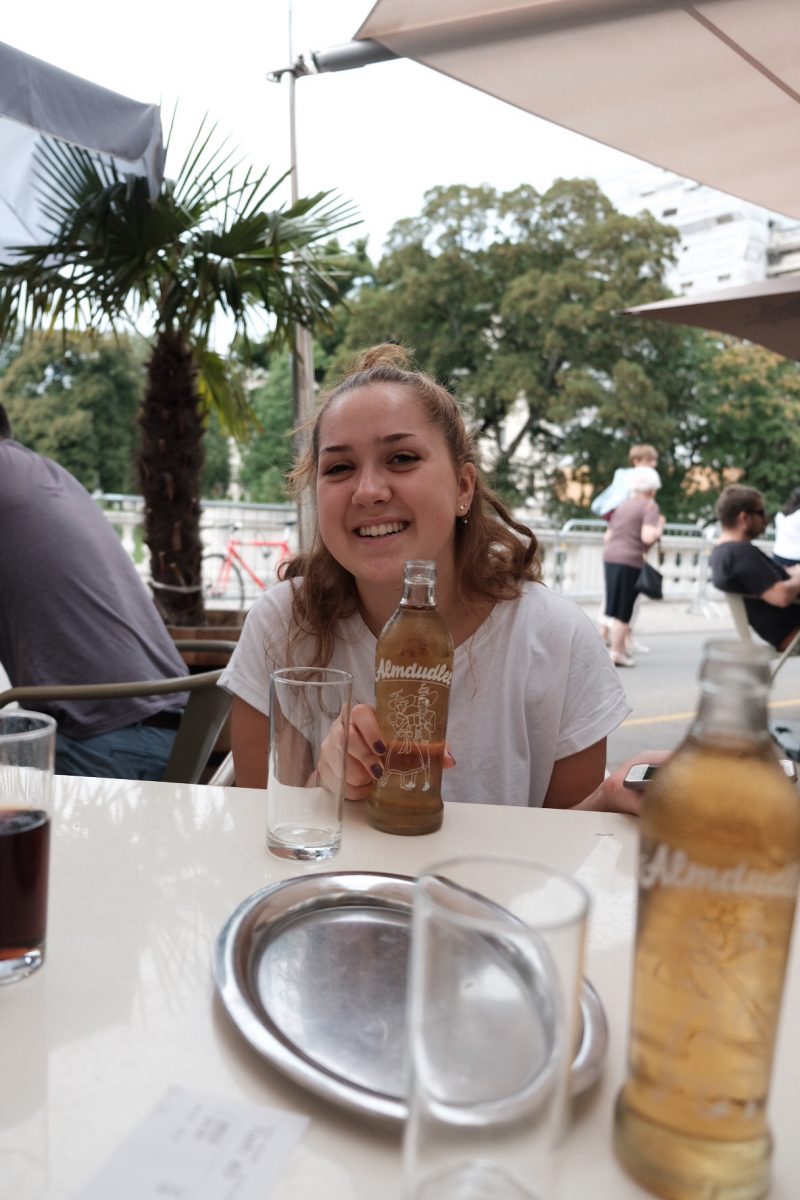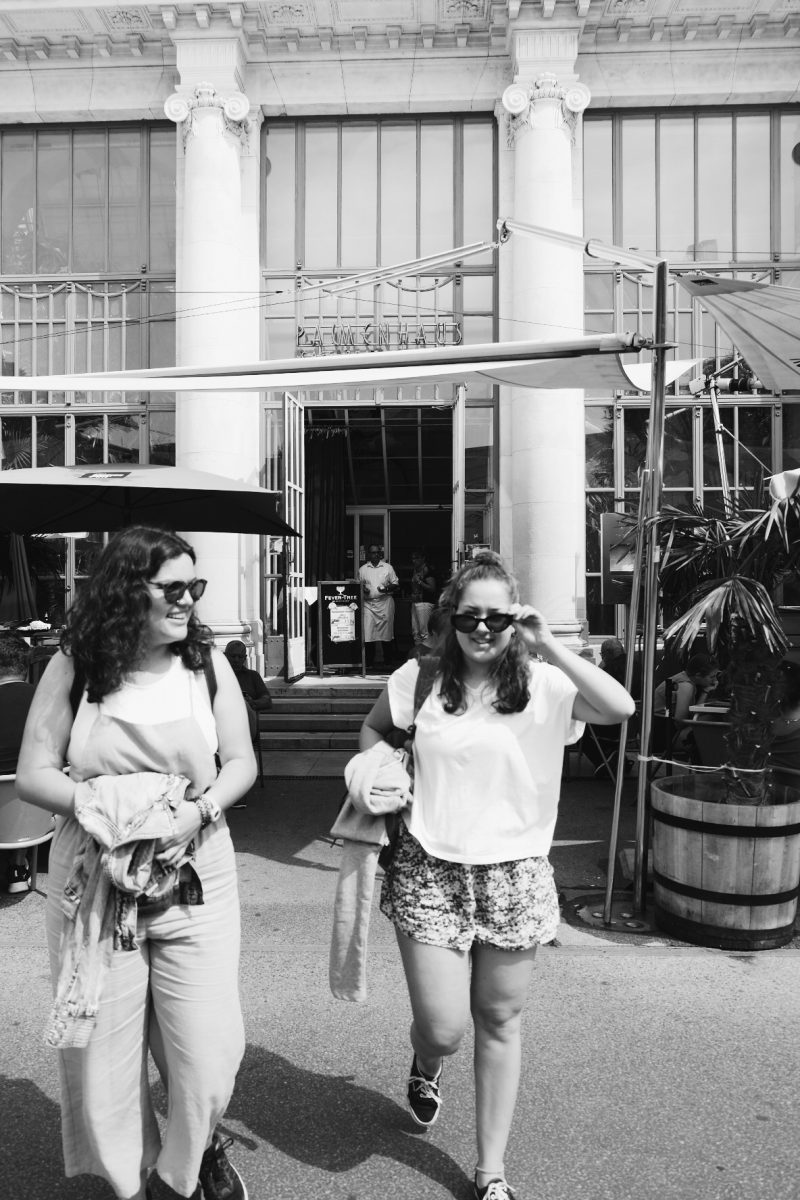 After the refreshments we cycled to the big library, through the rose gardens, to the Burgtheater, the townhall and then to the Museum quarters where we took a cuple of pics and then decided to park our bikes and have some lunch there and afterwards some lovely coffee.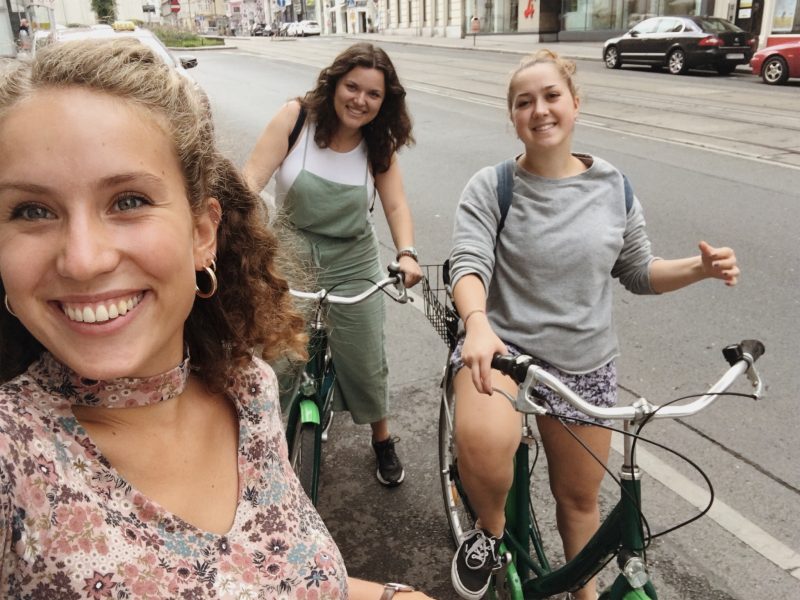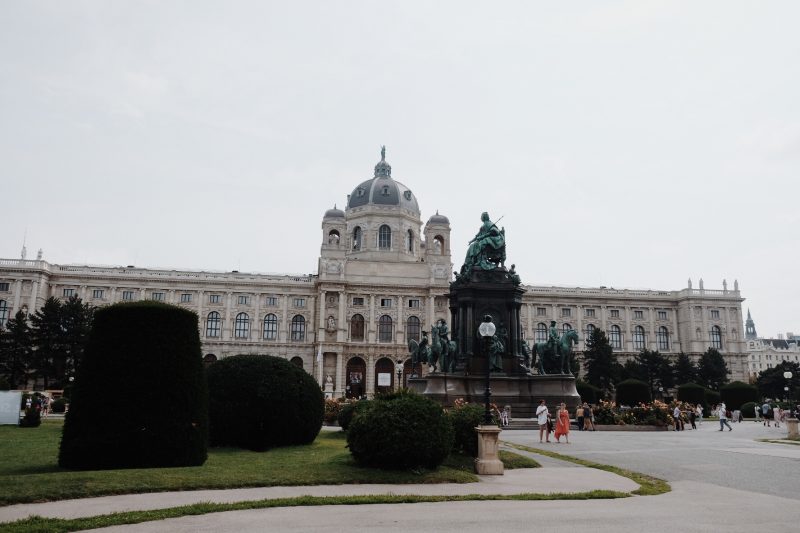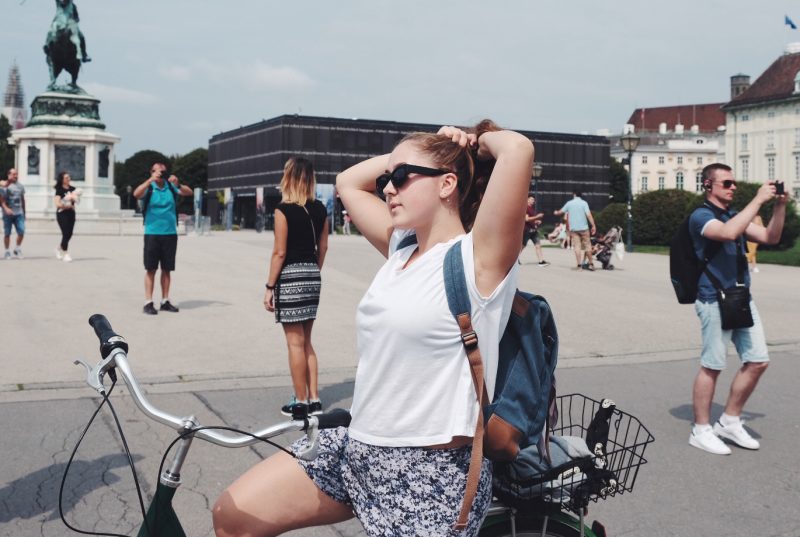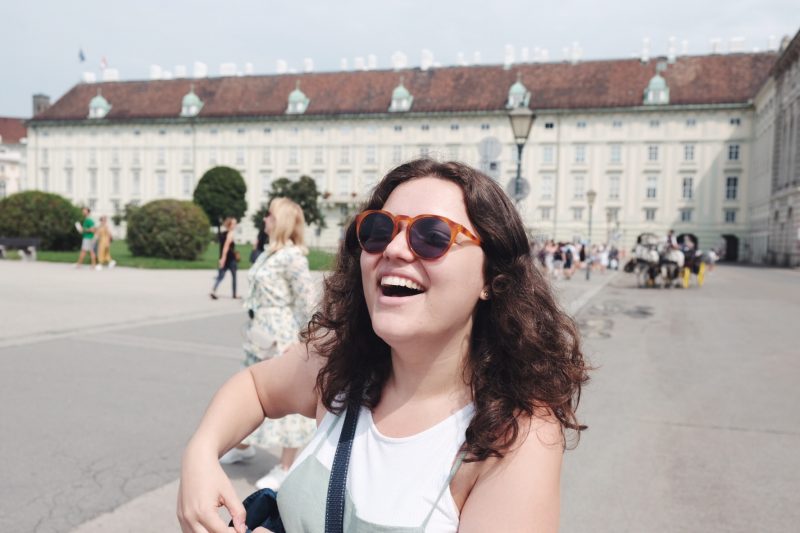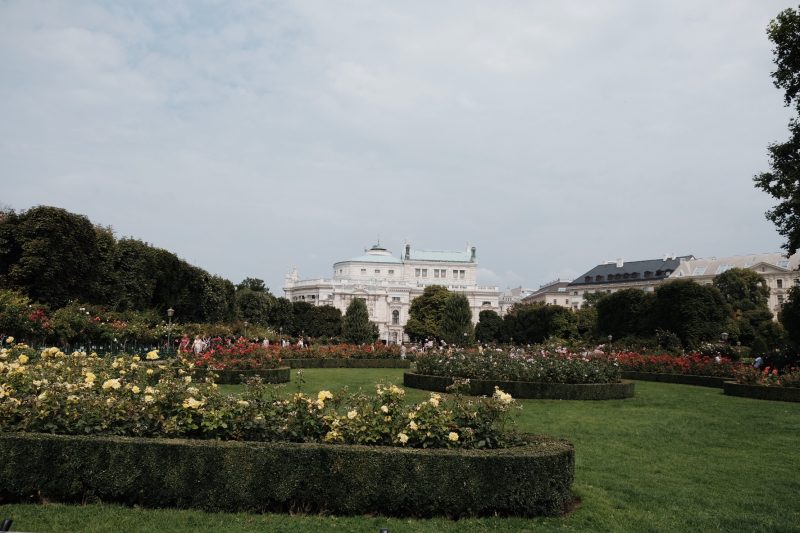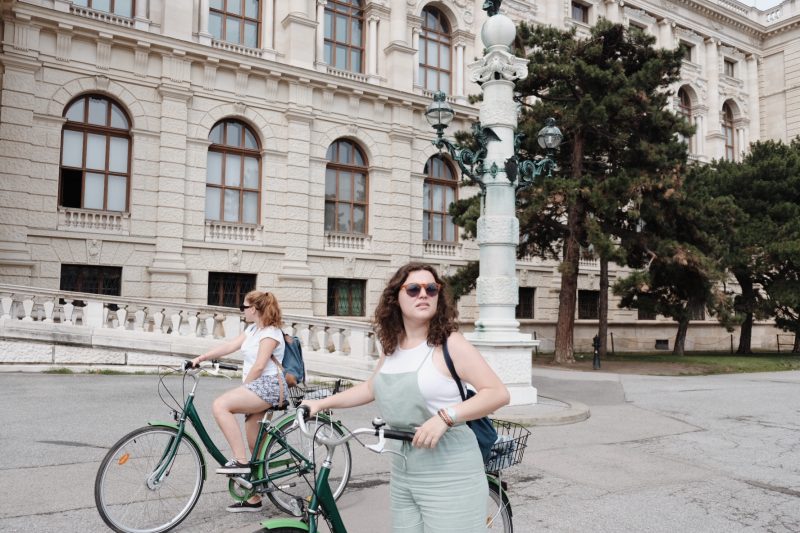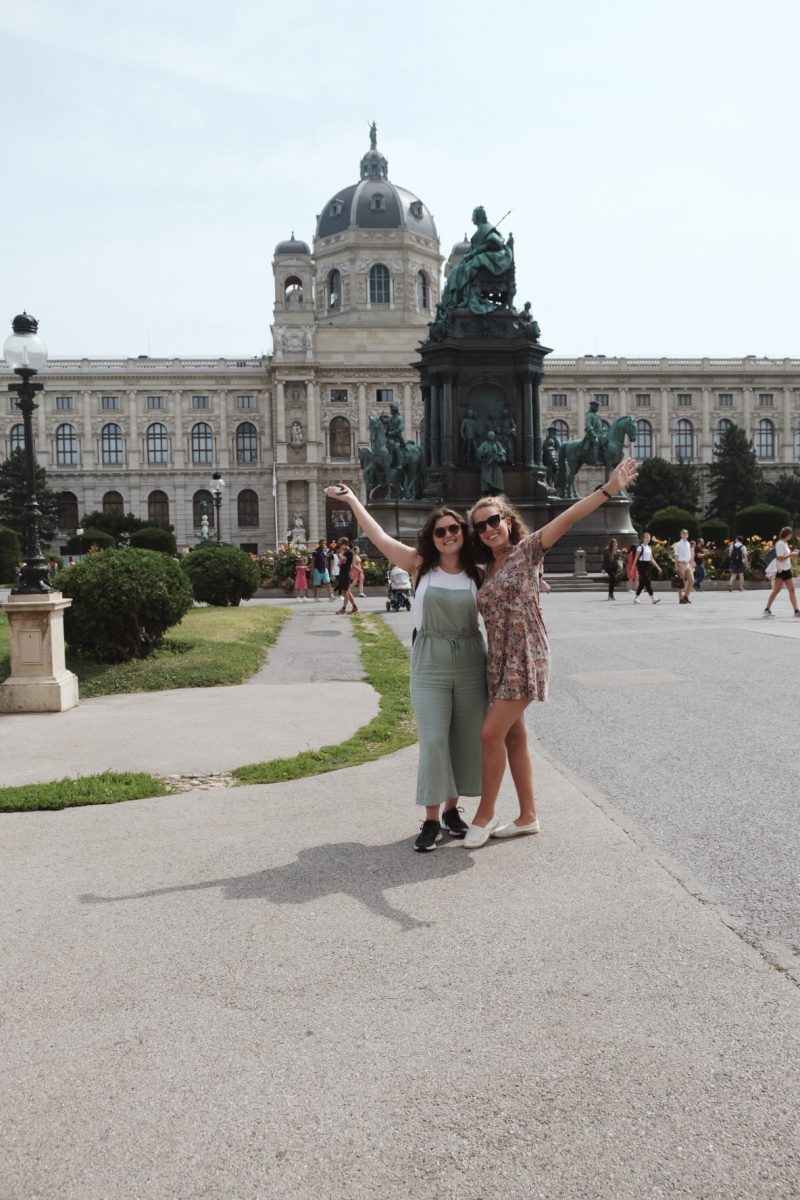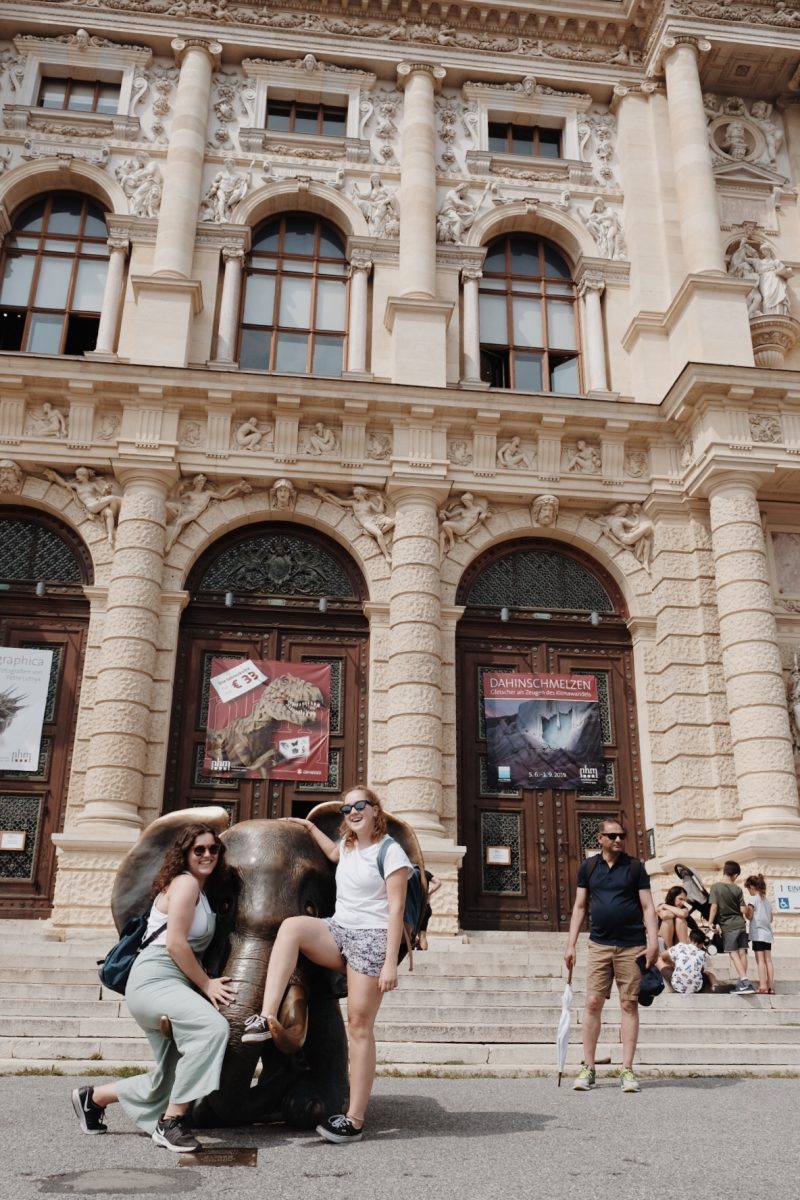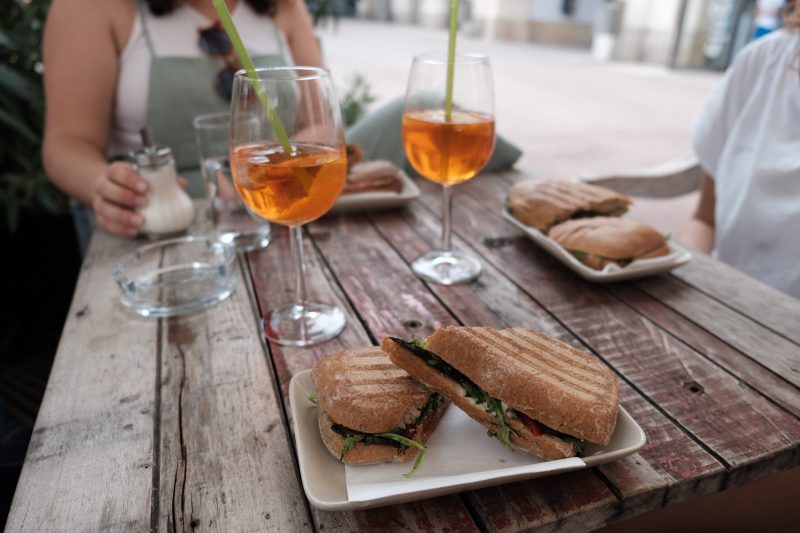 After that only one more thing was on our radar, to go to Stephansdom and have a look around there.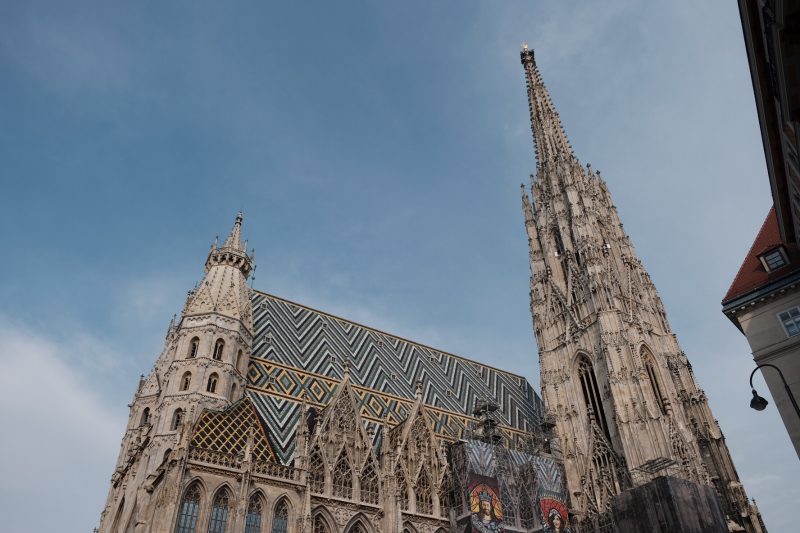 We were really tired and to be honest our butts already hurt a lot from the bikes, so we decided to take it slow that evening and buy some dinner and a bottle of whine for later. Then we sat down in Burggarten again, laughed way too much about everything, since we were a little exhausted and then had a skype date with Andrea, who couldn't join us for the runion in Austria, since she had to work, back in Spain.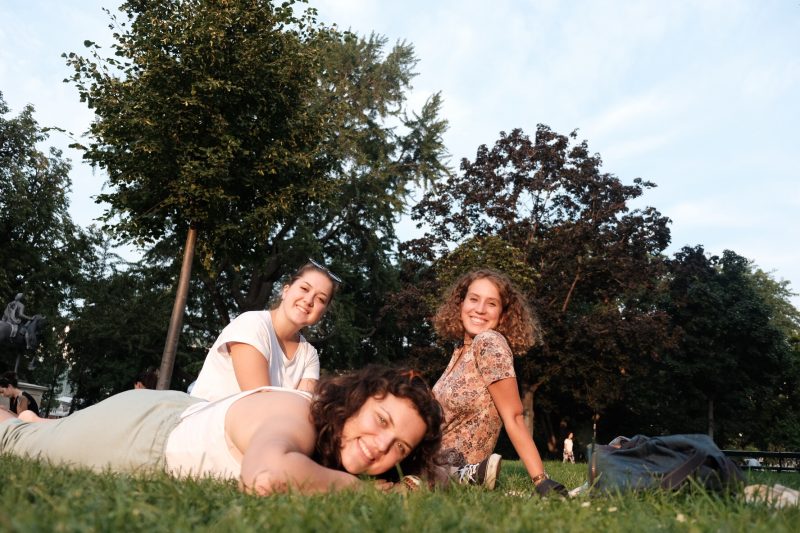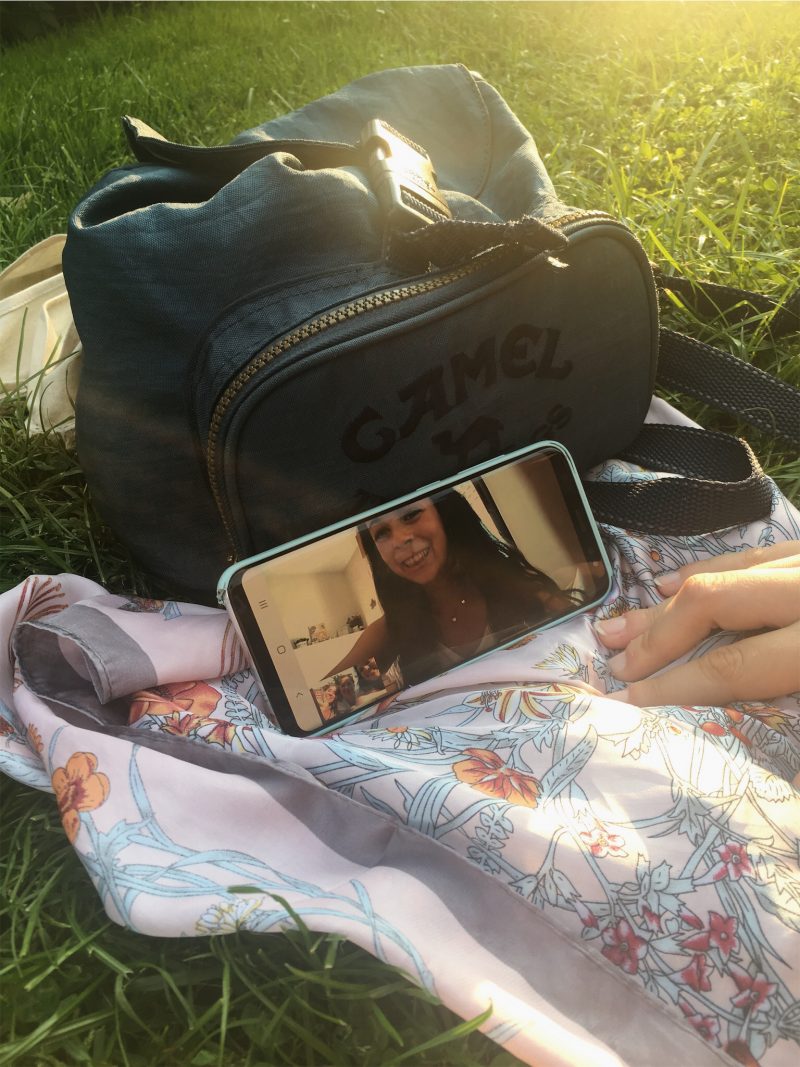 We had a lovely evening in our hotel and fell asleep not too late, since we had to get up at 4:oo am the following day.
We packed everything up and headed to the trainsation where we waited for the bus for a while. Obviously the saying good bye was a little sad, since we don't know when the next time that'll see each other again will be. But of cours we'll stay in touch, as we did for the last 6 months. I already miss you girlies, thank you so so much again for coming. Hope we'll meet soon again, if not earlier, then next summer.  Love you a ton.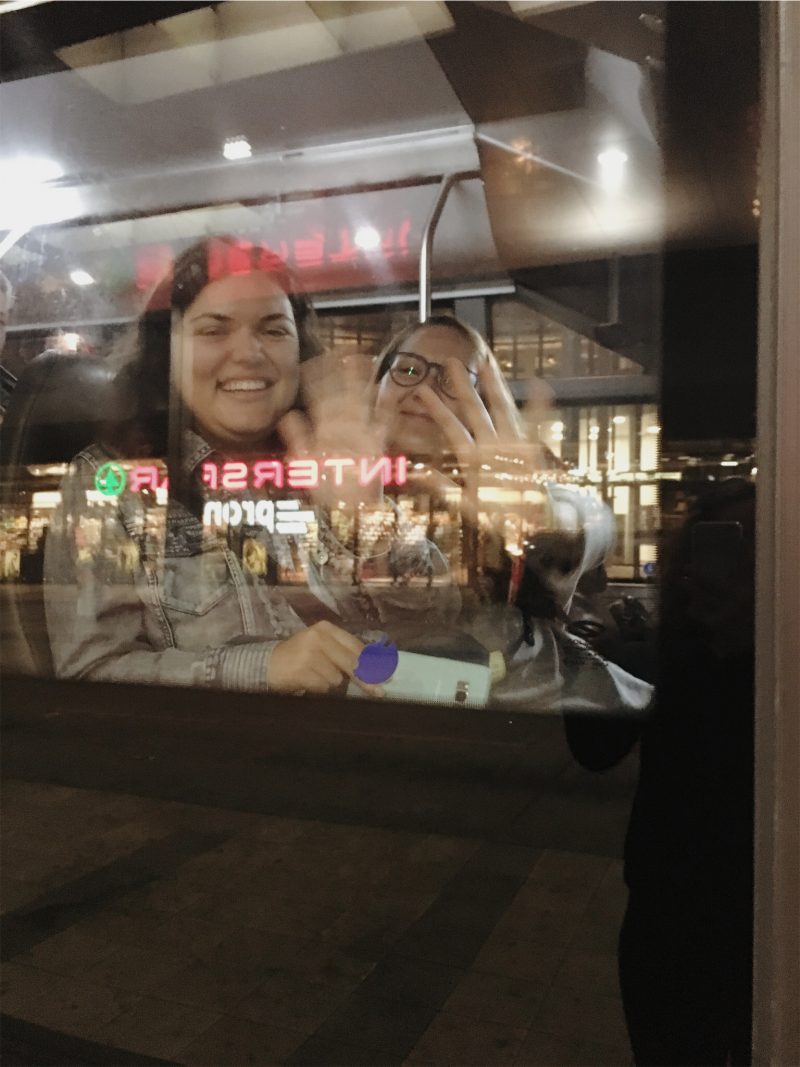 Thanks to everyone reading this blog entry, it means a lot to me. This has been such a great time and I really wanted to let you feel our happiness.
I have one last trip planned before I start with Uni, so stay tuned for that!
See you soon,
Lena xxx