19 Aug

Lesbos – Λέσβος – Lesvos

Hi everyone,

Feels good to be back on here, after being on a wonderful vacation. How are you all? Are you enjoying your summer? Are you travelling somewhere this year?

I thought I might tell you a little bit about my family vacation in Lesbos, a Greek island, very close to Turkey, where we stayed for two full weeks. Probably you can get some travel inspiration, a little guide through Lesbos or simply enjoy a Greek-travel-post.

My family and I always loved going to Greece, so we've been to a few islands in Greece altogether and simply can't get enough of the yummie food, clear ocean water and sunny weather. This year was a little different, since my boyfriend was joining us for one of the two weeks.

By the way all the pictures in this blog post, are either mine from the camera and phone or from my boyfriends phone, which makes awesome quality pictures as well.

So on a Saturday we went to Vienna to hop on a plane there, which took us straight to Lesbos. We had some slight struggels with the journey from the airport in Mytillini to our accomodation, but it all worked out in the end and we were welcomed with a late dinner (at 11:00 pm) by the pool.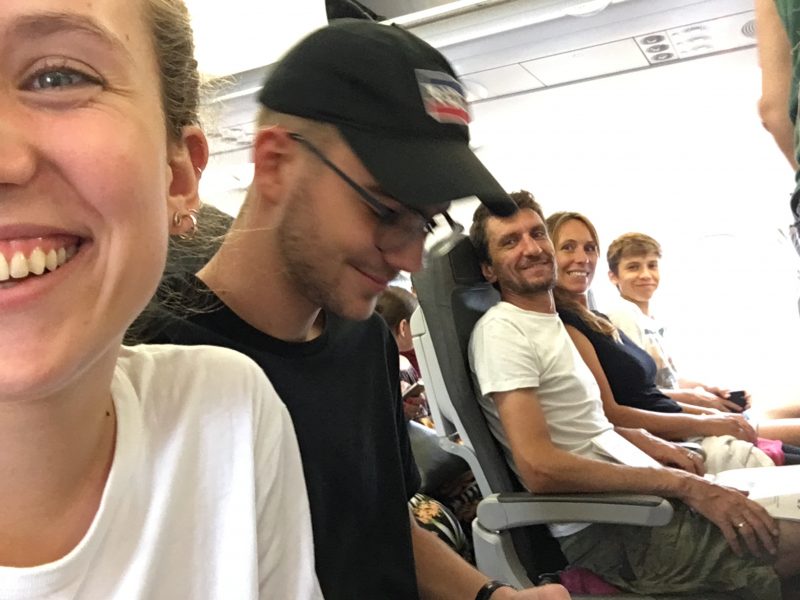 The first two days we basically chilled by the pool of our hotel, enjoyed the amazing breakfast buffet we had and realised that the beach of our hotel was not the prettiest or safest (god there were many sea urgins), but we still went in one or two times.
Our hotel (Delfinia hotel and bungalows, if anyone wanted to check it out, it was one of the best-known ones by the citizens, and was really amazing) was close to the town Molivos, which was one of the most beautiful ones, we've been to on that trip in my opinion. This by the way was the view from our breakfast-table and then also from our pool.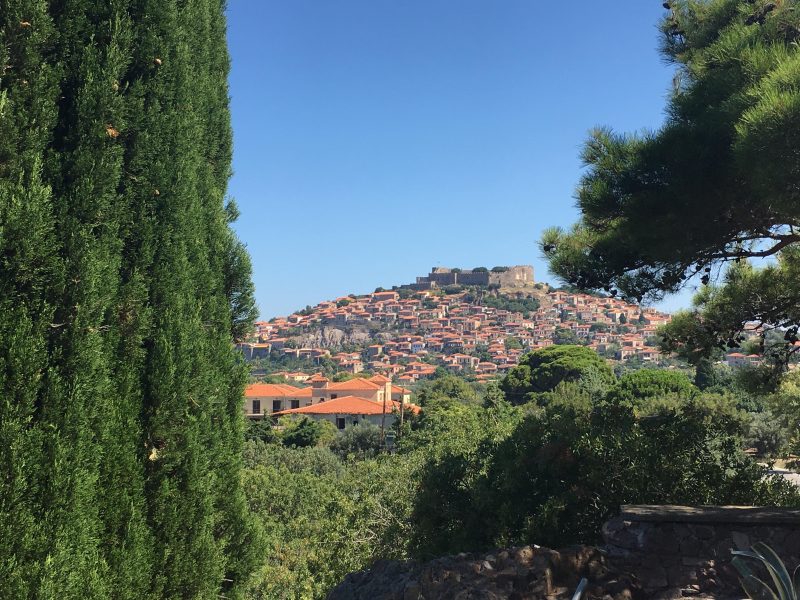 Since it was a only a 10 minute walk from our hotel, we spent a few evenings there, having yummie dinners, greek wine and beer and simply a really good time. The first evening we spent there, Jakob, Flo and I decided to head out after dinner to have a Cocktail and the boys a game of billiard.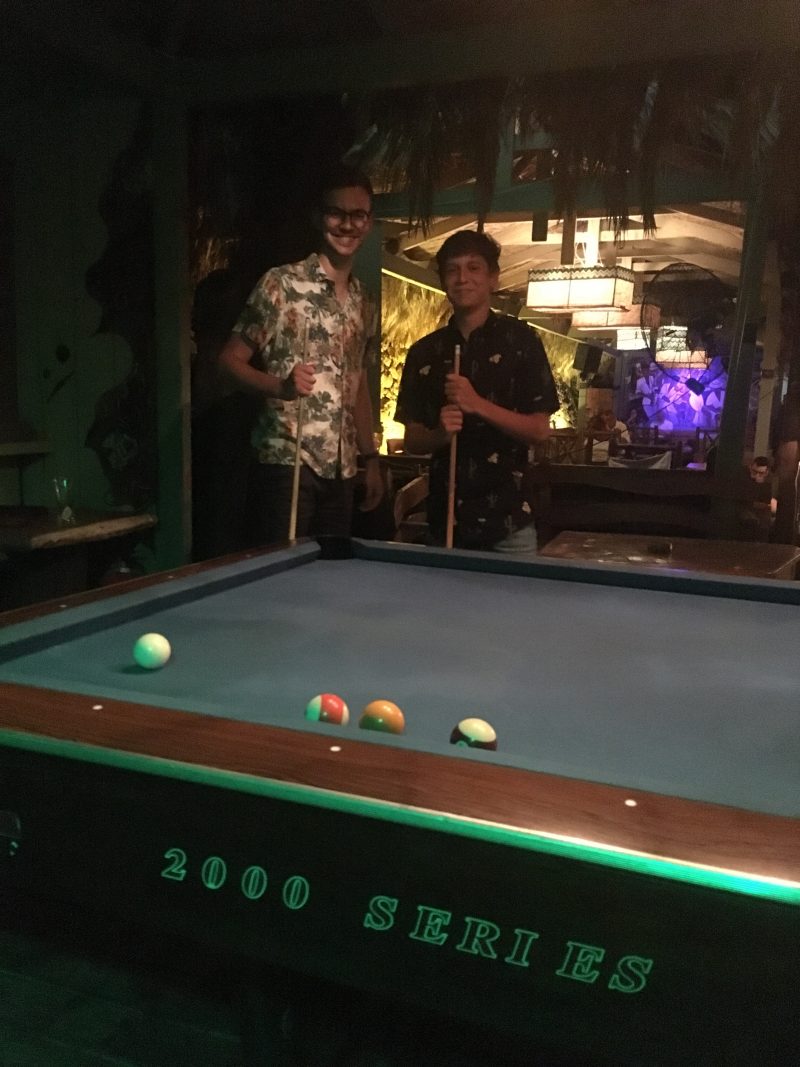 The following evening we got our rental car, which we had until our day of departure, and decided to visit the next little town, which was only a 10 minute drive away from Molivos. In Petra we first had a drink by the sea and then decided for a lovely restaurant, where we not only had a delicous dinner, but enjoyed one of the most beautiful sunsets ever.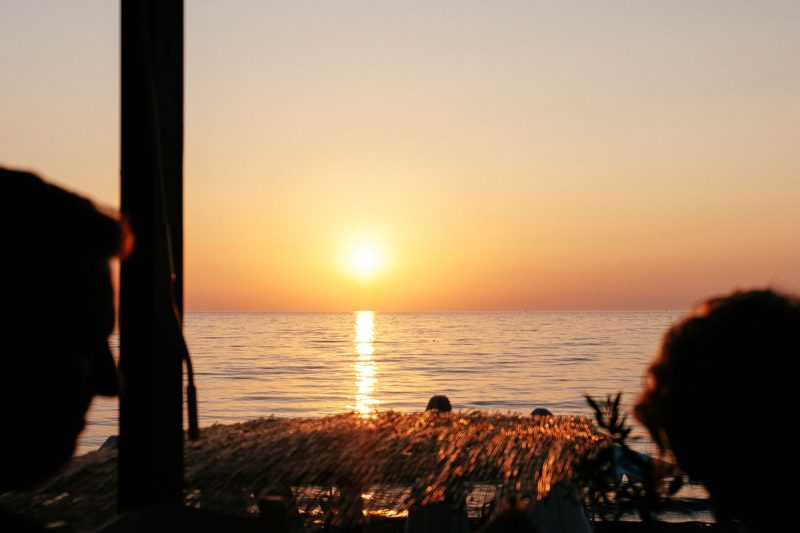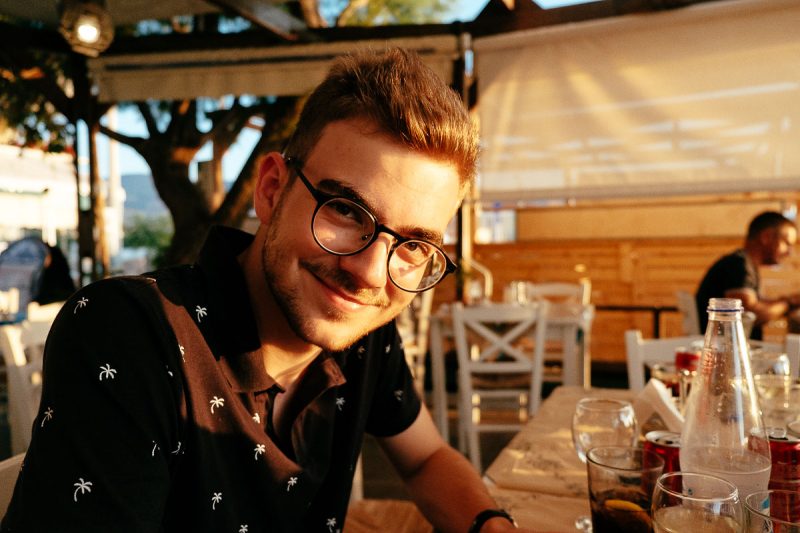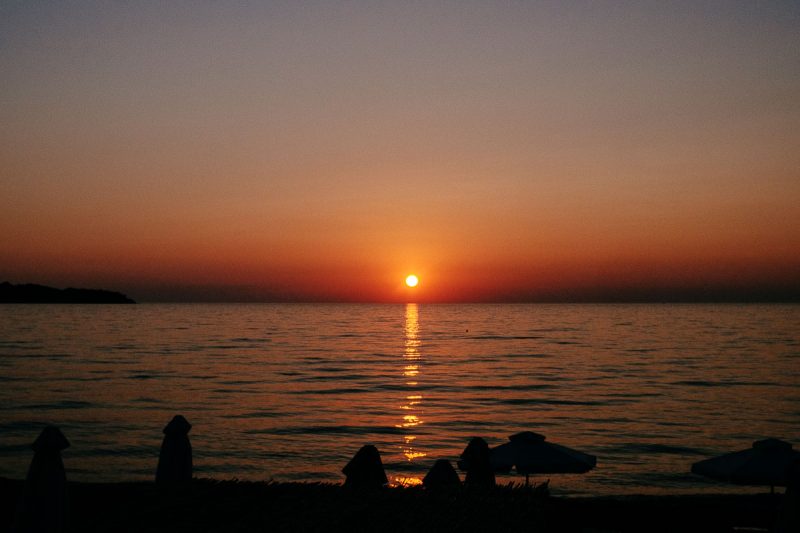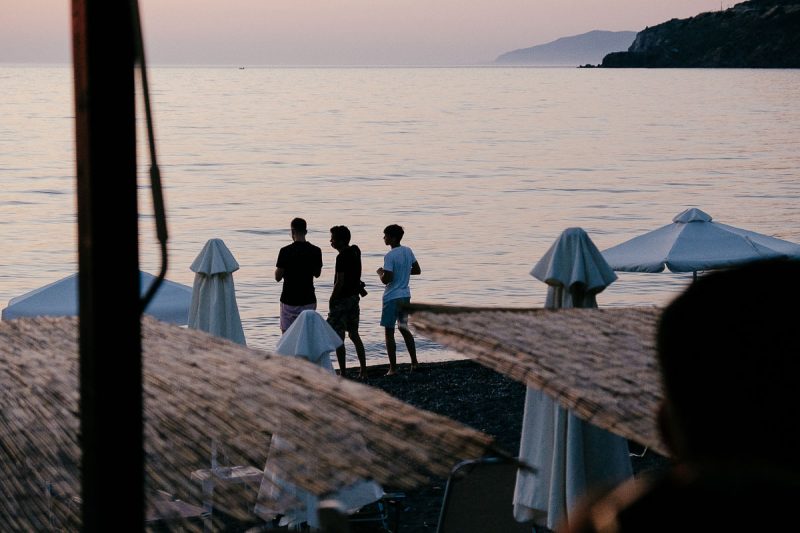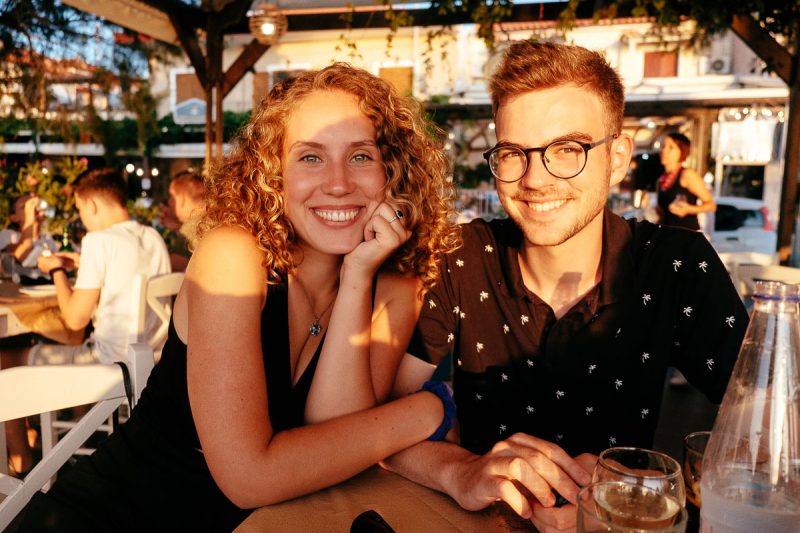 The next day we decided to go somewhere else for the day, so we got up a little earlier, since we had a bit of a car ride ahead of us, had some breakfast and then packed our bathing stuff and off we went. We decided to make a quick coffee stop in Antissa, a cute town with a handfull of restaurants and cafes on a marktet place, which was described way bigger in the books and on the internet, than it actually was, so after nearly getting stuck in between houses, due to teeny tiny streets, we drank Marias ( the lady who owned the restaurant and spoke a few words German) cafe frape and cool drinks, to cool down after the stressful car-situation. By the way the Greeks are geniuses when driving in those streets, nothing seems to bother them, they stay calm even if people have to move chairs and tables for them to get through somewhere.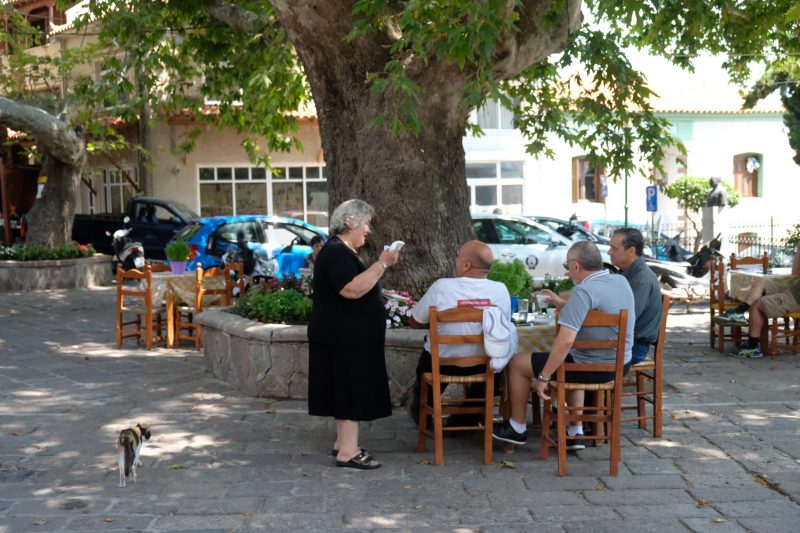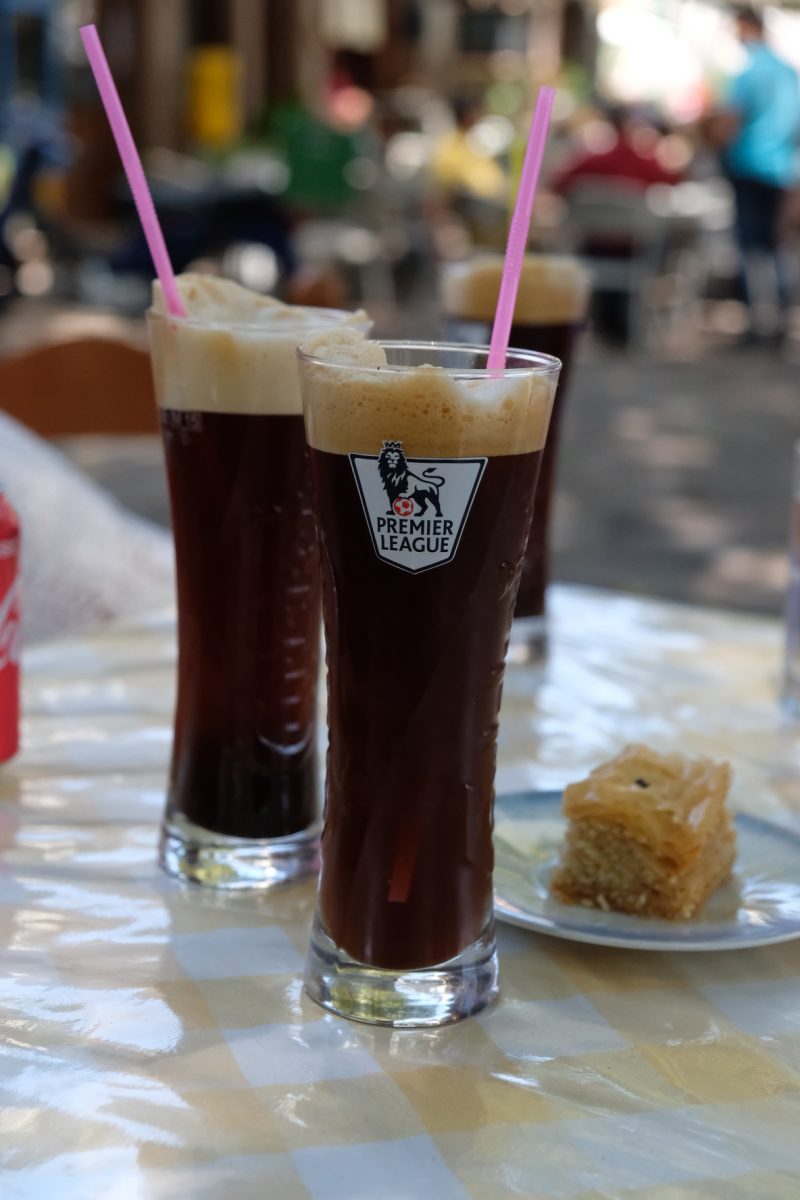 Our next stop was Moni Ipsilou, a cloister up on a mountain, which was incredibly beautiful. Two monks actually still live there and look after the gardens and the cloister itself. I'll just let the pictures speak for themselve, you'll probably see what I mean by incredibly beautiful.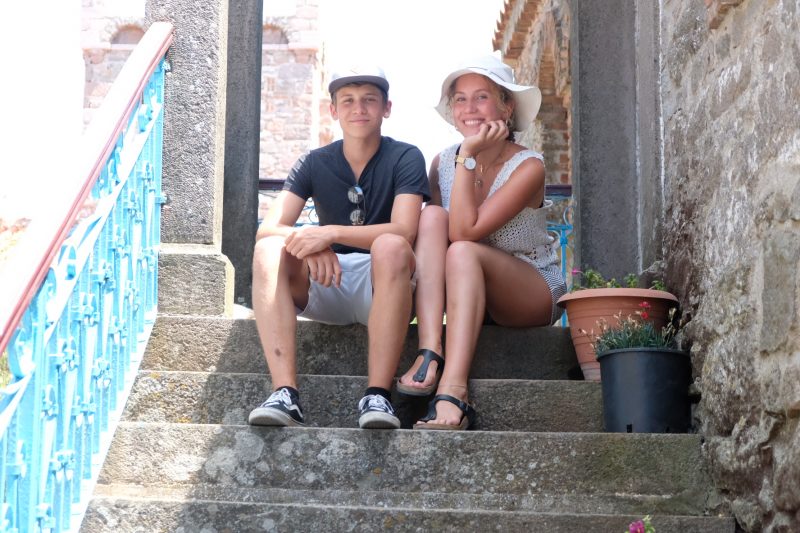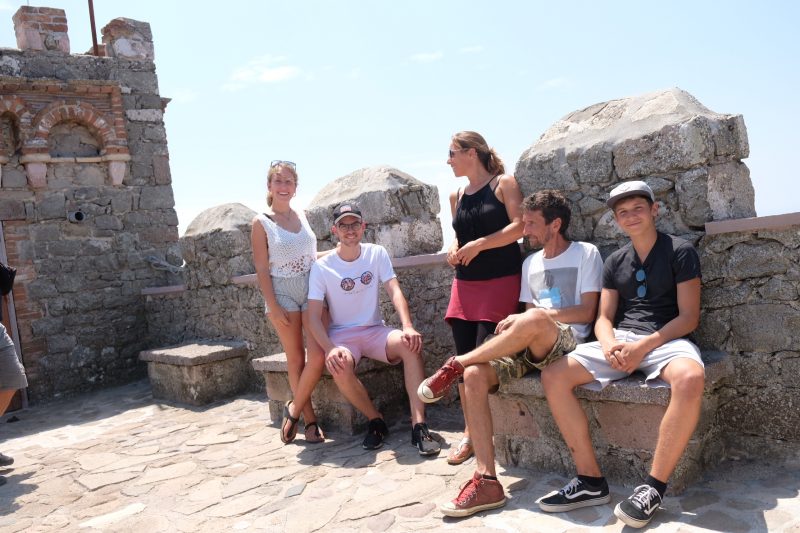 In the afternoon we went to Skala Eressou, which is another town, but next to the sea, with some super fun looking beach-bars, more on the alternative side, which is to be honest just right for me.
We also decided to have dinner there. The boys all had seafood, since all of it was very fresh and of course local. By the way as a vegetarian Greek food is simply perfect. They have so many dishes with vegetables and cheese, you'll never leave hungry. (I felt more like rolling out of the restaurants after dinner, than leaving hungry to be honest)
On the next day, we had another chill day by the pool and a wonderful evening in Molivos. We did a little bit of window shopping and then had dinner on one of many rooftop terraces, which was pretty cool.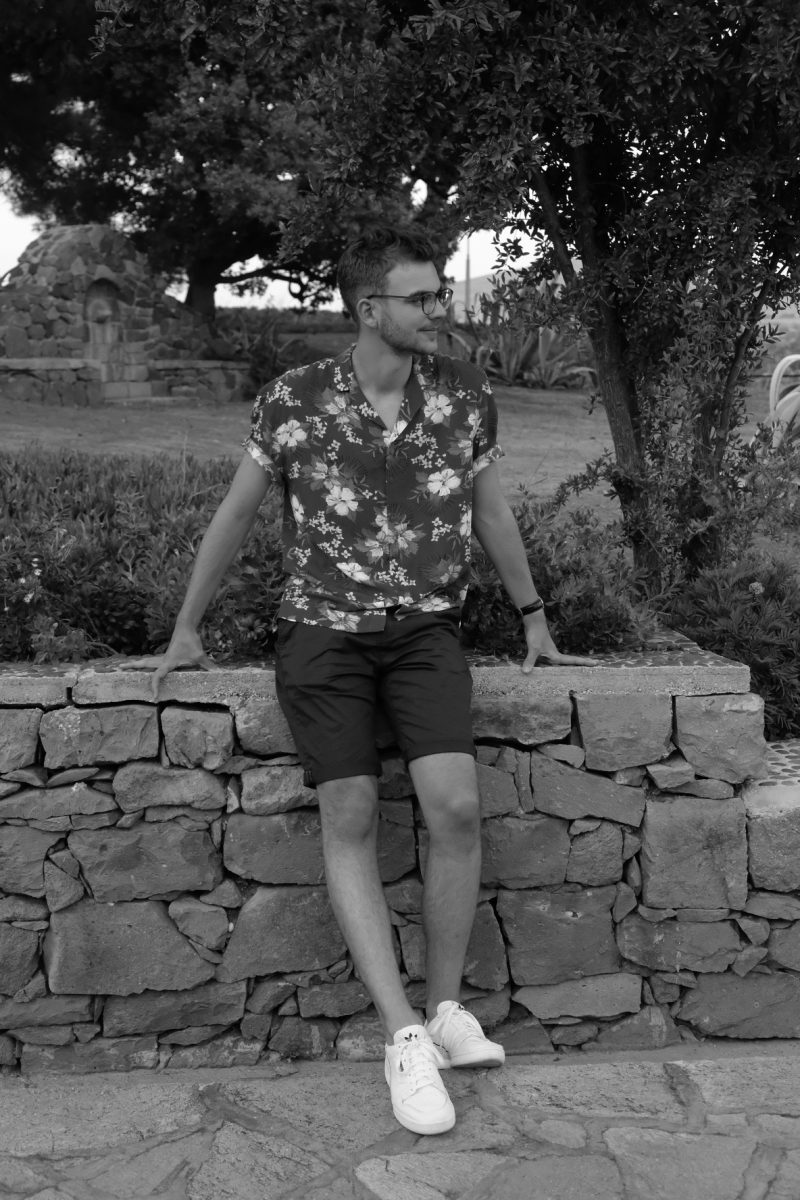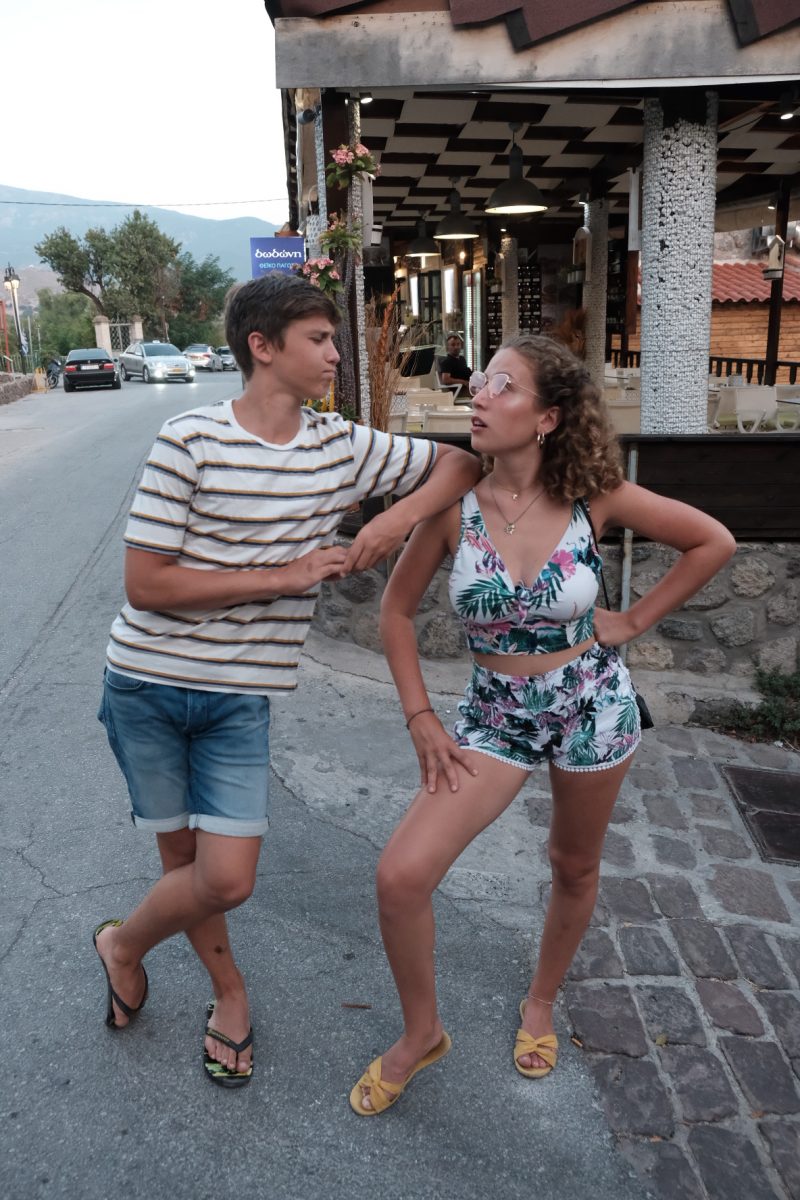 For the following day we had planned to visit the big castle of Molivos, since we already lived in that town we had decided on the first day, that it was a must for all of us. The walk up, was obviously exhausting in this heat, but still pretty okay and we were rewarded with a really cool view. The castle itself was nice, but not the most amazing thing on the trip if I'm being honest. After arriving back at the hotel we really needed a cool-down in the pool and the shadows, so we did just that.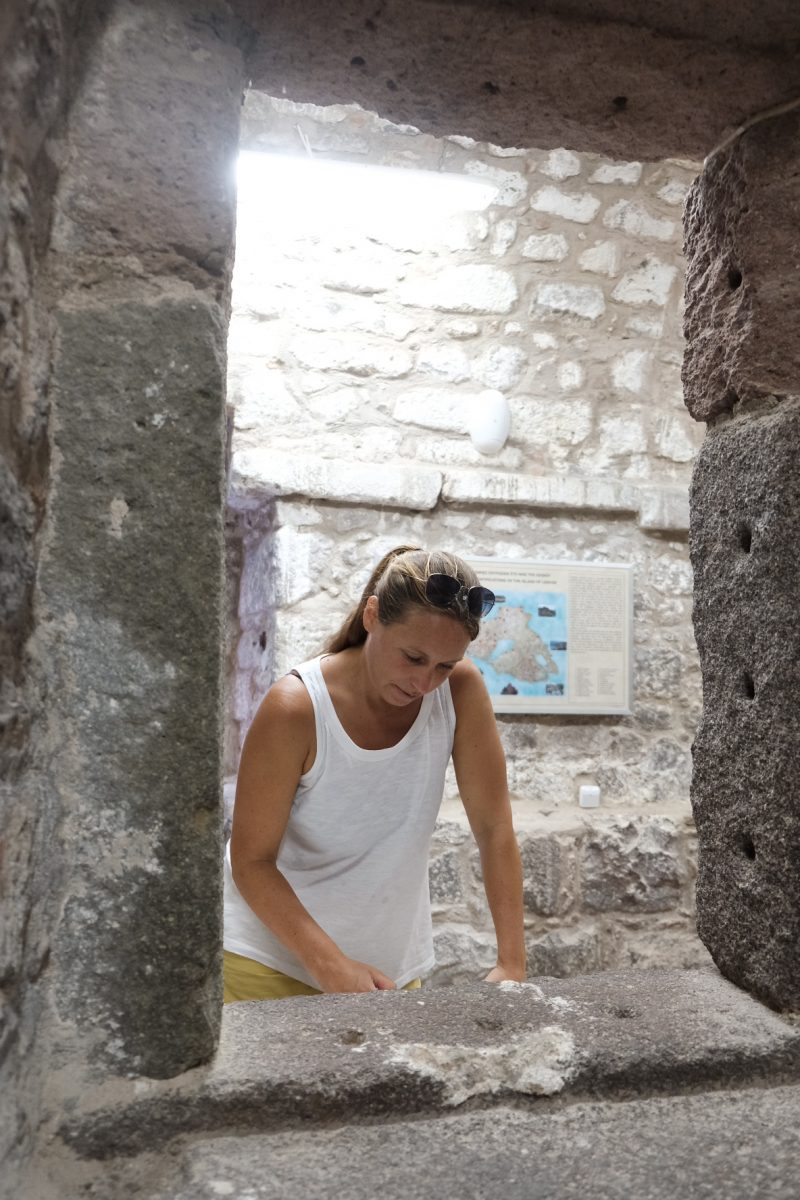 Towards the evening we decided to head to another beach, since we really wanted to have a swim in the ocean. Equipped with goggles and air matresses we had a really good time, splashing around.
One thing you should know, most of the beaches are gravel beaches. In the beginning we all really wanted sandy beaches, but soon realized, that the water quality was way better at gravel beaches. Most of the time there are sun-beds which you can use without paying, but sometimes you have to consume something at some point of your stay, but this was never a problem for us, since you get hungry quickly or simply have a café frape.
In the evening we went to Skala Sikamineas, which is the loveliest little fishing village. We also arrived just in time for golden hour, so we took some really cool pics on the mermaid rock and then had dinner just next to the harbour. All the cats and baby kitties surrounded us quickly, as if they felt that we would get weak if they only looked at us cute enough. There is also a really cool bar, where we had some cocktails and they have a pet parrot, who isn't chained to anything, but because he gets free food, returns every day.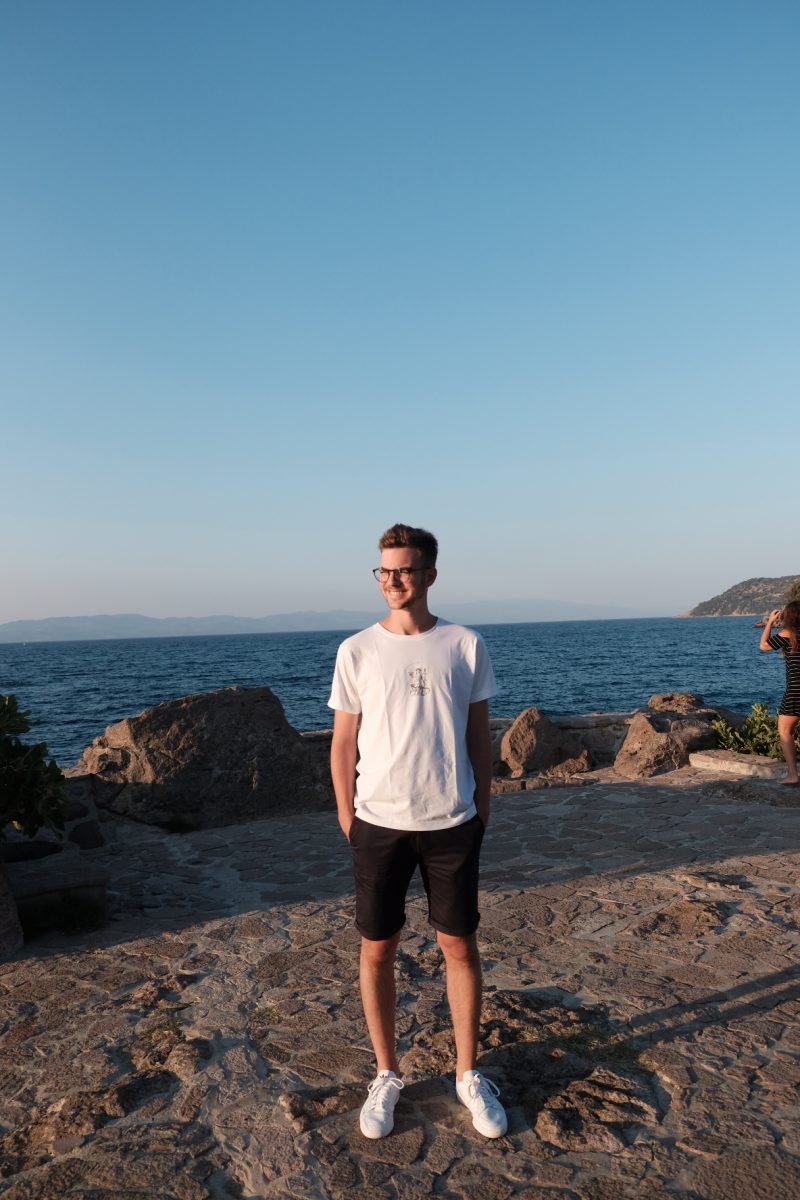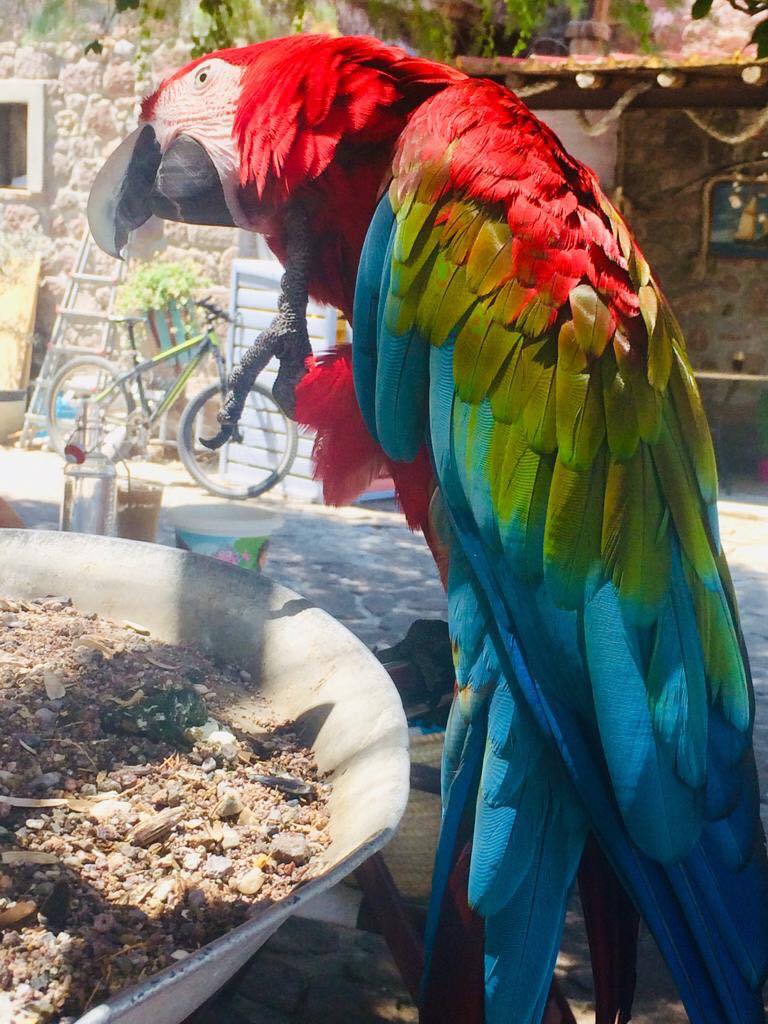 On Friday we went to one of the two golfs, called Gulf of Kaloni, to try out the beach and water there. The beach-bar we stayed at (in Skala Kalonis) was lovely, but the water indeed wasn't as nice as the beaches right at the sea, there was so much sea-grass everywhere, which I personally really don't enjoy, for others this might not be a problem at all.
In the evening we had something exciting planned. We actually tried to book a boat trip for the whole day, but then only found an evening trip to Rabbit Island, which turned out to be one of my absolute favourite things we did on the whole vacation. We got onto a small glass-bottom-boat, with just another couple from Finland, so basically a private boat-tour. It was so cool, to be on the open sea with that pretty small boat. The captain got slower from time to time and we saw a few rocks under water, since we were on the glass-bottom-boat, or to let Jakob take over and drive the boat all by himself. Then we arrived at rabbit island where we got some free time to walk up the small trail to a little chapel and a house. On our way up and down we saw some cute rabbits, which was pretty obvious, since the island was named after them. We also had a swim and snorkelled for a while in golden hour light, which was unbelievably beautiful. Then our captain rang the bell for us to come back onto the boat, where he had prepared a small dinner for us in the meanwhile. On the ride back we stopped in the middle of the way and listened to some epic music, whilst it got dark super quickly. I can't recommend doing a boat-trip enough if you don't get sea sick to fast, such a cool experience.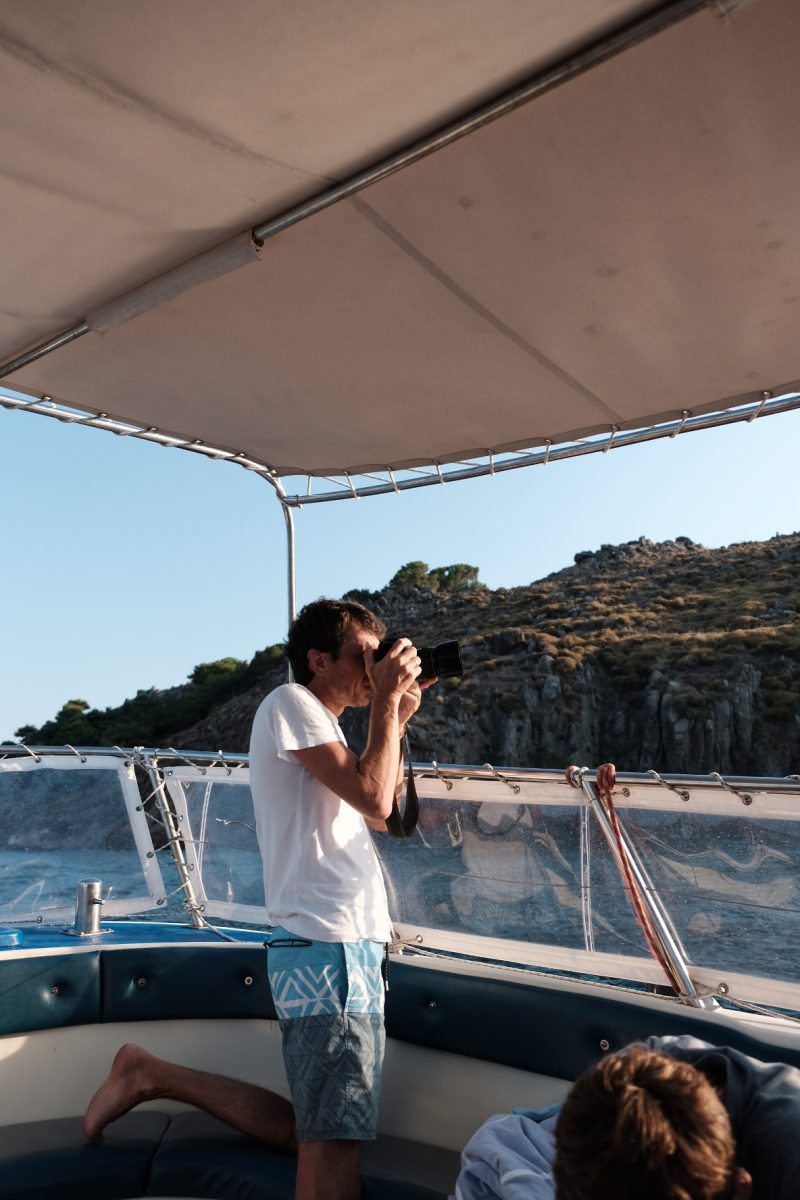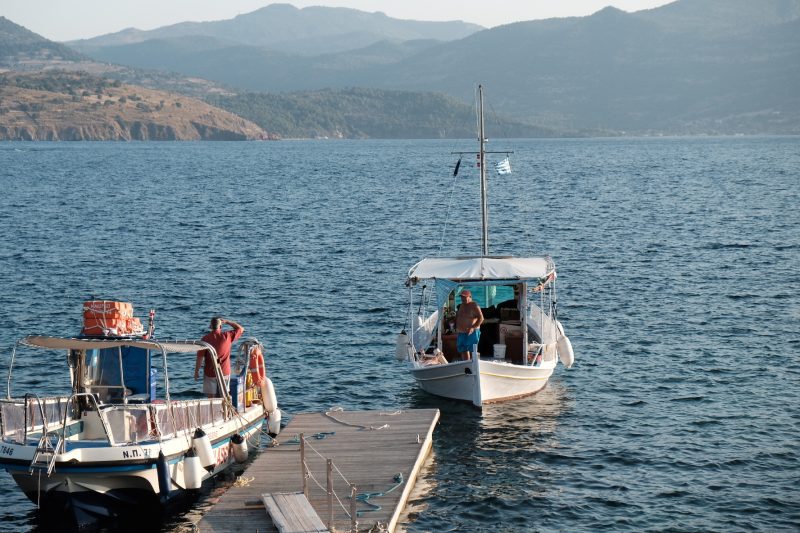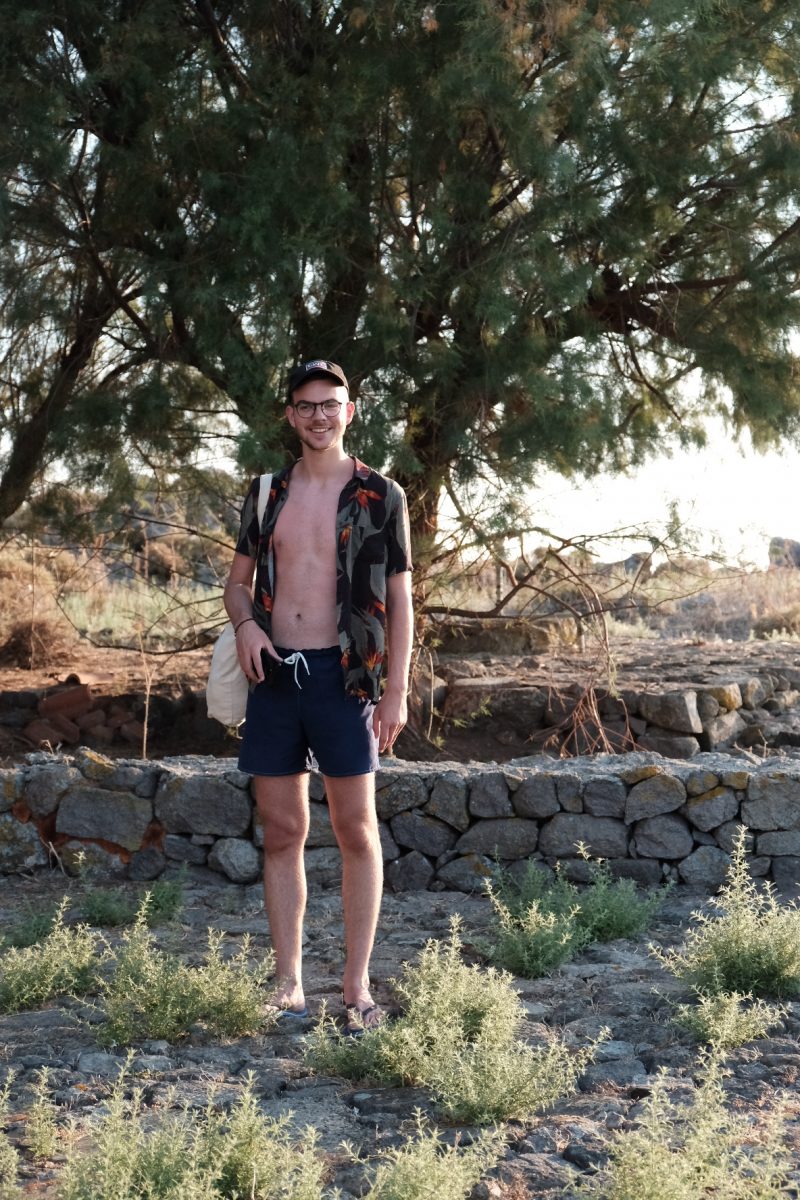 The next day was Flos last day with us. We drove southbound since, the airport was in that direction. We drove to a beach in a town called Agios Issidoros, which was the exact opposite from the beach we were on the day before. Cristal clear water and fish and rocks to inspect, a very suitably beautiful beach for Flos last day. Saying good bye at the airport is always hard for me, probably because of all the good byes I said last year, that were sad as well, but in the end this one was only for a week and as soon as I knew that Flo landed in Vienna safely I felt a lot better. We also had a little purse-drama that evening. Well actually my mum did, since she forgot her purse on the airport toilett, but when we returned to pick it up, everything was still where it should be and all was well.
On Sunday we decided to have another chill day at the pool and take the car to get to Molivos harbour, to have a very lovely dinner there.
The next day we had a longer trip planned, so we woke up a little earlier again to make up for the longer car ride. We wanted to visit the petrified forest, but pittily it was under constructions and we were a little dissapointed to be honest, since it was said to be a very cool place to visit. We then decided to simply find a nice beach to stay at and we surely did. It was a very remote one, where a man in his beach house sold us coffee, but surely had seen better times. We still enjoyed the slightly spooky calmness of this beach, watched the mans horses and read our books in all peace. Still curious what those petrified tree-parts would look like, we decided to visit The Natural History Museum of the Lesvos Petrified Forest in Sigri. We certainly got some insight in how those looked like, but since we were super hungry didn't stay that long. After some lunch we headed back home.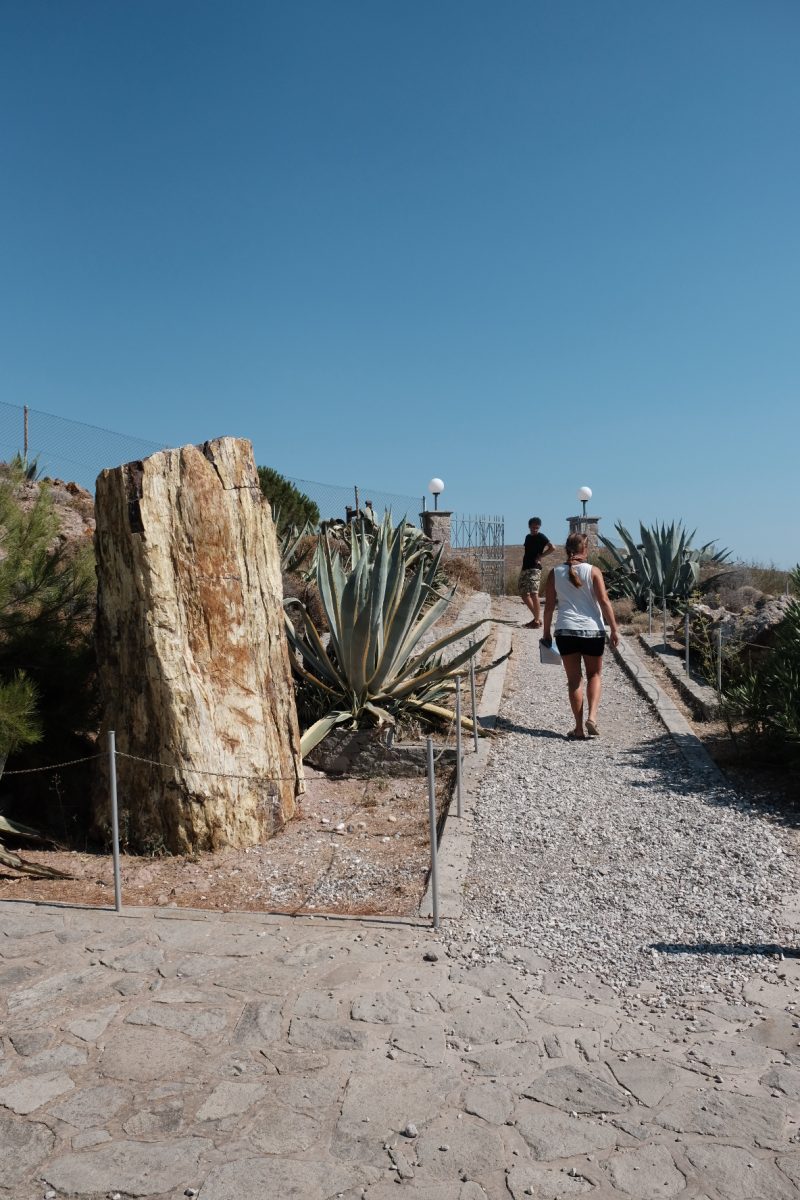 The next day we wanted to have a chill day, but stay on a beach, so we drove to Anaxos, where we fell in love with the beautiful beach, since there were amazing high waves and the cutest dog ever, well certainly not as cute as my own dog, but still super adorable. We then wanted to visit Stipsi to have dinner there and boy oh boy, this town was one of a kind. All the other towns or villages we had been to so far, had little cafes or a few restaurants, but this one didn't. We strolled through the streets, and all the men, that were sitting outside there houses or of the one bar starred at us, as if we were aliens. As soon as you said "Yassas" which means hello in Greek, everyone started smiling and greeted you back happily, but the starring was certainly a little strange. That's why we then decided to revisit a restaurant we've just recently been to, on the day of Flos departure. It was once again fabulous food and wine and we drove home with full tummies, very satisfied and tired from all the wind.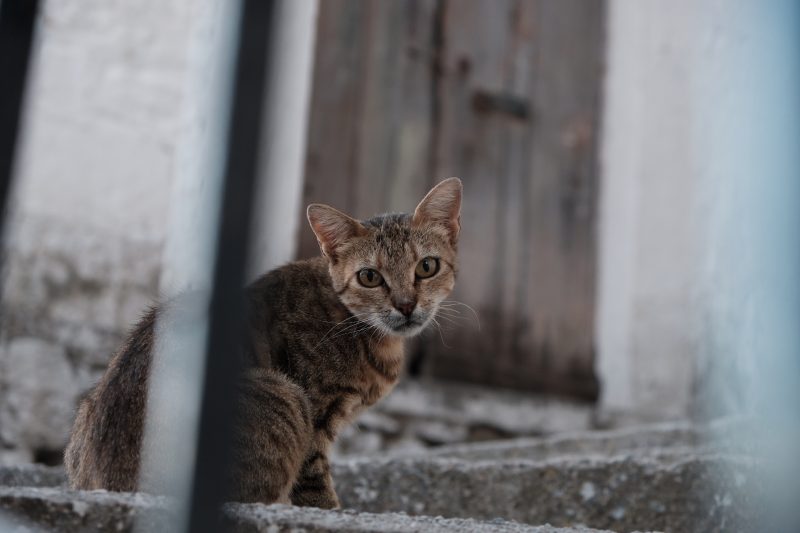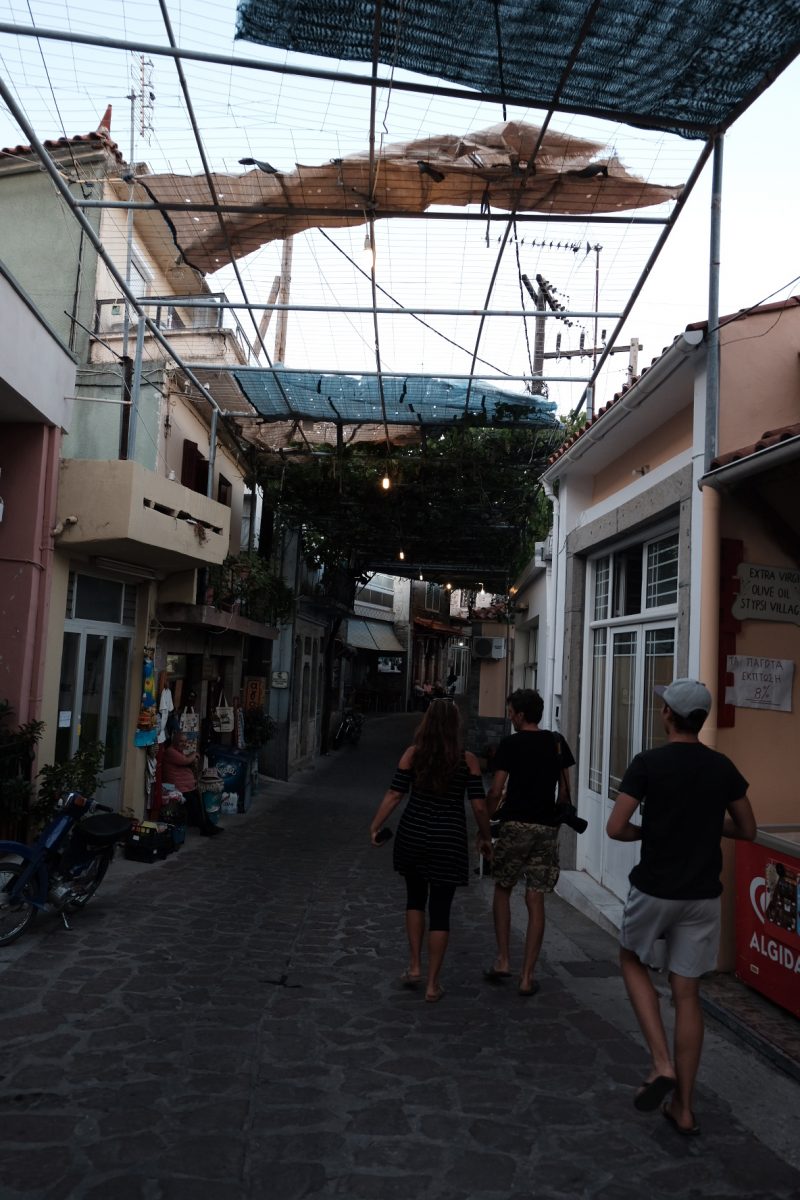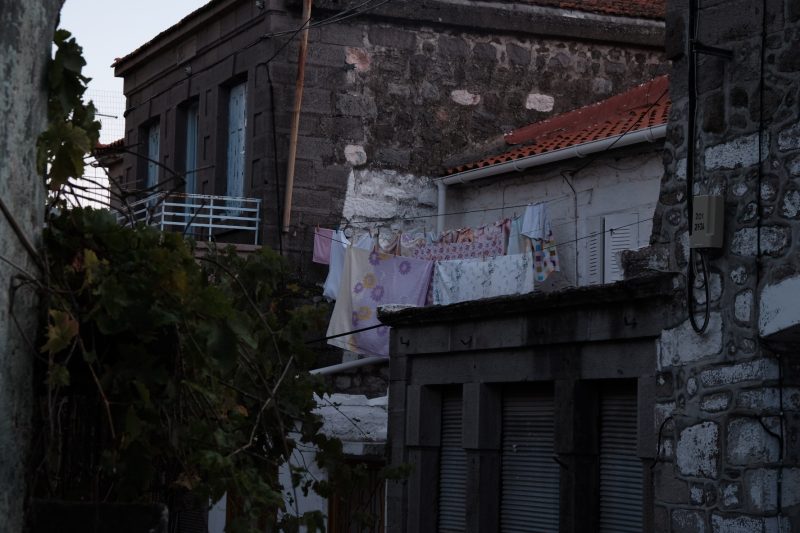 Another day, another destination and we decided to drive to the Olymp or Profitis Ilias, the highest mountain of the whole island. Before we arrived there we stopped in Agios Isidoros, where we bought dried herbs, half a kilo of oliveoil-soap, incense materials and coffee cups. Basically it was a really beautiful town, with a lot to offer. Then we went up to Profitis Ilias, where we drove until the road was done and walked the last bit, which was a very interesting path, as you hopefully can see on the pictures. But it was certainly worth it, since we had a gorgeous view and now could say, we had been on the highest point of the island.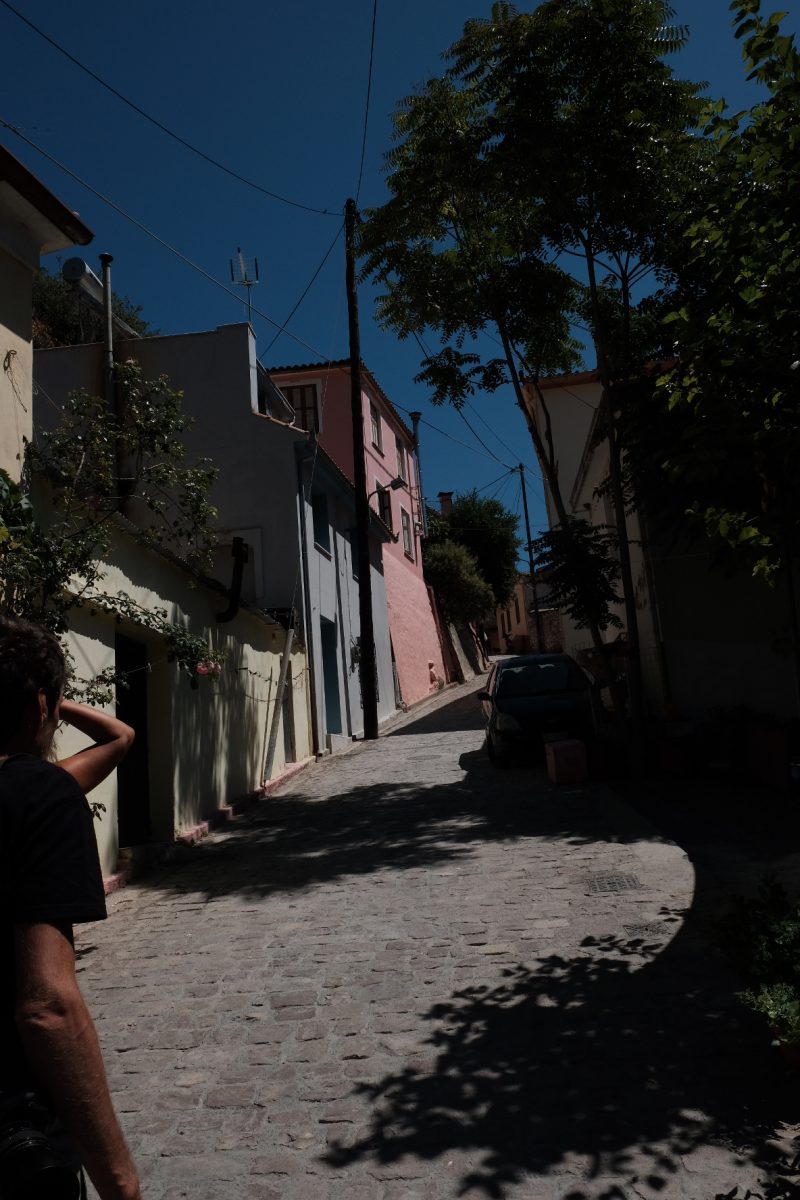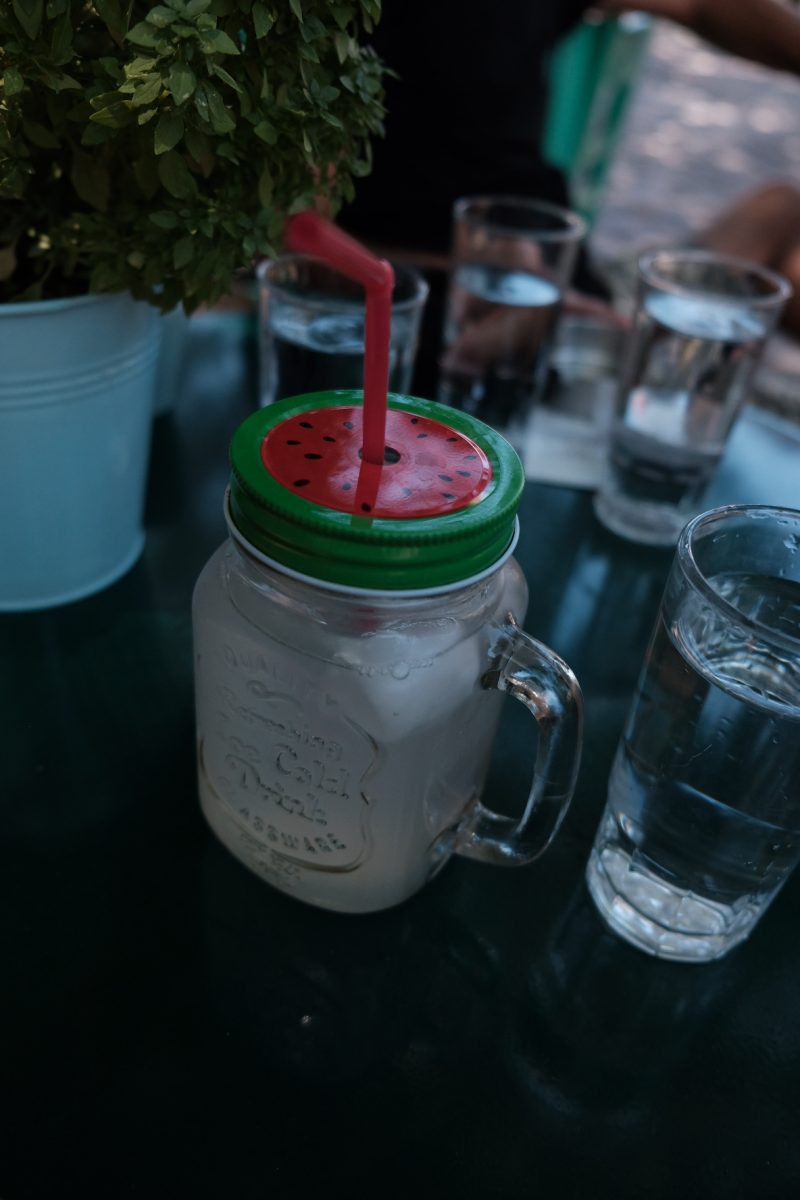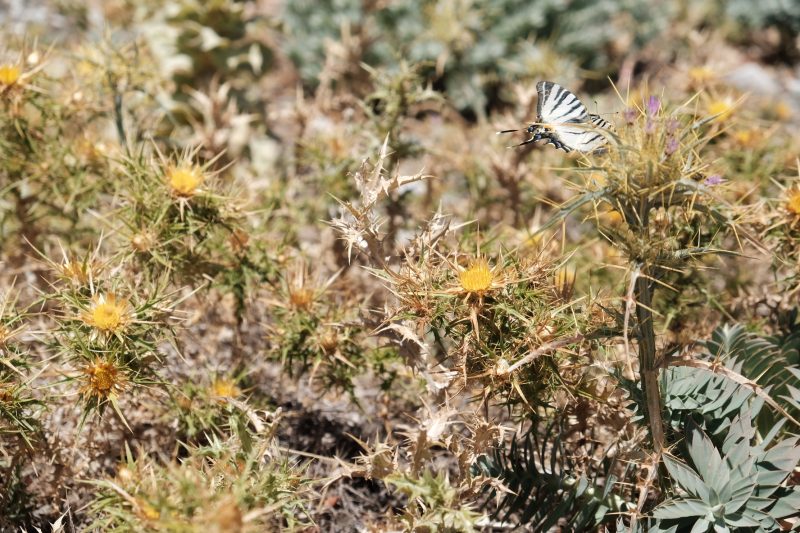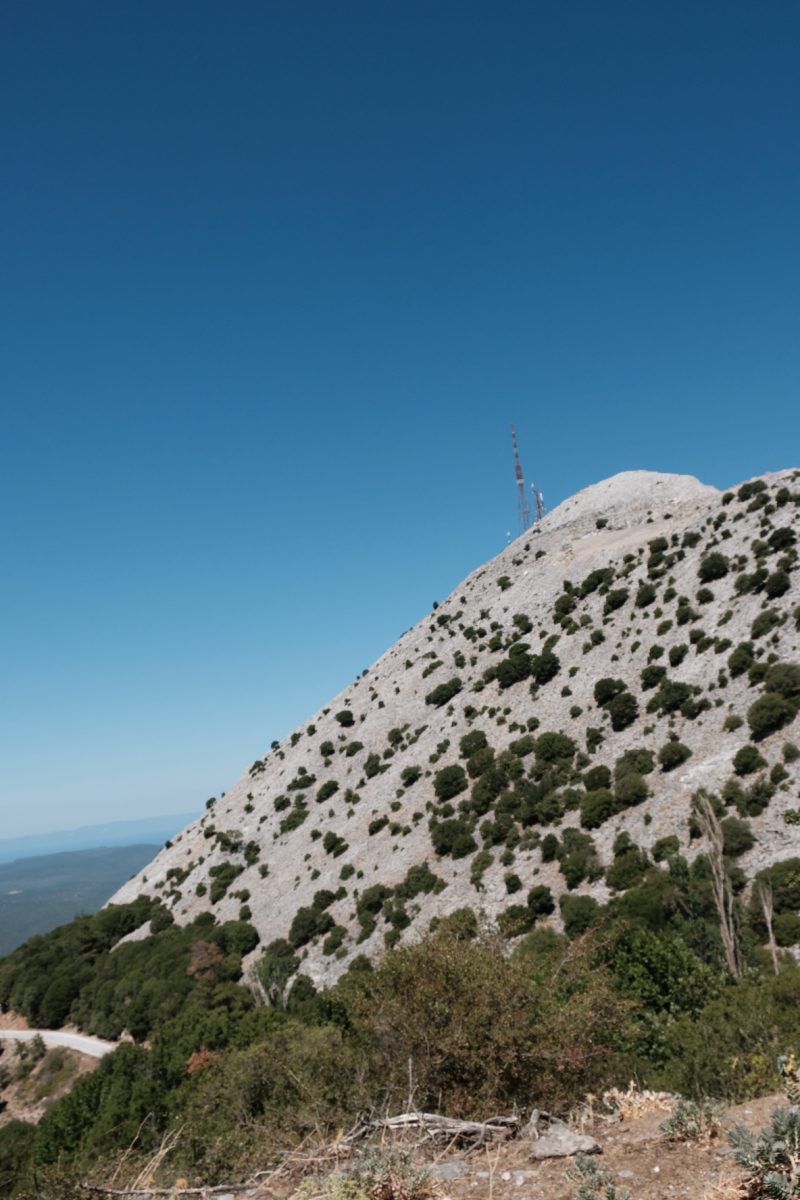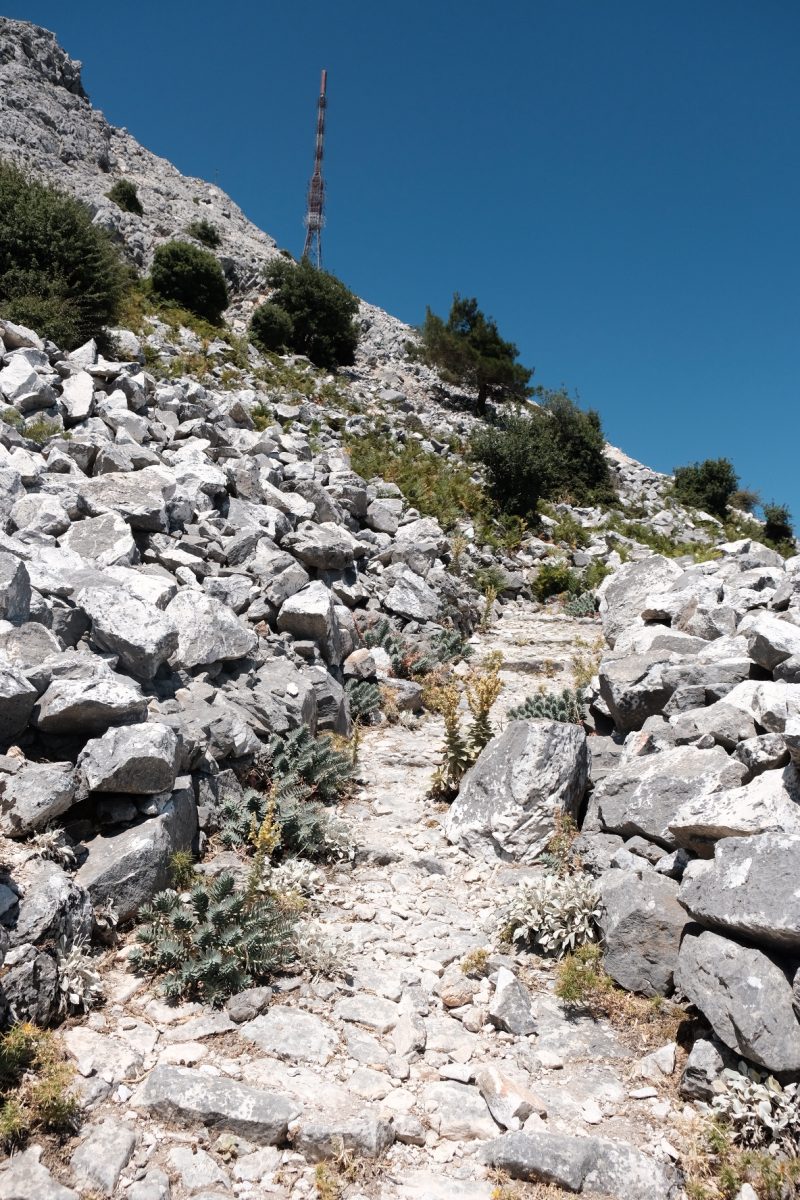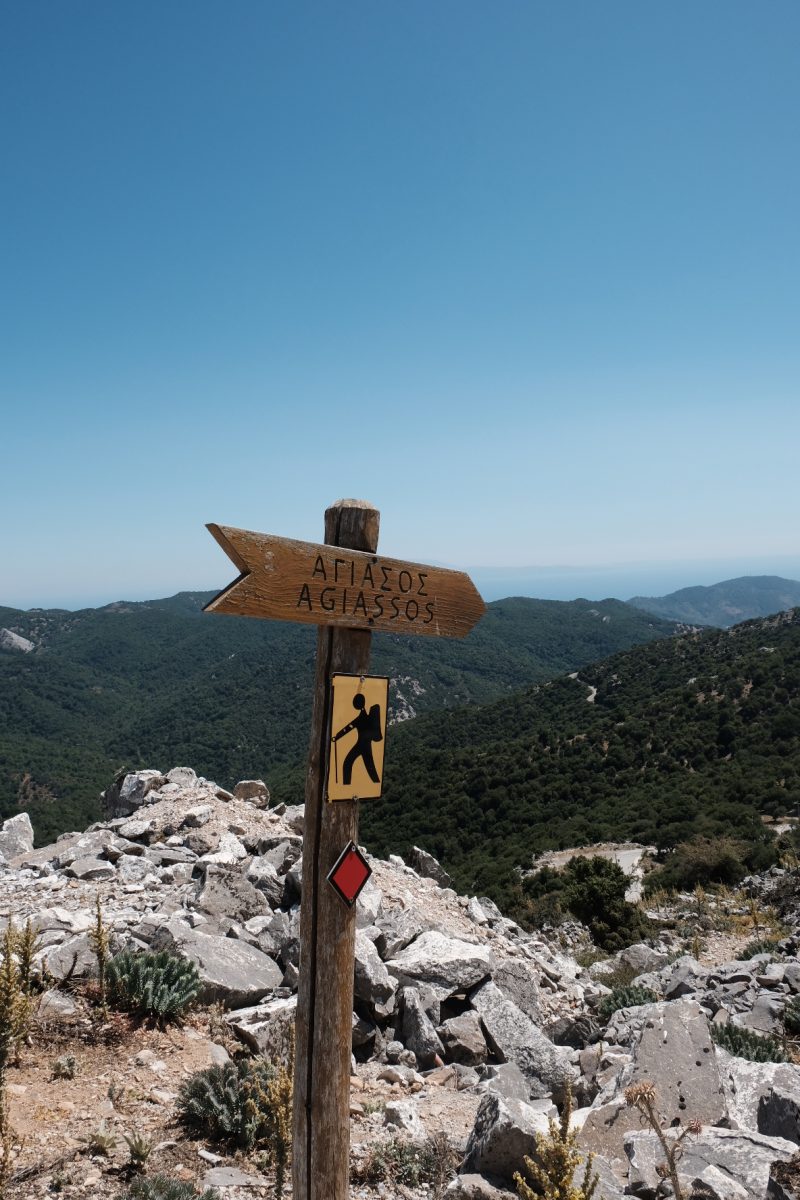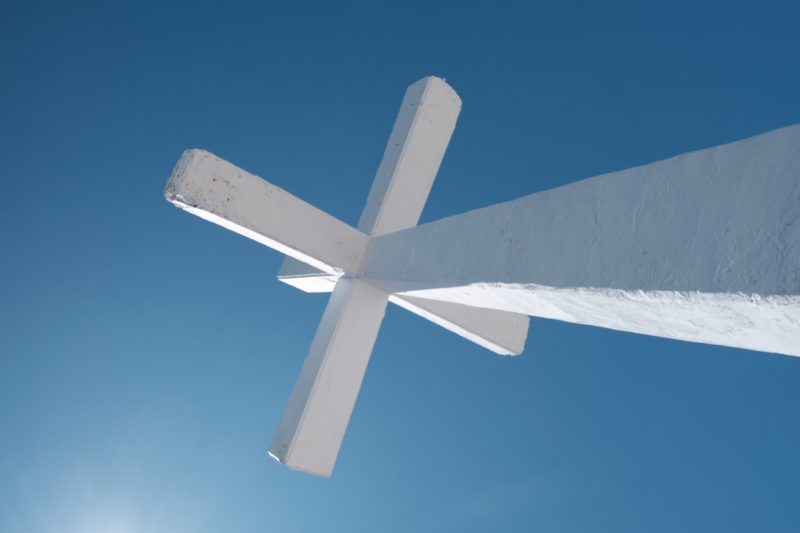 We then wanted to go to Plomari and as we arrived there we had just driven through a semi-dried out river bed, which was a little nerve-wrecking if I'm totally honest. After a nice lunch we actually went back to the beach, we had been to with Flo on his last evening, because we simply enjoyed it a ton.
The next day we stayed in our hotel and enjoyed all the good things there. In the evening we once again went to Molivos, did some souvenier shopping and then had a lovely dinner, very close to the restaurant we had been on our first evening there, so right next to the sea.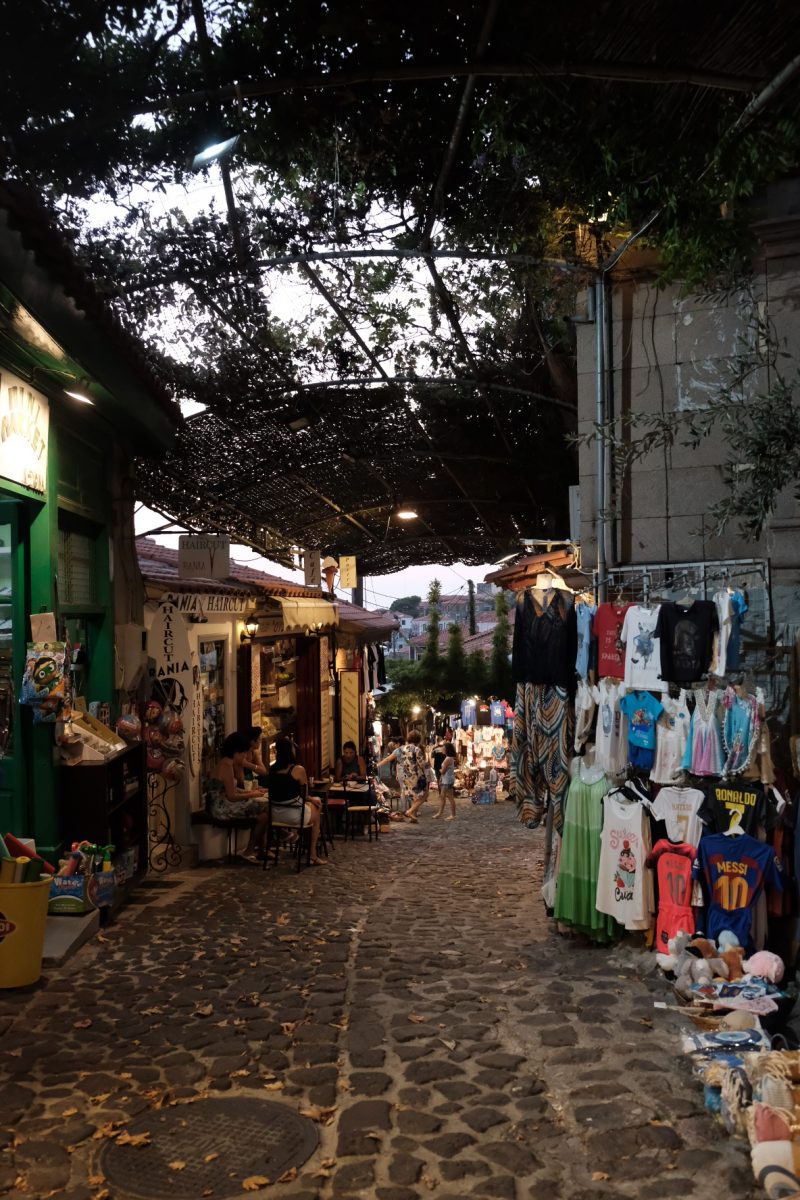 For our last full day we went back to Anaxos and the lovely beach, where we then rented a pedal boat for an hour, which was a lot of fun and also a good tip, if you ever go there.
In the evening we went to a roof top tarrace again, where we had a fantastic dinner for the last time in Molivos. My dad had also seen a special lemon-cake the day before that he really wanted to try, so we did and oh man, it was delicious I can tell you.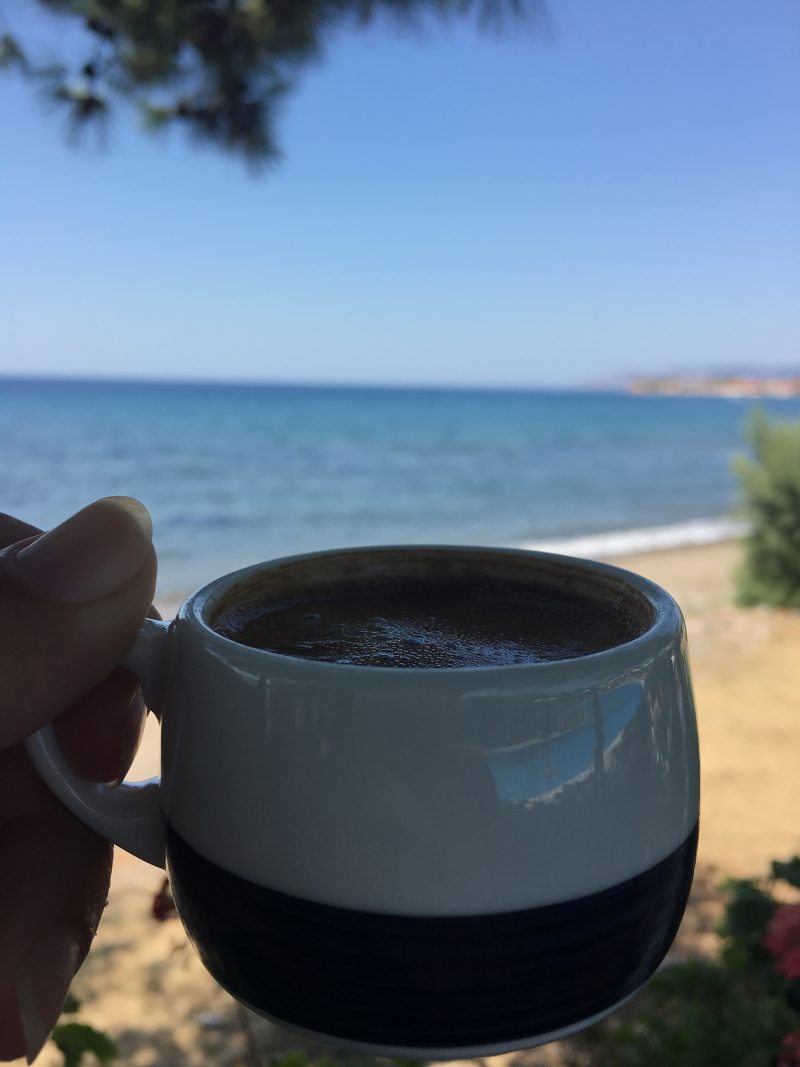 On Saturday we packed everything, had breakfast at the yummie buffet once more and then stayed at the pool until we had to leave for the airport. We had to hand over our rental car at the airport some time before we could actually check in, so we then dragged our heavy luggage to a beach bar, where we had some refreshing drinks and a small dinner, before heading back to the airport to check in and board our plane. We landed in Vienna around 11:00 pm, so we were more than happy, that we had parked our car in an airport car-park.
All in all this trip was super relaxing, which all of us surely deserved and needed. We didn't only come back all relaxed and happy, but also tanned from all the Greek sun we enjoyed on our trip. I can only recommend going to Lesbos, since it has so many different things to offer, as you've probably seen.
Thank you so much for having a read or simply a flick through the pics, it is very appreciated.
See you soon with another exciting post,
Lena xxx